Run Payroll in BambooHR
Big news! We've hit a significant milestone in our payroll journey, and we know you are going to love this update. We are happy to announce that starting today you can run your payrolls right in BambooHR, streamlining your payroll process.
From creating reminders, to managing hours, or entering extra pay, you will now have a streamlined experience that works seamlessly with the rest of BambooHR's award winning software. We've poured countless hours of research, development, and collaboration with many of you into this update to ensure it meets your evolving needs and exceeds your expectations.
Payroll Tab
The Payroll tab was already your homebase for payroll and will continue to be your entry point into the run payroll experience. From the Payroll tab you can easily jump right into your scheduled and off-cycle payrolls. The best part? You can be confident that any updates made to a specific pay date or during the run payroll process will automatically be saved, no more starting over from scratch!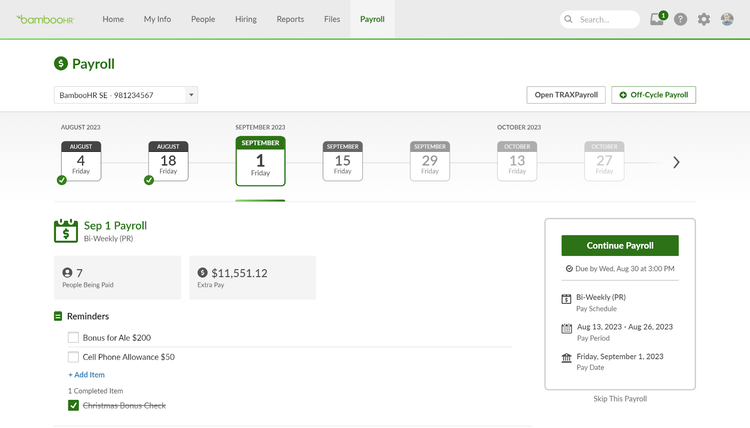 Starting Payroll and the Edit Payroll Page
Once you click the "Start Payroll" button, you no longer have to leave BambooHR to run your payroll. All the functionality from TRAXPayroll is now in BambooHR and we've consolidated the two step edit payroll process into a single, intuitive step. This brand new page includes all the people being paid, their hours, wages, and extra pay. As expected, all this data automatically syncs from the employee record to ensure accuracy. For example, Approved Hours from Time Tracking automatically flow into payroll, you no longer need to take the extra step of pulling hours into the payroll. Imported hours will also be reflected here automatically.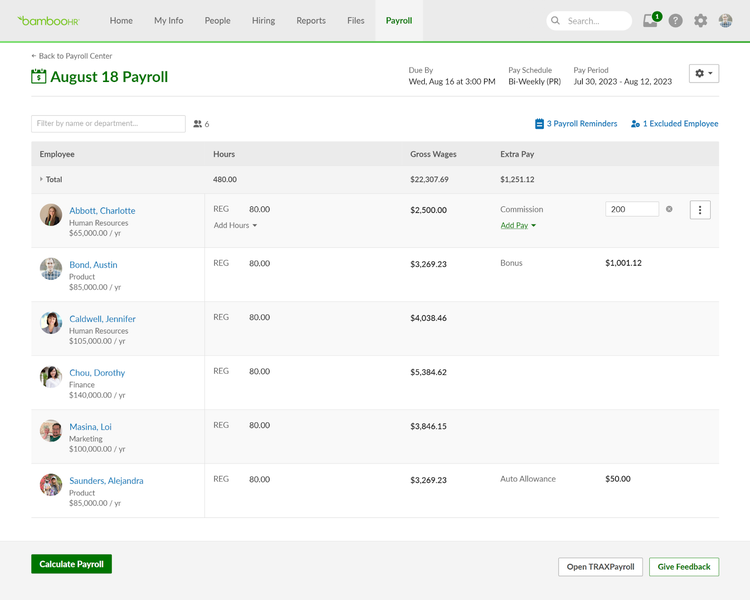 You can quickly and easily update any information you need. Simply clicking on any hours or wages allows for you to update an employee's pay for this payroll run. You can also add any additional pay needed all from this same screen.
And if you need even more editing capabilities, simply click on an employee to be served up even more options. You will be able to suppress their deductions, modify taxes, and even add a note to their paystub.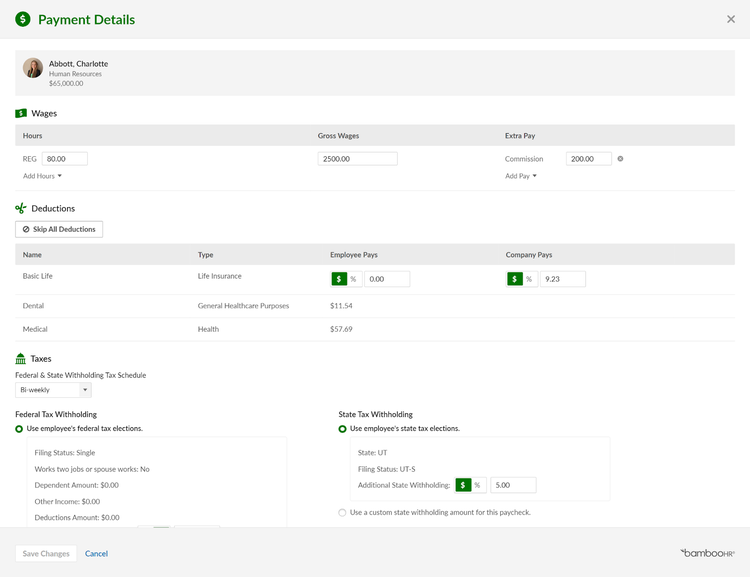 If you need to access your reminders, no worries, you can find them in the top right and start checking items off your list so nothing gets missed.
Once you have adjusted and finessed your payroll to a place of perfection, select calculate payroll to review all the details of your payroll run to make sure everything looks correct.
Review Payroll
On the review page, you'll find key payroll information such as the total gross amount, cash requirement, any paper checks you are responsible for, and the amount of people being paid. If you want to dig in more or share a report with your manager or CFO prior to approving the payroll you can easily pull those up right from the review page.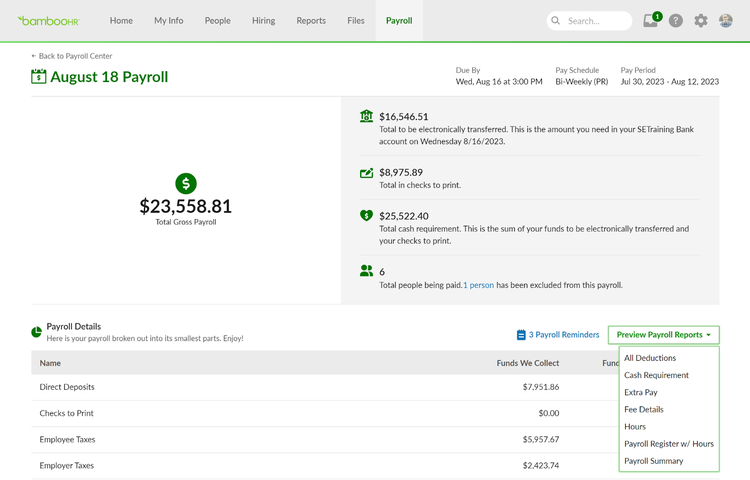 Scrolling down the review page you can once again pull up any reminder entered in previous steps to make sure you took care of them, take a detailed look at payroll details like direct deposit amounts, taxes, deductions, and even jump into individual employee paystubs to make sure everything looks good, prior to approving the payroll.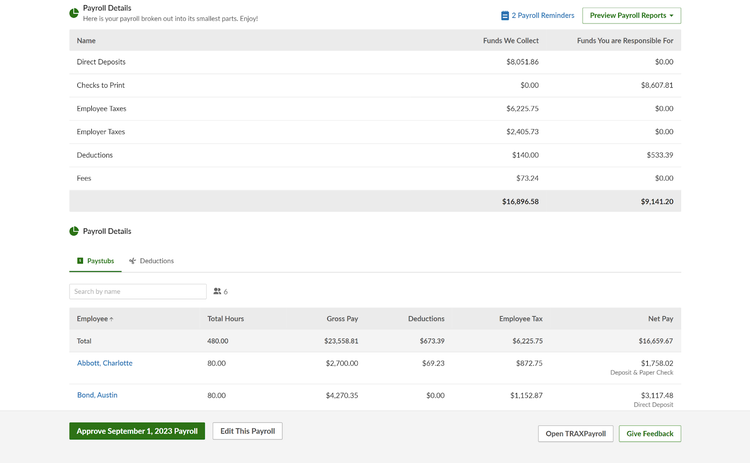 Once you are confident everything looks good, select "Approve Payroll".
Approved Payrolls
Once the payroll is approved you can easily navigate to the Approved page to view your submitted payroll data. You can reopen payroll up until your payroll has been processed on your payroll due date.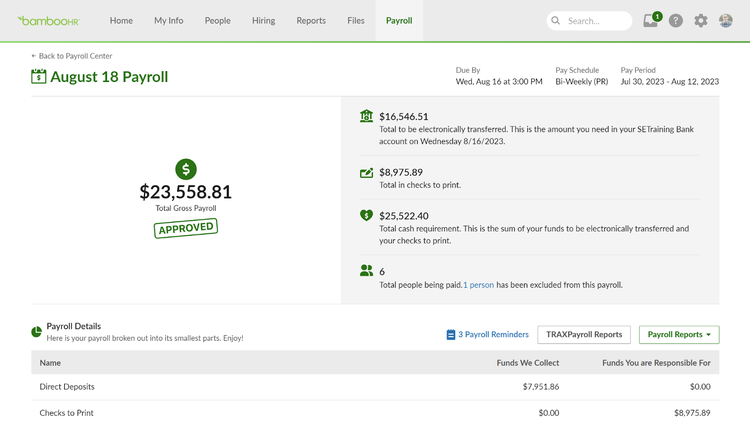 We hope you are as excited about this product update as we are. We are confident that it will streamline how you run your payrolls and set you free to do great work. If you are looking for more information regarding this update, make sure to check out some of the great resources to help you better utilize the new BambooHR run payroll experience.