Simplify Pay Type Options
We have simplified the Pay Type options when editing or adding compensation details for your employees. These changes will help make sure your Pay Types are more accurate, clearer to understand, and better reflect your intentions. There are three components of this update we wanted to make you aware of.
Remove the "Contract" Pay Type option
Being a contractor is not a Pay Type but instead an employment status. The correct Pay Type should be salary, hourly, or by commission. We will not be changing this Pay Type for any of your current contractors but choosing "Contract" moving forward will no longer exist.
Change "Commission" to "Commission Only"
The intention of this Pay Type has always been for employees only paid by commission. If they are a base + commission employee, then an hourly or salary pay type would be more appropriate. Therefore, we have changed this Pay Type from "Commission" to "Commission Only" to make it really clear what the pay type is for these employees.
Provide Dynamic Options for Pay Rate and Pay Per
To help make things more clear and simple, we will be making sure that the options that appear in the Pay Rate and Pay Per fields only pertain to the Pay Type you have selected for an employee. This helps ensure that you aren't categorizing a salary employee as being paid per hour.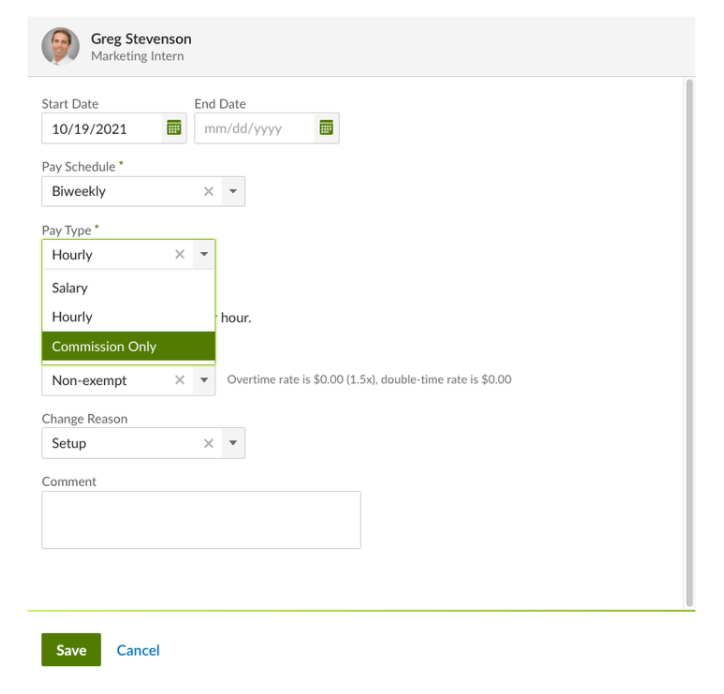 As always, we love your feedback! To provide product feedback on this feature and more, head over to our product feedback page and let us know how we're doing.