Time Off Adjustments Now Sync to BambooHR
At BambooHR, we love to make your job easier. We are removing the need for double entry and data verification for time off adjustments in TRAXPayroll and BambooHR. Going forward, time-off adjustments made in TRAXPayroll will sync automatically to BambooHR. No more making adjustments to time off in both places or worrying whether the two systems will match.
How will I know what adjustments were made in Run Payroll and what will that look like ?
When you or your employee opens the Time Off tab in BambooHR, simply scroll down to the History section and any adjustments made in run payroll will automatically appear there. These changes will include the date the adjustment was made in TRAXPayroll, a note saying who made the adjustment, and the adjustment amount. These automatic adjustments include employees' PTO history and their YTD balance.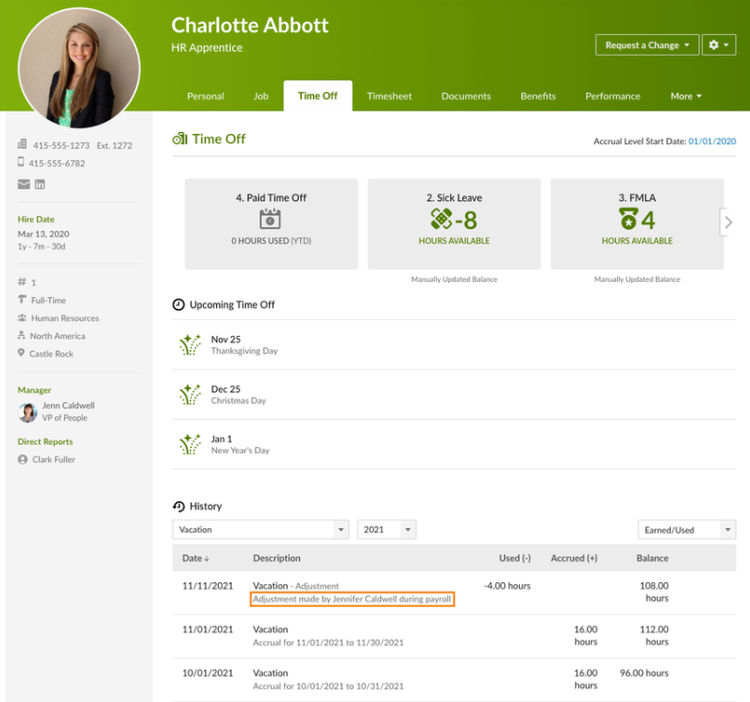 What do I need to do?
Absolutely nothing. This adjustment will now automatically appear in BambooHR. You can be confident that changes made during Run Payroll are syncing to BambooHR.
As always, we love your feedback! To provide product feedback on this feature and more, head over to our product feedback page and let us know how we're doing.