Updates to the TRAXPayroll Help Center
We are excited to announce that we have moved payroll related content from the TRAXPayroll Help Center into the BambooHR Help Center under a section titled "TRAXPayroll". We hope this new experience will centralize the information you are looking for and help you navigate the software.
These help guides are designed to help you learn more about how to use the software and make running payroll easier for you. In addition to centralizing these help guides, we have categorized the content into 8 sections to help you quickly and easily find the content you are looking for.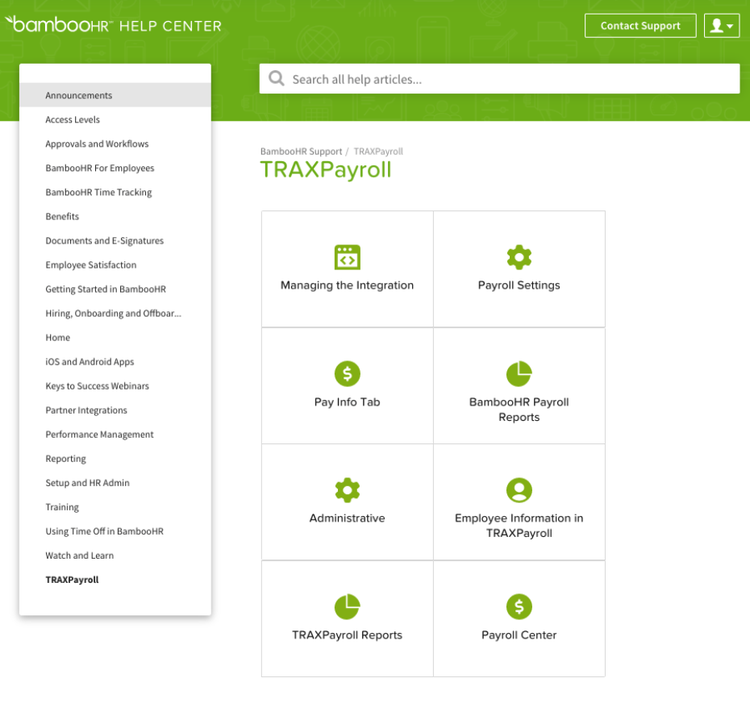 We hope these changes will make finding the resources you are looking for easier to find. We are now sunsetting the TRAXPayroll help center, so be sure to bookmark this new page and let us know how we can help you as you run payroll for your employees. Continue to watch for new resources as we work toward making improvements to the software that will set you free to do great work!
As always, we love your feedback! To provide product feedback on this feature and more, head over to our product feedback page and let us know how we're doing.