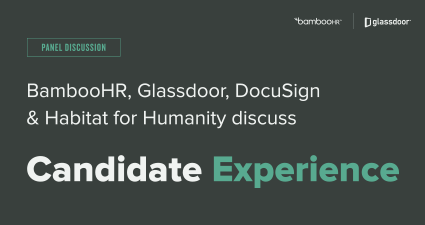 Panel Discussion: BambooHR, Glassdoor, DocuSign and Habitat for Humanity discuss Candidate Experience
Join Glassdoor, BambooHR, Habitat for Humanity SF, and DocuSign as we tackle some of the most pressing questions around candidate experience. This panel discussion addresses the most asked questions and gives you a chance to ask your own to these thought leaders.
How you ensure candidates are getting an authentic view of what it's like to work at your company.
Collecting feedback on candidate experience.
What a bad candidate experience costs you.
How you can leave rejected candidates with a great candidate experience.