See what makes BambooHR easy to use and easier to love.
Discover how the easy-to-use BambooHR platform outshines ADP.
Built for Growing Businesses
Automated HR tools simplify all your small business needs
Superior Customer Support
Human-centric support and award-winning customer care​​
Smooth Implementation
A simple implementation process gets you up and running smoothly
Worry-Free Paydays
Streamlined, accurate payroll and meticulous tax services
Companywide Ease-of-Use
Easy for everyone in the organization to pick up and use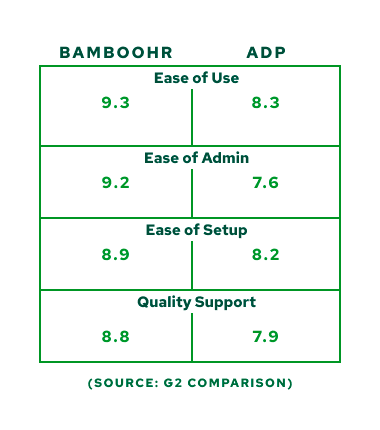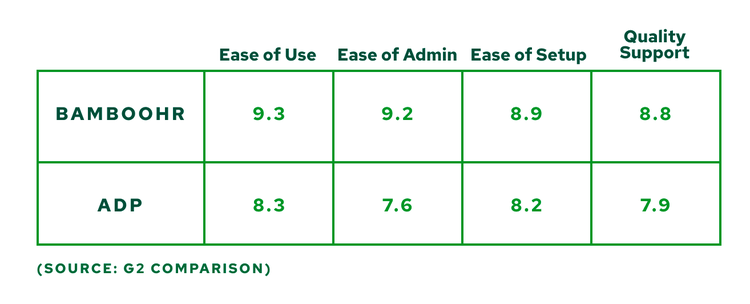 How Do BambooHR & ADP Compare?
All-in-One Platform
Perfect for growing businesses.
ADP is designed first and foremost to serve enterprise businesses. Customers who switch from ADP to BambooHR frequently report that ADP is too cumbersome and confusing for their small business needs.
BambooHR offers a comprehensive suite of easy-to-use tools, so growing businesses can automate and simplify all their HR processes, from recruiting to employee experience—even payroll!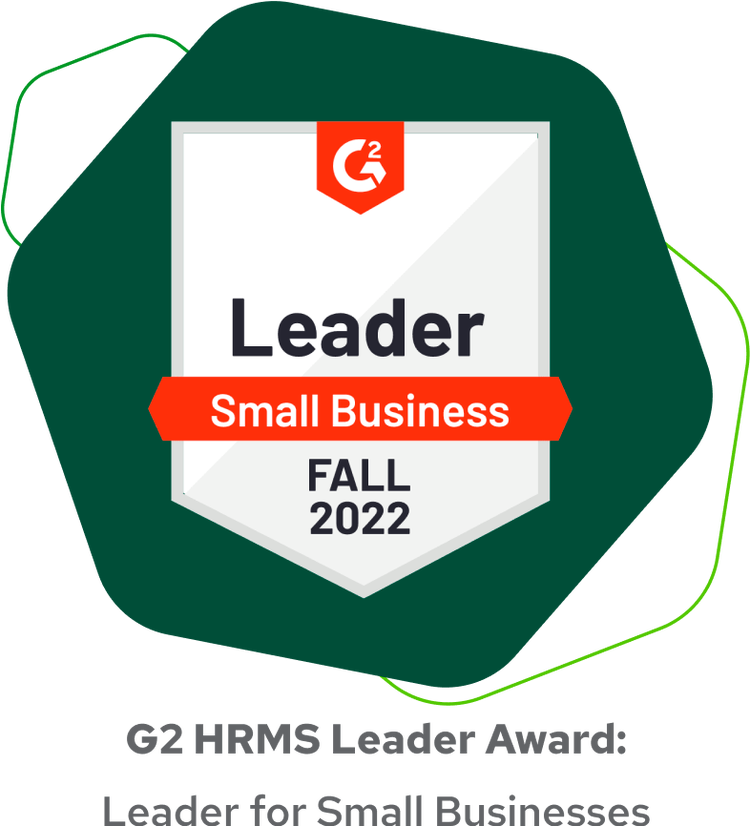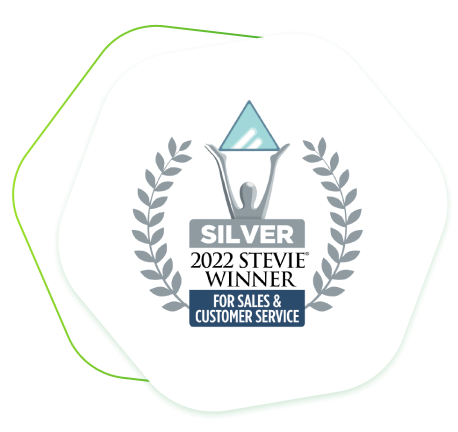 Customer Support
Get the personal attention you need.
Similar to a cable internet provider, ADP outsources customer service to third-party contractors, resulting in long wait times, unresolved issues, and an impersonal approach to solving issues.
Our award-winning, in-house team of Support Heroes gives you prompt answers via phone, email, or chat. They're trained across all parts of the product, so each of them can answer any questions.
Implementation
We set you up for success.
ADP assigns a different implementation manager for each part of their product, resulting in a disjointed customer experience, confusing pricing agreements, and lengthy implementation times.
BambooHR sets you up for success by offering a dedicated project manager to guide you all the way through implementation. Our simple, step-by-step process gets you up and running smoothly in an average of just four weeks, all while keeping things straightforward and manageable for even the most hectic schedule.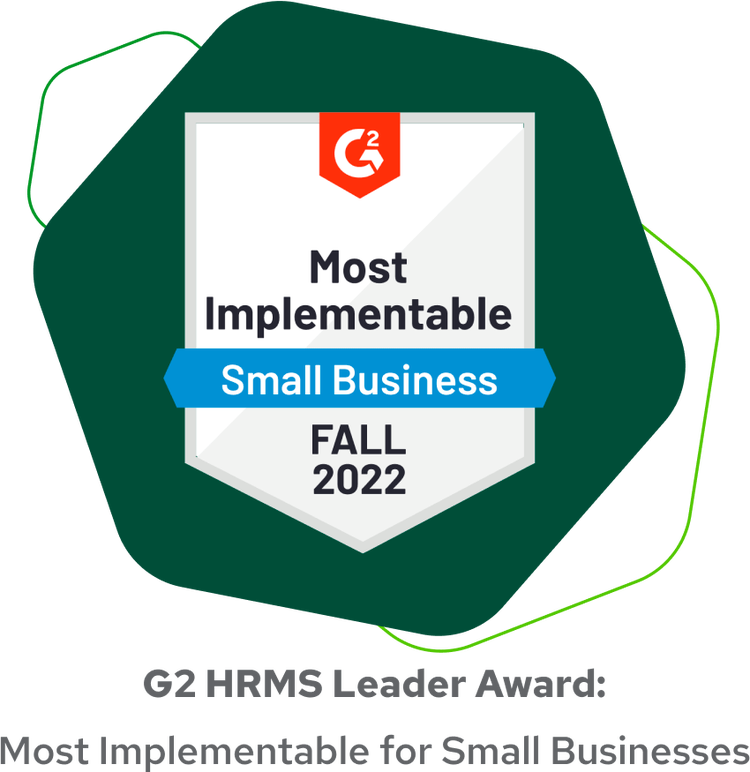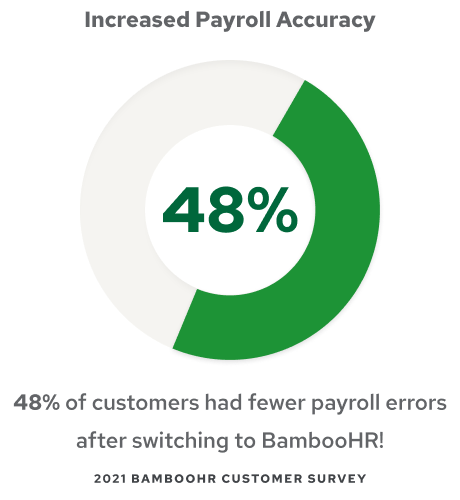 Payroll
Let us do the heavy lifting.
ADP charges customers for every single payroll run, plus an additional charge for tax form filing. If you need a customized report, you'll have to call their reps and have them create it for you.
BambooHR wants payroll to be as painless and stress-free as possible. You pay once per month based on your employee count, so you never have to worry about an extra charge if you need to make a payroll change. And with our customizable reporting and full-service tax filing included, it's no wonder we score 30 points higher than ADP in NPS surveys!
User Experience
Simplify your HR processes.
Customers often report that ADP's interface is too clunky and feels behind the times for their organization.
BambooHR is consistently rated as one of the easiest-to-use HR platforms by administrators and employees alike. Its friendly, modern interface includes all of the following and more:
A single source of data for all your HR processes
Automated workflows, approvals, and notifications
Templated onboarding checklists and customizable pre-boarding packets
Announcements, engagement survey tools, mobile apps for employees and recruiters, and more!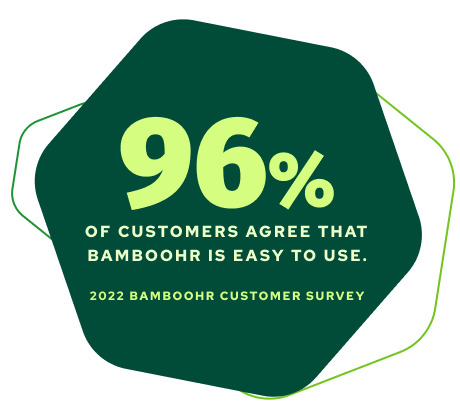 Why Customers Love BambooHR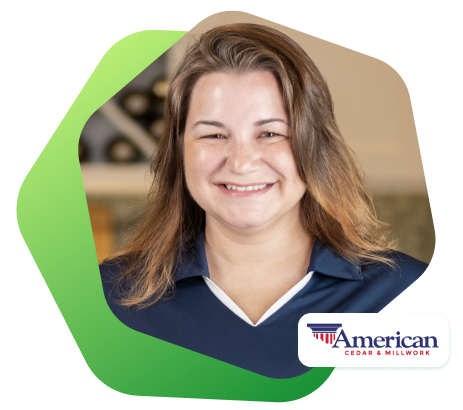 American Cedar & Millwork
"BambooHR is an easy-to-use product. It's intuitive, it's easy to use for both low-tech and high-tech employees. It's kind of dummy-proof—you can't mess this up. I have accountants at their desks and truck drivers on the road that use it."
Jessica Neal, HR General Manager | American Cedar & Millwork
Who's Using BambooHR?






We Set You Free to Do Great Work
BambooHR automates critical HR tasks, saves you time, serves your employees, and empowers more strategic HR with advanced engagement tools and easy, beautiful reporting. With our add-ons, integrations, and per-month, per-employee pricing, you choose and pay for only what you need. And with our award-winning implementation service and easy-to-love user experience, we'll get you up and running quickly without pulling you away from your people.