You Asked for It! New ATS Reports

It's hard to say which HR function is the most important. But if people are truly a company's greatest asset, then hiring has got to be right up there! We at BambooHR are excited to help you with this important function by adding three new reports in our applicant tracking system (ATS). And if you haven't noticed, they're already waiting for you in the Standard Reports library.
Applicant Sources Report Because you get a new level of transparency with new technology, your data is becoming a lot easier to get your hands on and a great tool for making future decisions. The most important thing to consider is getting to the metrics that really matter.
Our Applicant Sources report will help you see how your applicants and new hires find you. For example, you might have a bunch of applicants coming from LinkedIn but not very many hires. The information in this report information can help you shift your recruiting efforts from one more successful source to another. Of course, it could very well depend on the job you are hiring for.
The Applicant Sources report will allow you to learn the number of people who visit your dedicated BambooHR job page.
The report will automatically track when applicants come to your site from: Monster, Indeed, LinkedIn, KSL, Twitter, Craigslist, Dice, Simply Hired, Google and Facebook. Any other referring web sites will be listed under "Other." You can also specify a unique source, and the report will track that as well.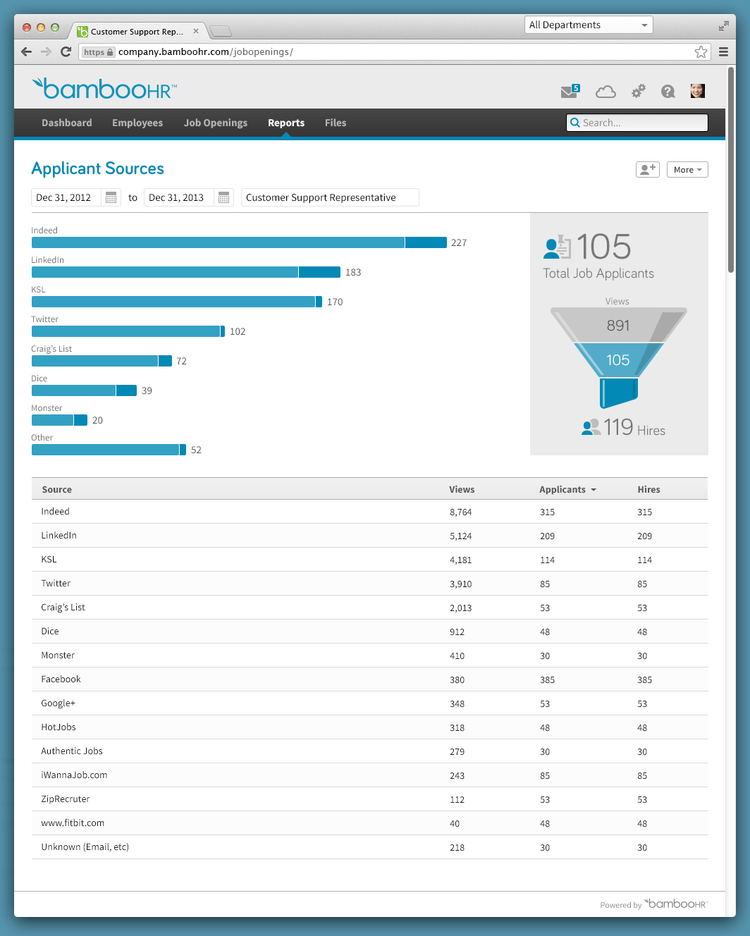 https://www.bamboohr.com/blog/wp-content/uploads/2014/03/source.png
Applicant by Race/Veteran Status and Gender Reports
When you use BambooHR's ATS to post a job listing and select a job category, it will ask your applicants to specify their race, veteran status and gender.
BambooHR now offers two new standard reports that will track your applicants' answers to those questions. First, you can track your applicants' race and gender. The report will give you a breakdown of each applicant's race and show male or female within each race option.
You can also use our new Applicant by Veteran Status and Gender report to find the amount of applicants who have veteran status and gender within each of the these categories: Armed Forces Service Medal Veteran, Disabled Veteran, Recently Separated Veteran, and Disabled Veteran. They can choose to decline answering this question as well.
The new reports will be especially helpful if you need to measure your hiring efforts and plan to meet certain affirmative action and governmental requirements.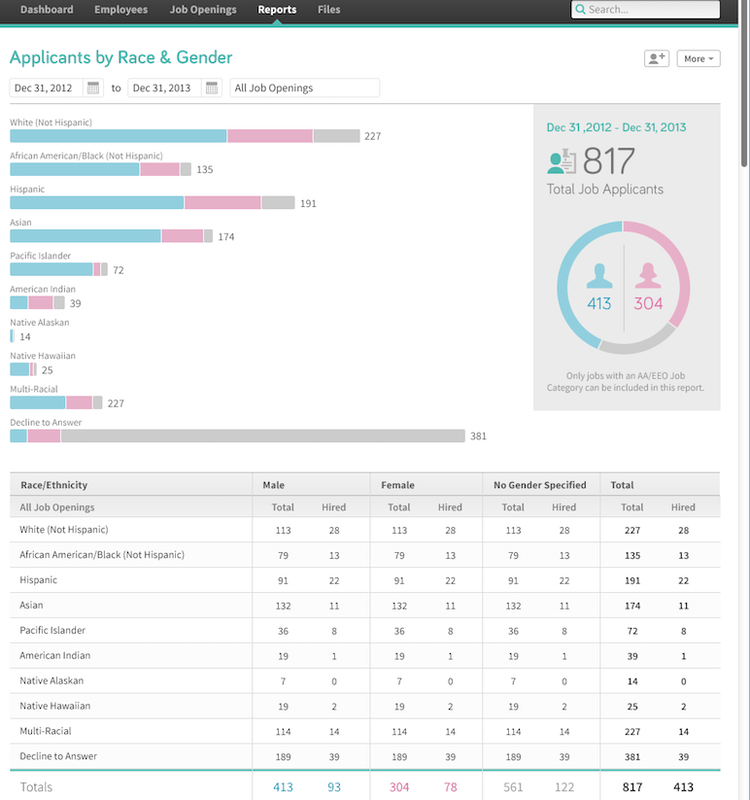 https://www.bamboohr.com/blog/wp-content/uploads/2014/03/Screen-Shot-2014-03-21-at-4.32.54-PM.png
At BambooHR, it's important to us to keep improving our HR software and provide the reports you need most. We hope these reports help you learn more about your applicants. Happy hiring!