Better Together: BambooHR Preferred Partners

The BambooHR story could have turned out very differently. When co-founders Ben Peterson and Ryan Sanders decided ten years ago to start a new software company, they knew two things: they liked working with each other (most of the time), and they wanted to build a company centered on being a great place to work for its employees. They believed—and still do today—that when you set people free to do great work, great work takes place.
They could have built anything, but they decided to extend the mission of improving employee lives by developing HR software that helps HR professionals focus on the people they work with rather than time-consuming data management. And as BambooHR has grown, we've learned a lesson that most HR professionals learn in one way or another: we can't do everything by ourselves. We've grown, it's true, but our success comes from careful focus on the core of the HR experience. We want to give HR professionals both the technology they need to get better results and the support that helps them know how best to apply it.
HR has a hand in everything related to humans in the workplace, from recruiting and compensation to benefits and engagement. And we'll admit BambooHR can't do everything for everyone. But BambooHR does provide a platform for managing specialized HR services through integrations with our partners, giving you seamless access to all the tools you need for your organization's specific strategy.
A New Place for Our Preferred Partners
As our partner program has grown, we've realized we need to give our customers a better way to find the partners that address their HR needs. With that in mind, we created our Preferred Partners program. We took a look at our most popular partners and factored in customer satisfaction and target customer alignment to create the Pro and Elite categories.
The Pro category features up-and-coming Marketplace integrations. These integrations are growing in popularity and utility, building on their track record of high customer satisfaction and adoption.
Our Elite category features the integrations our customers use most. These integrations have the highest number of satisfied customers and a proven record of helping BambooHR customers achieve their potential.
How can you tell if an integration is Basic, Pro, or Elite? It's easy! All Pro and Elite partners have a badge on their listing thumbnail and on their listing page to help distinguish them: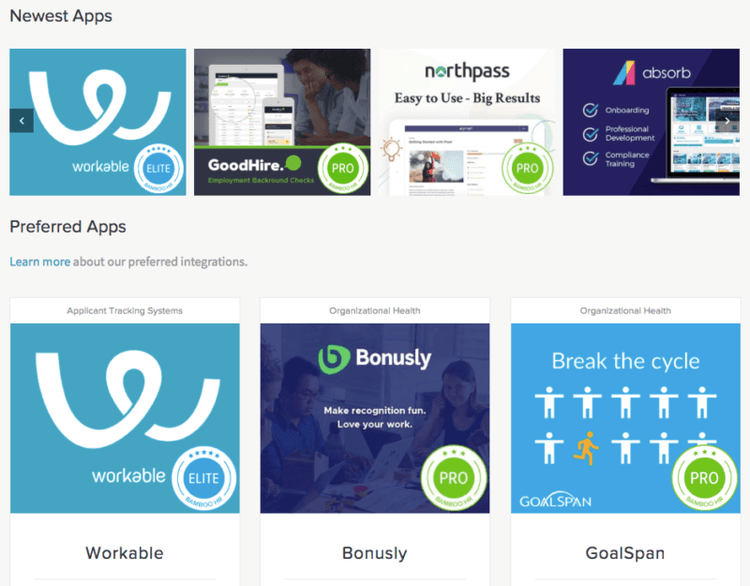 You can also filter for preferred integrations from the sidebar: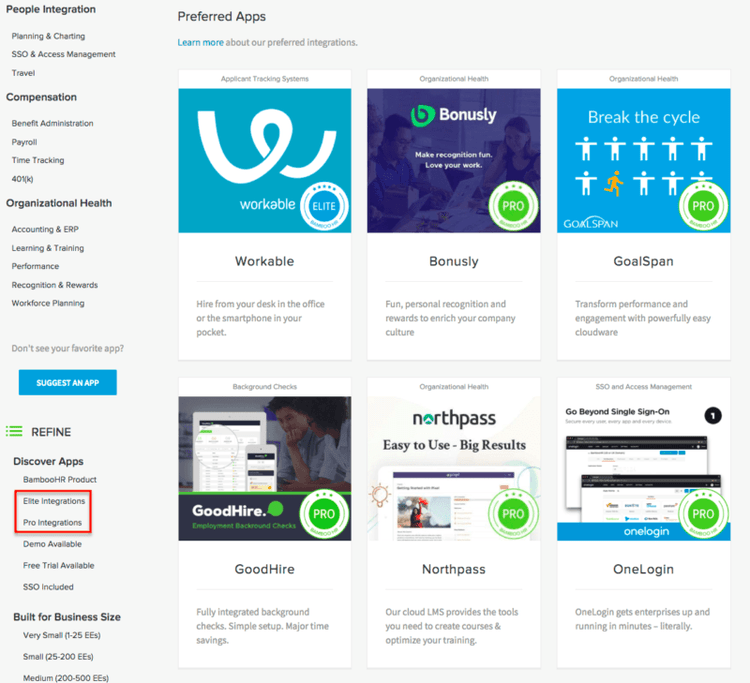 We know you're wondering, "Who are BambooHR's Preferred Partners?" You can learn more about each Preferred Partner below.
Elite Partners
Workable
Workable is the most popular all-in-one recruiting software for small and medium enterprises. Available for desktop and mobile, over 6000 companies globally are using Workable to streamline their recruiting. From sourcing and attracting candidates to applicant tracking and evaluation, the Workable platform enables smooth collaboration, resulting in more viable candidates and a faster time to hire. With an intuitive interface and fast implementation times, Workable is a great option for small and medium businesses looking to improve their hiring processes.
Pro Partners

Bonusly
Bonusly solves your employee recognition and engagement needs with a social platform your team will love to use. With the BambooHR integration, customers can fully automate their Bonusly recognition program.

GoalSpan
GoalSpan is creating the future for employee feedback and performance. It's a smart tool that replaces the outdated annual review with a simple and intuitive digital platform. GoalSpan has a bi-directional integration with BambooHR. Employee updates in Bamboo will automatically sync with GoalSpan every 15 minutes making data integration constant and consistent.

GoodHire
GoodHire is our very first integrated background-check partner. This integration lets you identify which candidates need a background check from within BambooHR. BambooHR then pre-fills background check orders with the candidate's legal name and address before automatically queueing them for processing on the GoodHire platform. Once the check is ordered, GoodHire's system securely gathers all remaining personal information and legal consents required. You can easily track the status and view results from within BambooHR. Candidates will be notified via email when the results are ready, and if any alerts are found, the candidate will be invited to provide context and explain.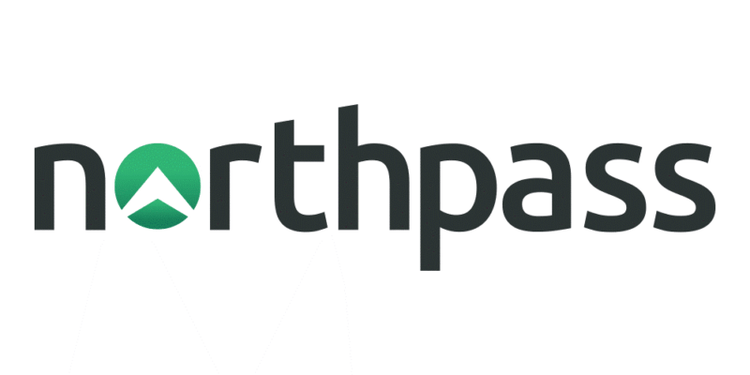 Northpass
Northpass is modern learning software for training and enabling employees. The bi-directional integration enables the automation of workflows between BambooHR and Northpass, removing the need to manually provide course access to users.

OneLogin
OneLogin uses SAML 2.0 to sign users into BambooHR, eliminating user-managed passwords and the risk of phishing. OneLogin also extends to BambooHR's mobile app, so users will be able to login to the app using SSO through OneLogin.
With OneLogin, organizations can also further automate onboarding and offboarding processes and improve data security. OneLogin continuously checks for status updates on employee records in BambooHR. When a change is made, OneLogin automatically kicks off IT tasks – from configuring new accounts or updating access permissions.
OrgChart Now
OrgChart Now is a cloud based organizational charting and workforce planning software. After you configure OrgChart Now to connect to your BambooHR account, you can use the Import Wizard to create org charts. In less then 3 minutes, you'll have professional quality org charts that you can publish to PDF or PowerPoint.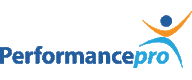 PerformancePro
Performance Pro is designed by HR professionals, for companies that require a user-friendly, centralized online solution to streamline and improve employee development and bottom line company performance. With this integration, updates made from within BambooHR sync automatically with Performance Pro every 15 minutes.
Small Improvements
Small Improvements is a performance feedback platform that helps employees and companies grow and succeed. Changes to employee information managed in BambooHR can be automatically detected and updated within Small Improvements, and reporting features for Small Improvements are available directly through the BambooHR Reports interface.
Ximble
Ximble is an easy to use, cloud-based employee scheduling and time tracking system for small to medium businesses. The integration between Ximble and BambooHR allows easy staff data sync from BambooHR into Ximble.
Be sure to check out our Preferred Partners and other Apps Marketplace partners here.
We hope that you find these changes useful as you make your organization exceptional in 2018!