Companies That Really Get Onboarding

Bringing on new employees is an exciting time. It's exciting for the new employee but also for the company who is bringing a new team member into the fold.
Most new employees—no matter how confident—will feel a bit nervous having to meet new people and understand a whole new company culture. It's the company's job to bring on new hires and get them set up for success.
Because we're all trying to be more thoughtful in how best to onboard new hires, it's good to know how other companies are setting themselves apart and doing a great job with the onboarding process. Hearing about what's been successful for other companies can help shape the onboarding process you create for your own company. Here are some of our favorite ideas by companies who are taking onboarding to the next level:
· Disney. New hires at Disney find out right away that they're not employees—they're cast members. The first day on the job includes a Disney traditions class that touches on what "cast members" need to know about their specific roles but also about the history and legacy of The Walt Disney Company.
· Zappos. You've probably heard of that company who's taking a huge risk offering money to their new hires to quit. Yep, that's Zappos. In an attempt to weed out employees who aren't engaged, they put their new hires through an intense training course and pay their new hires to quit with $2,000 in hand. (Hint: Only 1 percent of trainees take the offer so they must be doing something right.)
· Southwest Airlines. Southwest knows onboarding isn't about paperwork and forms. They onboard with an emphasis on helping new hires see how they can make a difference. They inspire their new employees with tales of past remarkable employees who were able to do make a huge impact. Southwest also has a "Sponsor a New Hire program" to make sure every new hire is accounted for and someone is investing in their success.
· Box.net. Box.net, a cloud computing services provider, takes a more holistic approach to bringing new hires on: They don't hire people for a position, rather they hire new talent for their potential. Then they give new hires three months to learn all about the company, its departments and the product. The new hires then choose which department they feel is the right fit.
Here's Everything You Need to Know to Onboard Like a Pro
The New Definitive Guide to Onboarding
· Texas Roadhouse. Ever see those servers pass by you and read the back of their standard issue t-shirts? It says, "I love my job!" And that's exactly how Texas Roadhouse takes their onboarding process to the next level—using love as the theme. They use emotional attachments and make sure their people know that their theory is: If you love your people, they'll love your customers.
· Ritz-Carlton. Throughout the Ritz-Carlton onboarding process, they know how to make sure new hires feel special and emphasize how lucky the Ritz-Carlton is to have them. In fact, they tell their employees that they know "work is the second most important place where an employee is (second only to home)" and that they feel blessed the new hires chose them as their "second place."
· Nitro. Do you really care what your new hires think of how you bring them on? Nitro doesn't rely on the data that tells them how often employees leave; rather, they are asking their new hire for continual feedback to find out how well they're onboarding. Their philosophy is that the best way to find out how a program is working is to ask those who are going through it.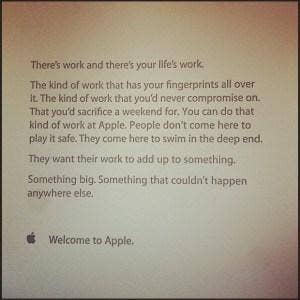 **· Apple.** Of course, inspiring new hires to do great work and at your company is an effective way to get instant engagement. Here is the letter new hires get from Apple that helps motivate them and let them know what type of work they want:
Of course, we don't want to copy what these other companies are doing, but it's always a good start to understand what's working for others so that you can create the onboarding process that fits into your company's culture.
Onboarding has been shown time and time again to have a huge impact on a company's retention. In fact, you might argue that onboarding is the secret weapon to retention. Because it costs your company a lot of time and effort to replace employees, we must focus on retaining our employees and a huge part of that is helping new hires start off just right.