From Recruitment to Onboarding, What's the True Cost of Hiring Employees?

Hiring has been on a yearslong rollercoaster ride. From the Great Resignation to quiet quitting to tech layoffs, employers and employees have a lot to keep up with. What hasn't changed recently is that unemployment is still at historic lows, and, despite layoffs at tech companies, the labor market is still tight. In other words, there are more open jobs than available workers to fill them.
That means organizations need to get rid of clunky, unappealing, and expensive hiring and onboarding processes. When you understand the costs related to hiring, you can move quickly and get the most bang for your buck.
You should expect to spend $7,500–$28,000 in hard costs to find and onboard a new employee, including job board fees, background checks, and the new hire's training. Soft costs—such as lost productivity—can add up to as much as 60% of the total cost to hire, according to the Society for Human Resource Management (SHRM).
Creating efficient hiring and onboarding processes can help reduce the cost of bringing on a new hire and maximize your current resources for finding the right talent. Read on to learn:
How to calculate the cost of hiring an employee
The cost of benefits for employees
The cost of onboarding and training
If you want to save on hiring and onboarding, BambooHR can help. Our award-winning HR software helps you save hours of work by bringing recruitment, onboarding, performance management, and more into one centralized platform. Learn more with a free demo today!
Free Tool: New Hire Cost Calculator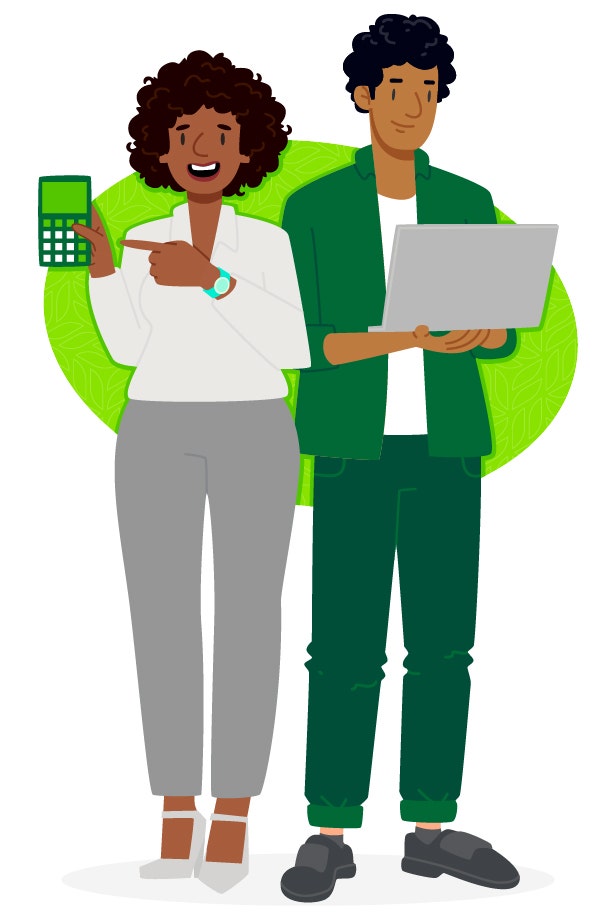 The BambooHR tool helps organizations calculate the cost of training new employees.
How much does it cost to train a new employee? Find out with our handy BambooHR tool. Our product allows your organization to easily analyze and calculate the average cost of training a new employee. It takes into account onboarding fees and calculates the total expenditure for the new employee process.
The BambooHR Onboarding Calculator helps organizations to calculate the average cost of onboarding a new employee.
To find the true cost of onboarding, we broke the process into different elements, including:
Equipment costs
The cost of training a new employee
HR hours spent on the onboarding process
Based on the information you enter, the calculator will deliver an estimate for each stage, as well as the overall cost of onboarding a new employee.
While your exact costs may vary, this is a useful tool for managers or HR professionals who want to get an overview of what costs are involved in the hiring process. This can help to forecast future planning by allowing effective budget allocation based on real figures.
Best of all, it removes the headache of doing it yourself. Put in the figures, and the BambooHR tool takes care of the rest. Not only is this easier, but it reduces the chances of manual errors.
How Much Does It Cost to Hire an Employee?
The average cost per hire is $4,700​​, according to a benchmark report from SHRM. For executive positions, the recruiting costs can be as much as $28,000.
Your organization's average cost per hire may include:
Advertising expenses
Recruiting events
Recruitment software fees
Relocation expenses
But to calculate the full cost of hiring and onboarding a new employee, you have to add up hard and soft costs, and the latter can be more difficult to quantify:
Hard Costs: Money spent to recruit, interview, and train new hires
Soft Costs: Time spent on the hiring process, impact on morale, and loss of productivity
For example, the cost of replacing an employee making an $80,000 annual salary could be as much as $240,000.
A few important caveats:
The exact cost to hire employees will vary across industry, experience, and job roles.
Additionally, soft costs increase the longer it takes to find the right person to fill a role.
When employers don't have the right processes in place to find and effectively onboard employees, as many as half of new hires won't be with the company within three years.
Create a Seamless Experience, from Application to Offer Letter.
BambooHR® Applicant Tracking helps you manage and personalize every candidate's experience. Plus, our Hiring Mobile App helps busy recruiting teams collaborate together and keep top candidates engaged.
What's the Cost of Recruitment?
You can expect to spend money on recruitment in the following areas:
Job board postings
Recruiter salaries or third-party recruitment firm fees (see cost comparison below)
Employer brand marketing (e.g., social media ads)
Job posting maintenance
Referral bonuses
Spending time and resources upfront to find the right people for the job also takes time and money, but it's an investment worth making.
In-House vs. Third-Party Recruitment
In-house recruitment
Average recruiter salary is
$48,000
Hiring a third-party recruitment firm
15-25% of the new hire's annual income (e.g., hiring a new office manager at $65,000 could cost an additional $9,750–$16,250)
How Much Do Benefits Cost per Employee?
Benefits cost almost 30% of an employee's total compensation, according to the Bureau of Labor Statistics (BLS).
While that may seem high, including competitive benefits can mean the difference in attracting qualified candidates and retaining stellar employees in a tight labor market. Employees rate healthcare as being the most important benefit they want from an employer, but things like work flexibility and health and wellness benefits are gaining greater importance.
Generally, the four main categories of benefits are as follows:
Health and wellness benefits: Medical and dental insurance, disability, life insurance, and programs for healthy lifestyles
Financial and retirement benefit: Retirement contribution matching, stock ownership, tuition reimbursement, and HSA contributions
Time off and leave benefits: Paid holidays, PTO policies, and medical or family leave
Work-life balance benefits: Telecommuting, child care or eldercare assistance, and flexible work hours
Here are some of the average costs of benefits per employee.
Benefit
Typical Annual Cost per Employee
Dental Insurance
$564
(if employer covers 100% of premiums; based on average premium costs)
Sources: Private industry worker data from the BLS; calculations based on full-time working hours set by the U.S. Office of Personnel Management.
What's the Cost of Training a New Employee?
Employers spend an average of $103 per hour on employee training. They also spend about 62 hours per year training employees; depending on business size, this can be as high as 71 hours.
Once a prospective hire has accepted an offer, getting them properly onboarded helps maximize your investment.
As you evaluate your own onboarding costs, be sure to include all the equipment and working hours involved in helping a new hire successfully transition into your organization.
Specifically, onboarding training costs may include the following:
Laptops, monitors, phones, and other physical equipment
VPN and wireless access
Tools and software employees need to do their work
Training staff salaries
Time investment from IT, HR, training, and managers
Development of training curriculum
Team integration activities, like new hire lunch or team building events
That last suggestion might not seem like the most relevant when you're auditing your onboarding process. However, when you give new hires to connect with current employees, you're helping them build better collaborative relationships while also increasing new hire retention.
How Onboarding Software Saves Time and Money
As you develop and formalize your onboarding process—an important first step in managing costs—you can reduce onboarding costs with onboarding software.
For example, you can set up the following time-saving onboarding tasks using a tool like BambooHR:
Automatic welcome emails to make sure every new hire feels appreciated
Digital onboarding packets, so new hires can complete all the necessary paperwork ahead of the first day
Customized checklists to ensure your hiring team and the new employee are working through the right tasks
E-signatures and communication templates to speed things up for the hiring team
By saving you time and creating a seamless experience between recruiting and onboarding, onboarding software supports your comprehensive onboarding strategy, all of which leads to a better investment for your people and your business—new hires who have a positive onboarding experience are three times more likely to feel a strong commitment to their employer.
Create Better First Days.
BambooHR helps you build an effective onboarding process with expert-approved, customizable onboarding checklists, welcome emails, and new hire packets—so every new hire feels welcome on day one.
FAQs
How much does it cost to hire an employee?
It costs an average of $4,700 to find and onboard a new employee. Find out the true cost of hiring and how your company can save money by streamlining your hiring and onboarding processes.
How much do benefits cost per employee?
Benefits make up about 30% of an employee's total compensation. Learn the true cost of hiring employees today!
How much does an employee cost?
Employees cost much more than just their salary. Expect to spend as much as three to four times an employee's base salary as the cost to find and train employees. Find out how to calculate the cost of an employee.