Introducing BambooHR® Employee Wellbeing

As job seekers chase the ultimate employee experience, employers are taking a closer look at the people they need to help make business boom—their employees:
What sort of environment attracts them?
What makes them want to stay?
What keeps them engaged in their work and driven to solve problems?
Answering these questions requires asking even more—the right questions—to get to the heart of engagement, or what people need emotionally and intellectually to feel motivated, happy, and fulfilled in their work. That's why we're thrilled to announce the launch of Employee Wellbeing, the newest addition to the BambooHR culture suite.
What Is Employee Wellbeing?
Designed to help companies provide the optimal employee experience and improve their employer brand, Employee Wellbeing is the culture survey that asks employees the right questions about their experience at the company—how they feel about their role, their work relationships, and other factors that most impact their ability to engage. And it's all delivered in a clean and welcoming format while providing HR and leadership with drilled-down reporting and a direct course of action on uncovered issues.
Employee Wellbeing gives you the chance to listen attentively to the needs of your employees, so you can learn where your organization is excelling in supporting them and provide early intervention on issues that can ultimately impede productivity, ding satisfaction ratings, and damage your employer brand.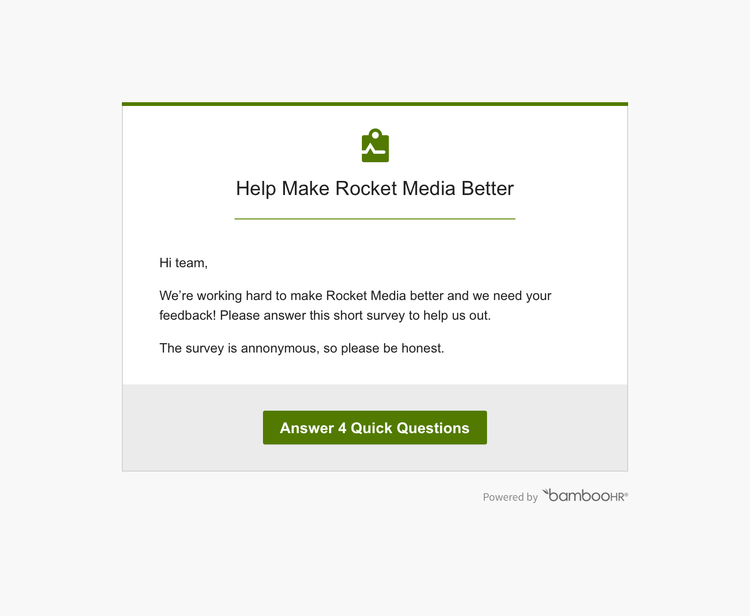 How Does Employee Wellbeing work?
When you deploy Employee Wellbeing, your employees will be prompted to complete a four-question survey on a monthly, bi-monthly, or quarterly basis, depending on the schedule you choose. The survey takes just a few moments to complete, with an optional free response section for each question, so employees can provide extra context to their response.
If that sounds like any other employee survey, here's what sets Employee Wellbeing apart, and why it belongs in your culture toolkit:
Research-Backed Questions
When we say that the answer to employee engagement starts with the right questions, we mean questions that have been rigorously developed, tested, and validated to paint an accurate and actionable picture of wellbeing at your workplace.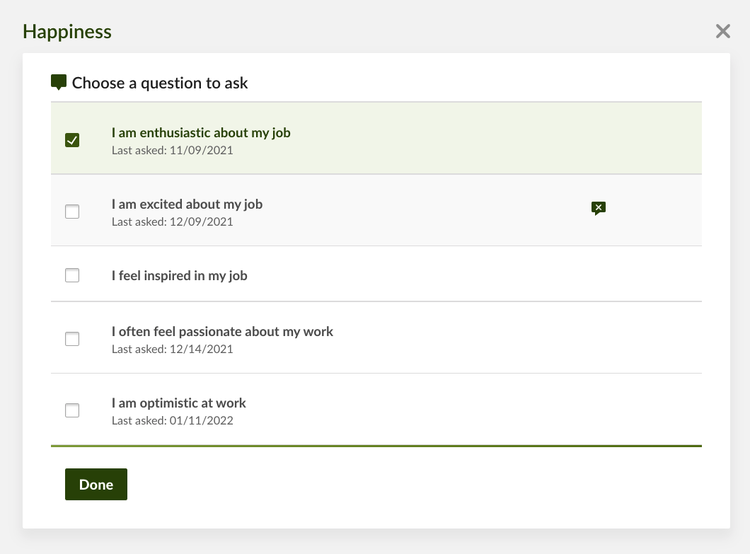 Working closely with an expert consultant in organizational health, we've crafted each question with careful and deliberate attention. Every element is by design, from variations in word choice to the categories the questions fall under.
Targeted Wellbeing Categories
Employee Wellbeing survey questions are organized under four thoroughly-researched pillars of wellbeing in the workplace:
Happiness
Relationships
Personal Motivators
Company Motivators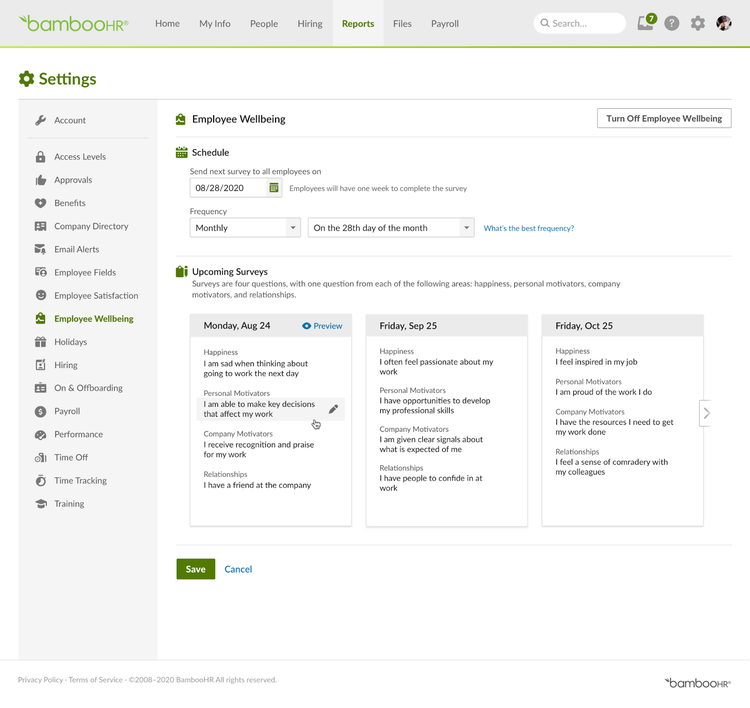 When employees can rate themselves highly in these four categories, employers can feel confident that their workforce is engaged with the work and likely to commit to the organization long-term. Here's how each category covers a crucial component of employee wellbeing:
Happiness
The Happiness pillar investigates the deeper emotions that fuel engagement—for example, excitement, passion, and optimism. Not only is a happy employee generally more productive, but their attitude is infectious. This is an important metric to track as you look for ways to inspire positive emotions across your organization.
Relationships
Employees that form strong work relationships are less likely to leave their company, but remote work has made it harder (though not impossible) to form bonds across departments and even within teams. This pillar helps you measure how well relationships are being formed, wherever your employees work, so you can recognize when and how to initiate team-building opportunities.
Is your culture strategy missing something?
Employee Wellbeing fills the gaps in your employee experience data.
Personal Motivators
This pillar explores the employee's intrinsic alignment with the company's mission and purpose. Do your employees see their own values reflected in the way you do business? Does the work fulfill them on a personal level? Today's workforce is increasingly drawn to meaningful work, and this category monitors how well your employer brand is communicating and validating your mission, vision, and values.
Company Motivators
Because company motivators are extrinsic, meaning outside the employee's control, this category reveals where you'll have the most opportunity for affecting immediate change. The issues revealed by this metric will have largely to do with the quality, capability, and impact of the employee's supervisor.
6-Point Likert Scale
Employees must select their answers to each of the four survey questions on a six-point Likert scale. The more common five-point scale allows for middle bias, which muddies the data, but with a six-point scale, employees must indicate how they're feeling about the subject one way or the other.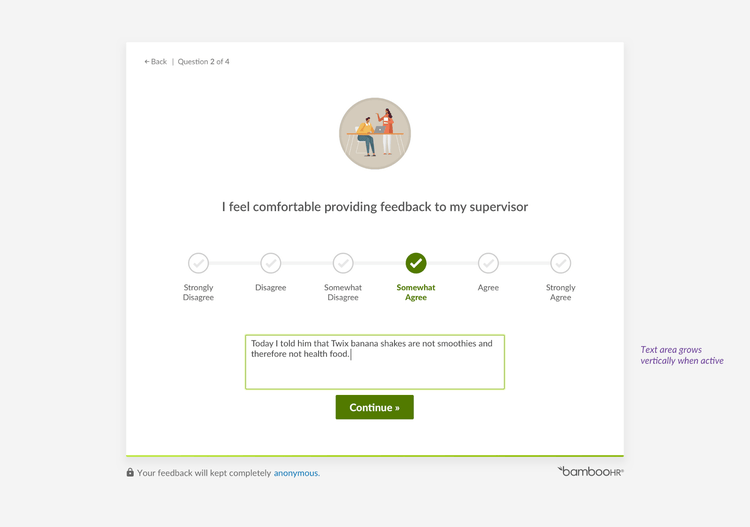 Assured Anonymity
Responses are anonymous to encourage complete candor and protect the quality of your wellbeing data. If there aren't enough responses in a department to assure anonymity, the results will be included in the overall report but hidden when you drill down on that department.
Strategic Send Schedules
Set the schedule, and Employee Wellbeing takes care of the rest, giving you a consistent, hands-free way to collect employee wellbeing data at your company without interruption. You can choose from a monthly, bi-monthly, or quarterly schedule—more frequently to address culture emergencies or less frequently to move into a maintenance phase.
Optional Free Response Section
This feature of Employee Wellbeing is a potential gold mine of added context, insight, and suggestions to dig into along with the data as you form new culture initiatives. Encourage your employees to elaborate on their concerns or feelings brought up by the survey questions and remind them that as long as they don't include identifying details, their feedback is completely anonymous.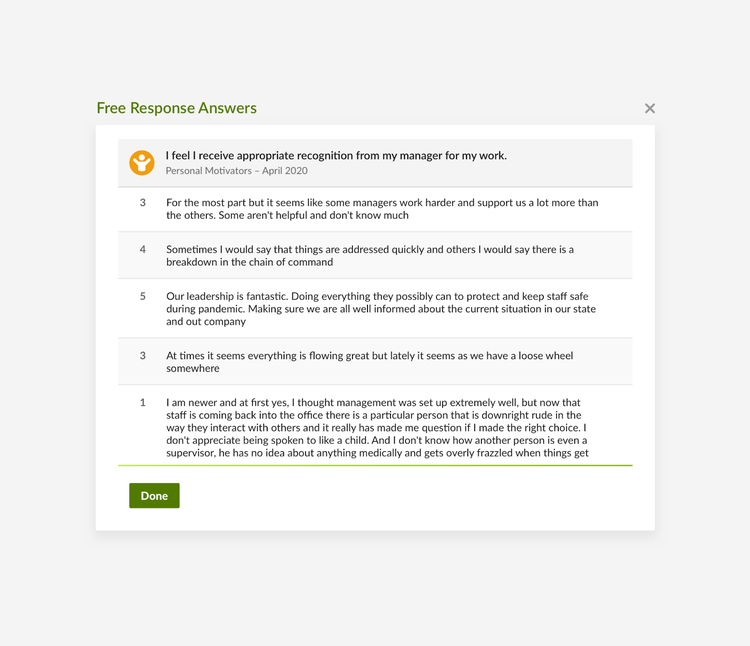 At-a-Glance Heatmap Comparisons
Curious how your marketing team is fairing against sales or finance? The heatmap shows you how cold, lukewarm, or engaged your teams are feeling at a glance, with the option to easily filter the data by department, tenure, location, and several other company segments.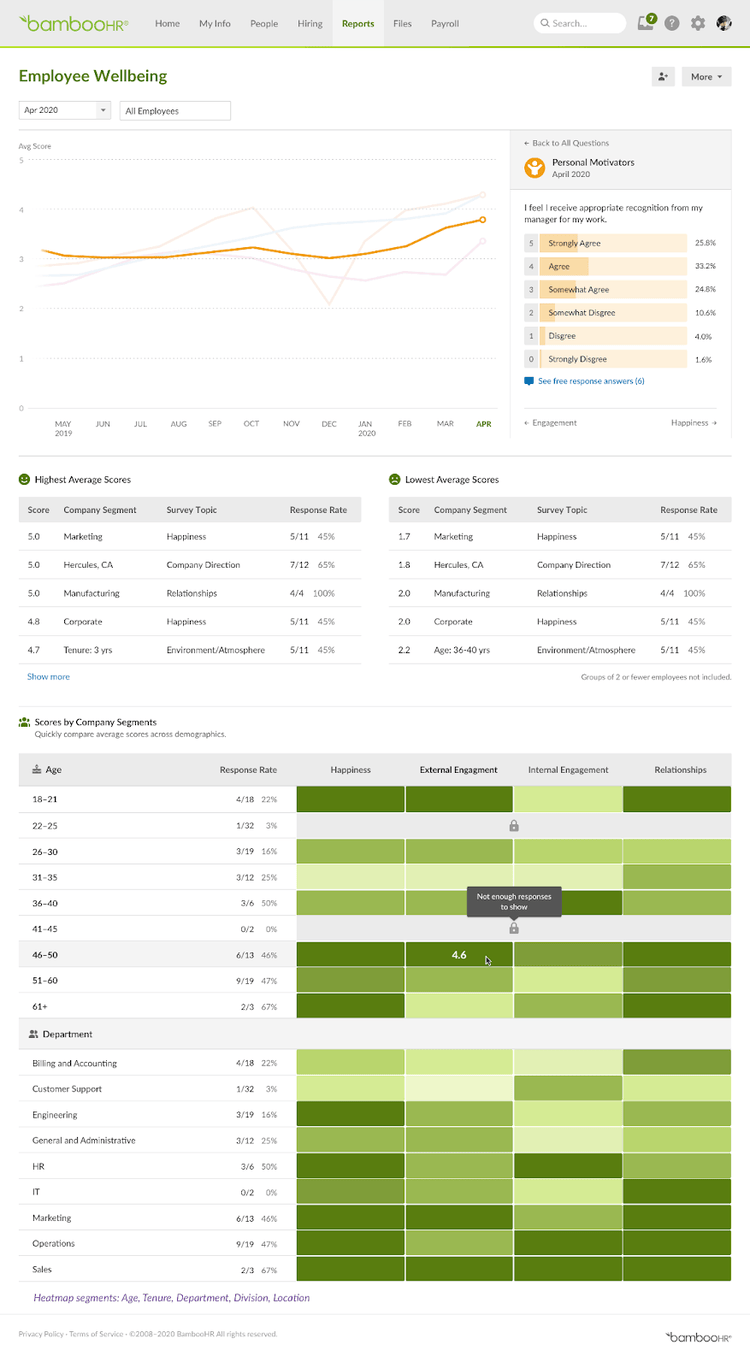 How to Use Employee Wellbeing Data
Asking the right questions and collecting the data is one thing, but what do you do with Employee Wellbeing data when you have it?
After you bring Employee Wellbeing into your repertoire of culture tools, here's how to make the most of its power to enhance employee experience at your company:
As you begin collecting data month over month or quarter over quarter, look for trends. It's here you'll be able to spot dips and spikes to dig into so you can start tracing correlations between recent initiatives, events, and more to gauge their effect on the data.
While a bird's eye view of Employee Wellbeing data is a powerful vantage point, possible action items will become more clear as you filter the data by individual segments to investigate the health of each pillar on a team or department level or by employee tenure, age, and more.
Delve into Free Responses
These responses are optional for the employee, so if they took the time to give context behind their answer on the Likert scale, it's likely they're sharing pressing issues that should be explored right away. Make a study of this feedback and use it to guide the actions HR will take in response to the data.
Drill Down into Company Motivators
The questions under Company Motivators are built around how well leaders and middle management are communicating objectives and expectations as well as providing recognition and support. You can pull the most levers immediately on issues revealed in this category, so if you're wondering where to start on interpreting the data, start here.
Take Employee Experience to the Next Level
Pair Employee Wellbeing with Employee Satisfaction with eNPS®*
Employee Wellbeing and BambooHR® Employee Satisfaction are designed to work together to help you understand two things about your employees:
How likely they are to recommend your company as a place to work
What they need to engage with their work and thrive at your company
In other words, Employee Satisfaction is the smoke alarm and Employee Wellbeing the investigation into what caused the fire to begin with.
Satisfied employees are not necessarily engaged employees, which is why we developed Employee Wellbeing—to go a step further than taking the pulse of employee sentiment as a whole and focus on the practical, emotional, and intellectual needs of employees as individuals.
When employee wellbeing is tended and prioritized, you create a flourishing employee experience that empowers your people to bring their best selves to work.
Close the Feedback Loop with BambooHR® Performance Management
Performance assessments, employee-manager one-on-ones, and 360-degree feedback are your opportunities to continue the conversations started in anonymous culture surveys like Employee Wellbeing and Employee Satisfaction.
For example, if the data reveals a particular manager's department is struggling with motivation or feelings of comradery, requesting 360-degree feedback on the manager can get to the heart of what's going on, and it's all managed from the same HR platform.
The most important thing is to close the feedback loop. Show your employees you care by asking the right questions, and then show them you're serious by listening and acting on the information they provide. Your culture, employees, and company will flourish as a result.
* Net Promoter, NPS, and the NPS-related emoticons are registered trademarks, and
Net Promoter Score and Net Promoter System are service marks, of Bain & Company,
Inc., Satmetrix Systems, Inc. and Fred Reichheld.