Taking the Reins as a New CEO Without Stealing the Show

As I think about all the things I've learned and all that's happened during my first year as CEO of BambooHR, I'm proud of everything we've overcome and achieved as a company during difficult times. We've leaned into our values and taken our theme this year of Make It Count to heart to help our employees and our customers do great work.
But there's also a harsh reality to joining BambooHR as CEO and taking over the role from co-founders Ben Peterson and Ryan Sanders: up to half of executive transitions fail within two years.
We want to buck this trend and have spent this last year doing just that. As we conduct this transition at BambooHR, we've been intentional about doing things differently by being thoughtful, open, and humble.
Here are a few lessons I've learned about how to make founder-to-CEO transitions succeed.
Take Time in the Hiring Process
There's a lot at stake when transitioning CEOs, so we treated the hiring decision like an extended courtship, not a shotgun wedding. We spent 10 months getting to know one another before finalizing the agreement to work together as CEO and co-founders. This gave us the time and space to ask tough questions about our expectations from this transition without the pressure of being days away from the announcement.
Going slowly and exploring every aspect of what this decision would mean rather than jumping in meant there were no unpleasant surprises when everything was said and done. By the time we signed the paperwork and made the announcement, we felt confident this was going to be successful because of all the groundwork we had already done.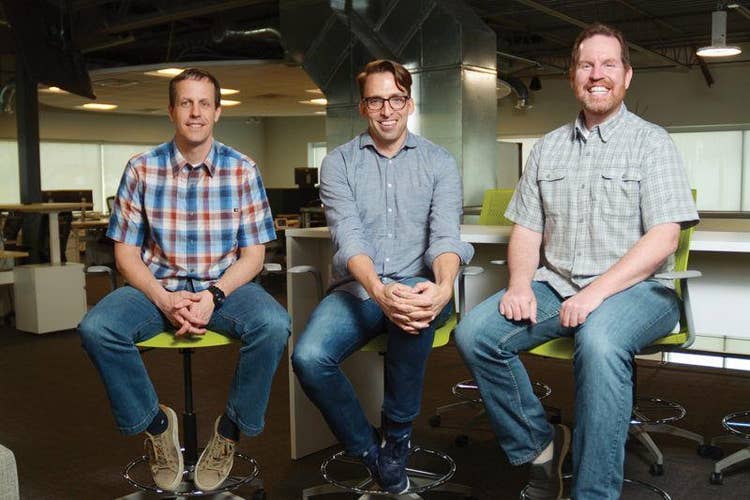 Be Intentional About Your Foundational Pillars
Much of the success of my relationship with our co-founders comes from its foundation. We chose trust, the BambooHR values, and alignment on mission as our foundational pillars because these are the things that matter to us as individuals and that set BambooHR apart as a company.
To establish a common understanding, we asked each other questions like:
Do the BambooHR values resonate with you?
Our mission at BambooHR is to set people free to do great work—what does that mean to you?
What are the two to three things about the culture that most concern you?
Exploring these types of questions helped us create a unified vision for what we wanted to achieve in the company.
But you have to go one step further if you want to keep that initial alignment and trust going. You have to nurture and strengthen these pillars on an ongoing basis by building open lines of communication, which is the next lesson I learned.
Communicate Openly and Frequently
To nurture our relationship and keep everyone accountable to our foundational pillars, Ben, Ryan, and I allocate significant time to working through issues together—between three and four hours per week. We want to leave nothing to chance in terms of how we work together.
One of our strategies for keeping communication lines open is through a shared document. We write down concerns, comments, and questions we need to cover in our meetings. Our ongoing discussion includes questions like:
I heard this word used in a meeting. What does it mean at BambooHR?
What parts of our culture need to evolve and grow as the company evolves and grows?
Where do you see gaps in where I'm focused as the CEO?
What will we do when we get tough feedback that will put strain on this relationship?
Another way we nurture open, honest communication in conversations with each other is through two simple yet direct questions:
Do you feel complete?
How are you experiencing me in this situation?
As the top executives in the company, we have to be willing to ask each other the hard questions if we're going to successfully answer them for our employees and our customers. We have to be honest with each other so we can maintain the trust on which we've built our relationship.
The meetings with Ben and Ryan are now the highlight of my week. What other CEO has 60 percent of the board together every week to quickly make decisions and move the company ahead? I'm immensely grateful for their support, and I firmly believe BambooHR is better off having us work together this way.
CEO transitions, or really any leadership transition, stand a zero percent chance of working if you can't navigate the egos and hubris that are so prevalent in the C-suite.
Re-recruit the Founders
Some CEOs decide to have the founders stay out of the day-to-day business. By now, it should be amply clear that I disagree with this approach. In fact, I've taken the complete opposite approach and actively recruited the founders back into the business as much as I can.
Recruiting is the most important job of any CEO, and my dream is to have the most talented people work with me. What better way to make that happen than to recruit the two most talented people in the business—Ben and Ryan?
I successfully recruited one co-founder, Ryan, as our chief product officer starting in October 2020 to help us set the stage for the future of our products. I started recruiting him for this role before I even started as CEO because I knew he was the best person for the role. I've engaged the other co-founder, Ben, to build our leadership center of excellence at BambooHR to train and coach our emerging leaders. This is something he's especially suited for as the former CEO of BambooHR.
Humility Is a Powerful Business Principle
CEO transitions, or really any leadership transition, stand a zero percent chance of working if you can't navigate the egos and hubris that are so prevalent in the C-suite. Sometimes, or, let's face it, all the time, CEOs get too much credit. As founders, watching someone else step to the front, lead your business, and get credit may trigger some defense mechanism for even the most laid back, humble founders. Sharing is hard. Many can't get past the ego.
Humility is extremely difficult for humans to do, but Ben, Ryan, and I have worked hard to mitigate the clash of egos by consistently nurturing and relying on our foundational pillars of trust, values, and alignment on our mission. That commitment keeps us all grounded in what matters most.
I've also been fortunate that Ben and Ryan are two of the most down-to-earth, humble founders of a highly successful start-up that I've come across. I've been blown away by how they live the values of the company, both in front of the camera and behind the scenes. In everything they've done, they have tried to help me be successful as their CEO.
Together, I know we'll build a great future for our employees and our customers.