9 Great Examples of Company Values to Inspire You [+ Free Ebook]

Company values are the foundation of great company culture. Without them, it's virtually impossible to maintain a consistent, healthy culture, especially as your organization grows and brings on new people. As Brad Rencher, CEO of BambooHR, explains, "Defining company values and developing your culture are the most strategic things you can do as an organization."
But knowing that creating company values is a good idea and knowing how to create company values are two different animals. Without some solid company values examples, it can be tough to know where to start.
To help you out, we've compiled a list of the best company core values examples from organizations big and small. You can use these examples to start brainstorming company values for your own organization. And when you're ready to start the process in full, you can check out our free ebook, Your Guide to Creating Company Values.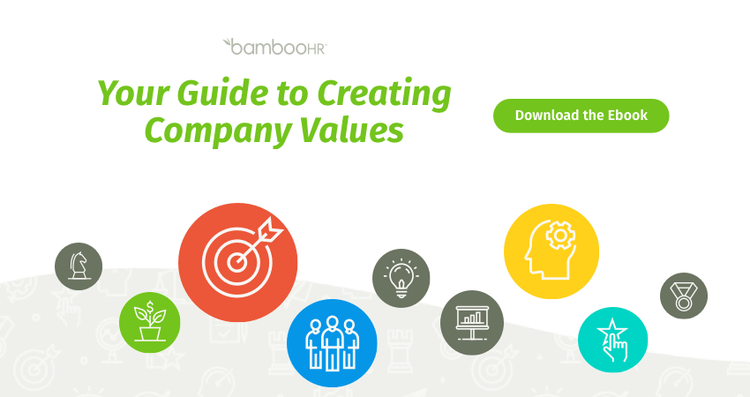 Examples of Company Values from Large Organizations
For larger organizations, keeping culture on track can be a real challenge. With more people comes more variety in experience, perspective, behavior, and beliefs. It's impossible to maintain a consistent culture without a set of clear core values that everyone in the organization can get behind. Here are a few examples of large organizations that understand this and have taken the time to define guiding values for their people.
Google Company Values
Google's company values are called "Ten things we know to be true" within their organization. They revisit this list frequently to keep everyone on track, both in their culture and business decisions.
Focus on the user and all else will follow.
It's best to do one thing really, really well.
Fast is better than slow.
Democracy on the web works.
You don't need to be at your desk to need an answer.
You can make money without doing evil.
There's always more information out there.
The need for information crosses all borders.
You can be serious without a suit.
Great just isn't good enough.
Amazon Company Values
Amazon's company values are also called their Leadership Principles. They have set up these values to guide their people "every day, whether [they]'re discussing ideas for new projects or deciding on the best approach to solving a problem."
Customer Obsession
Ownership
Invent and Simplify
[Leaders] Are Right, A Lot
Learn and Be Curious
Hire and Develop the Best
Insist on the Highest Standards
Think Big
Bias for Action
Frugality
Earn Trust
Dive Deep
Have Backbone; Disagree and Commit
Deliver Results
Apple Company Values
Apple's company values have changed over the years, which is a good reminder that your organization (and its culture) might not be the same in ten years as it is today. The process of creating and defining company values should be ongoing—don't be afraid to make adjustments when necessary. The original Apple company values in 1981 are:
One person, one computer.
We are going for it and we will set aggressive goals.
We are all on the adventure together.
We build products we believe in.
We are here to make a positive difference in society, as well as make a profit.
Each person is important; each has the opportunity and the obligation to make a difference.
We are all in it together, win or lose.
We are enthusiastic!
We are creative; we set the pace.
We want everyone to enjoy the adventure we are on together.
We care about what we do.
We want to create an environment in which Apple values flourish.
More recently, CEO Tim Cook defined the company values this way:
We believe that we're on the face of the Earth to make great products.
We believe in the simple, not the complex.
We believe that we need to own and control the primary technologies behind the products we make.
We participate only in markets where we can make a significant contribution.
We believe in saying no to thousands of projects so that we can really focus on the few that are truly important and meaningful to us.
We believe in deep collaboration and cross-pollination of our groups, which allow us to innovate in a way that others cannot.
We don't settle for anything less than excellence in every group in the company, and we have the self-honesty to admit when we're wrong and the courage to change.
Examples of Company Values from Small and Medium-Sized Organizations
The company values examples from global organizations like Google, Amazon, and Apple are inspiring, but what if you're operating on a smaller scale? Here are several examples of company core values from small and medium-sized organizations (like BambooHR).
Want your company's culture to shine? Check out The Definitive Guide to Culture.
BambooHR Company Values
Of course, we couldn't go through an entire article about company values without mentioning our beloved core values here at BambooHR. These values help us do great work every day.
Enjoy Quality of Life
Grow from Good to Great
Be Open
Assume the Best
Do the Right Thing
Lead from Where You Are
Make It Count
SnackNation
The company values at SnackNation provide the standard for "everything [they] create and cultivate" in their organization.
Health Above All Else
Display Grit Without Ego
Serve & Inspire
Seek Perpetual Growth
Spread Joy & Optimism
Glassdoor Company Values
Glassdoor has defined its values to "both communicate to employees what matters most to your organization, and create standards to hold both company and employee decisions accountable."
People matter
Integrity
Passion
Ownership
Accountability
Leadership
BizLibrary Company Values
At BizLibrary, their core values are designed to encourage growth, learning, passion, and more among their people.
Build Successful Partnerships that Last
Freedom to Fail
Enjoy the Journey
Giving Back
Passion to Be the Best
Respect Others
Smarter Every Day
7Geese Company Values
7Geese keeps it simple with their company values, but that doesn't mean they don't achieve impressive results all the same.
Excellence
Positivity
Growth
Lending a Hand
Lattice Company Values
As explained in an article from Lattice, "we wanted to make values that were more than our cultural foundations—they're more about our cultural ideals, of our company standards that we strive to reach."
Ship, Shipmate, Self
Chop Wood, Carry Water
Clear Eyes
What's Next?
Get full access to Your Guide to Creating Company Values now.
Creating Your Own Company Values
With all of these examples, you're probably ready to start brainstorming some core values for your own organization. But to create meaningful, long-lasting company values, you need more than a list of nice words and phrases. You need to evaluate your company culture as it is today, identify and define foundational values, and communicate them to your people.
Luckily, we cover these steps and more in our ebook, Your Guide to Creating Company Values. Get started on the process today and make your company culture stronger than ever before.