New Episodes of The Era: Create Employee Pain Management Programs that Actually Work

Employee experience is the end-all predictor of retention, engagement, and growth. No wonder HR and business leaders are eager to get it right! But no two workplaces are the same just as no two employees have the same needs—in fact, many may be dealing with chronic pain even as they show up for work.
In our two latest episodes of The Era podcast, BambooHR CEO Brad Rencher talks with Dr. Jim Feng, CEO at Phyxable, and Dave Carhart, VP of Advisory Services at Lattice, to explore how creating a tailored employee experience begins with listening to your employee's individual and collective needs, investing in their day-to-day, and continuously empowering them with appropriately crafted wellness programs, pain management programs, and benefits.
Keep reading for the highlights, or jump in and listen to the full episodes as you scroll your morning emails.
Episode 11: Defining Employee Wellness and Pain Management
Did you know that at least 20 percent of the population struggles with chronic pain? From lower back pain to recurring migraines, chronic pain not only contributes to absenteeism, but it impacts the employee experience when wellness programs don't account for the need for better employee pain management.
In episode 11 of The Era, Dr. Jim Feng, Chief Executive Officer at Phyxable, talks with Brad about how HR teams and business leaders can work together to create effective organizational wellness programs that address employee pain management. Pulling from his own experiences with chronic pain, Dr. Feng emphasizes the importance of a tailored approach to these programs rather than a broad application of employee engagement tools to address a broad idea of the employee experience. It's more important to get to the root causes of employee pain points instead, which tailored programs can do.
More Employees Deal with Chronic Pain than You May Realize
Even though chronic pain affects roughly 66 million people in the U.S., few people really understand what it is, how it works, and how to prevent or treat it. Dr. Feng's mission is to educate employees and employers alike on the realities of chronic pain and on creating healthier workplaces with better employee pain management programs.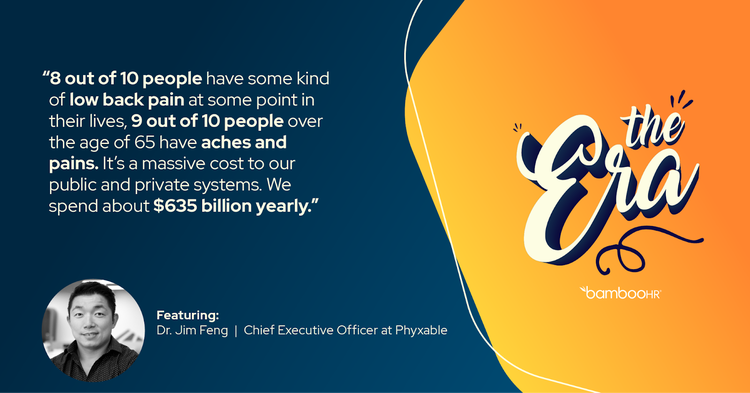 In his discussion of the gaps in traditional pain management, Dr. Feng points to the root of the problem: "Rest is not the answer." For many chronic pain conditions, the answer is movement.
The Future of Wellness and Pain Management in the Workplace
In the workplace, many employees are often tethered to their desks for hours upon hours as they complete their duties. While they may move during breaks or from meeting to meeting, the traditional workplace is not typically conducive to much physical activity or movement. Dr. Feng points out that this lack of motion often causes and worsens chronic pain.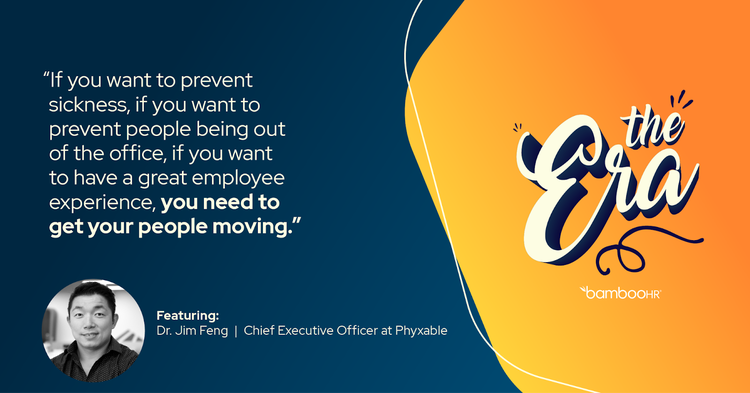 Movement, says Feng, is the treatment and prevention measure for chronic pain across the American workforce, but it's hard to get employees engaged in programs that would encourage more movement, and employers aren't the only institutions with engagement issues. Seventy percent of patients leave rehab programs before officially being discharged. Why?
Feng explores some of the possible answers for this disengagement and emphasizes that an effective system of engagement in the workplace is where the future of wellness, pain management, and the ideal employee experience lives.
How to Revive Your Health and Wellness Programs So Employees Take Part
It's vital to approach your programs in a way to make them fit your unique workforce, not just any workforce. Taking a tailored approach is what will pique your employees' interest and lay the groundwork for engagement.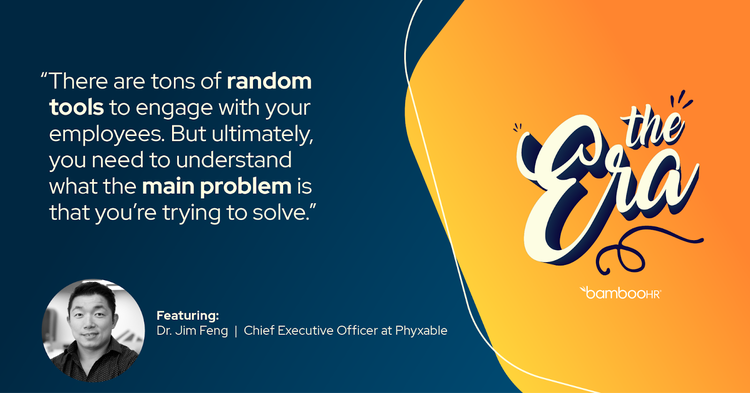 Employees aren't going to engage with what they don't need or understand, so it's important you fully understand the problem you're trying to solve. Not only can you prepare and acquire the best tools and resources for addressing the specific chronic pain needs of your workforce, but you can take meaningful action in improving the employee experience of your employees.
Episode 12: Creating the Ideal Employee Experience
In this episode, Dave Carhart, VP of Advisory Services at Lattice, shares what he's learned from keeping Lattice employees engaged during the shift to a hybrid environment—from the importance of customizing employee benefits to bridging the gap between HR and operations.
There's No One-Size-Fits-All Employee Experience Plan
Benefits play a huge role in the experience your employees have at your company, but what they'll need from you in order to thrive is going to look different for every business. Dave outlines what leaders should consider as they work on crafting the ideal employee experience for their workforce, and emphasizes the importance of year-round attention to this task throughout the employee lifecycle.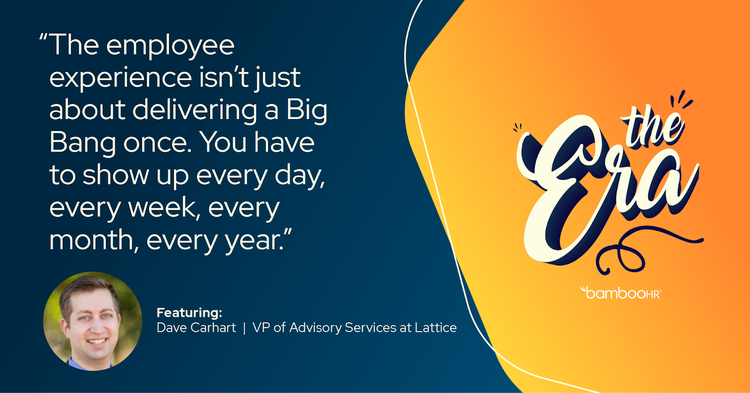 Without continuous improvement, says Dave, and without showing up daily with intention, your organization is only as good as what you currently offer. And that might not be good enough.
How to Shape the Ideal Employee Experience
Rapidly scaling businesses must be especially vigilant about the employee experience as new individuals add their needs to their existing workforce. For these companies, Dave offers this advice:
Invest in people infrastructure.
Focus on quality leadership.
Focus on what's right for your employees.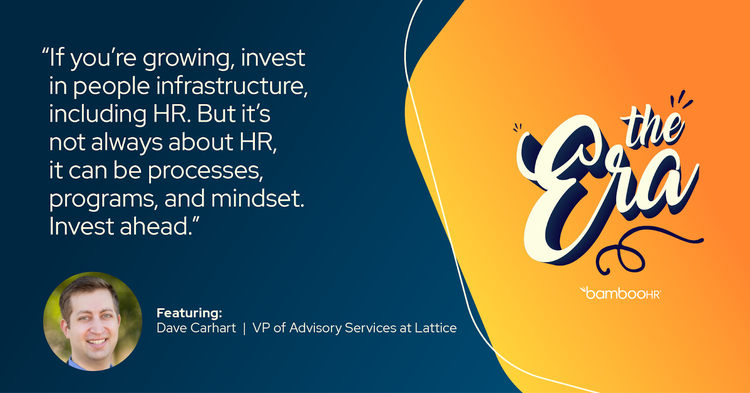 Without the proper support, people, processes, and systems are all likely to flounder, so Dave suggests investing early in people infrastructure, including HR, processes, programs, and mindset development. Making these investments before scaling will set your organization on the path to success.
The next focus, he explains, should be on leadership.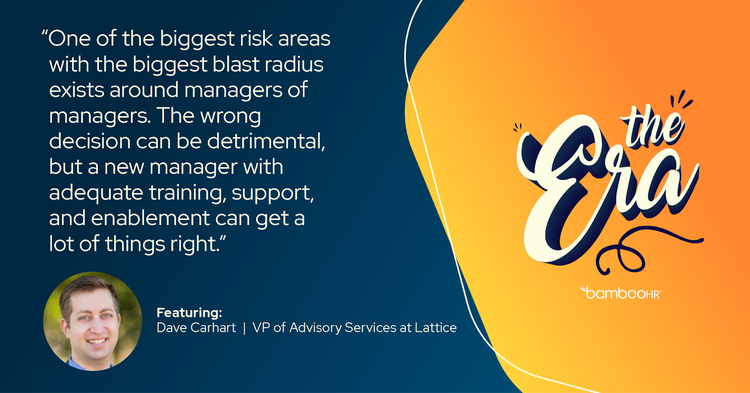 The unfortunate reality is even the best managers can fail or lead employees astray if their own managers (often in the c-suite) fail to provide the training, resources, and direction they need to support their direct reports.
In crafting a perfect-fit employee experience, Dave's next piece of advice is, "Don't try to be everything for everyone." There are innumerable options out there vying to serve your employees, so creating a system of prioritization that focuses on what's mutually right for your employees and your business will help you narrow down your options to land on the best tools.
How to Work Well with Operations Teams
The function of HR is intricately tied to operations, but the two teams often fail to understand each other. While operations teams may fail to recognize the immense work HR performs behind the scenes in creating and organizing a program, HR may not fully grasp the intersecting business priorities operating teams are working toward.
To bridge the gap, Dave recommends HR getting in sync with operations' business priorities, so they can better work toward reinforcing and supporting those priorities with their own initiatives. Only working together can they successfully create a cohesive and ideal employee experience tailored to the organization
Join our journey to discover what happens when you put employees first by subscribing to The Era on Apple Podcasts, Spotify, our website, or anywhere you get podcasts. If you like what you've heard, please rate the show. Your feedback helps us make content that's valuable to you and your work.