The Era Podcast Is Back! Catch Up on the Newest Episodes

Welcome back to The Era! In this podcast, BambooHR CEO Brad Rencher sits down with great minds in HR and executive leadership to ask this crucial question—does putting employees first really lead to better business outcomes? And how does putting employees first fit with other aspects of culture and employee experience, like hiring, onboarding, compensation, and performance?
In our latest episodes, Brad speaks with Daniel Yanisse, Co-Founder and CEO at Checkr, and Donna Morris, Executive Vice President and Chief People Officer at Walmart.
Here are some of the key takeaways from each episode.
Listen to the full episodes, and stay up to date on new episodes of The Era.
Episode 7: How to Improve Candidate Experience with Fair Chance Hiring
Daniel Yanisse and Checkr, a BambooHR Marketplace partner, are on a mission to improve background checks and give more people a second chance in the workforce. Even though background checks may seem like a small piece of the employee experience, Daniel discusses how they can impact a business's diversity, equity, and inclusion (DEI) and make a huge difference in the lives of people with criminal backgrounds.
How Checkr's Mission of Fair Chance Hiring Started with Solving a Hiring Problem
For gig workers, the initial background check is usually the first and only step in the hiring process, but solutions back in the early days of the gig economy were slow, manual, and limited.
"We couldn't find the right solution for our business to scale and hire thousands of contractors," says Daniel. "So that's where we had the idea to build a software company to really streamline and automate background checks."
Despite having no previous experience in the background check industry, Daniel and his co-founder, Jonathan Perichon, dove right in to understand the process, the human experience behind it, and how they could make it better.
They found two crucial issues:
Poor data quality leading to a high error rate, e.g., candidates being matched with someone else's data and criminal record
Pervasive bias against people with criminal records, regardless of the individual context (e.g., how long ago it was, the type of crime) and social context
One in three Americans has a criminal record, according to Daniel, so outdated background check processes shut out prohibitive amounts of qualified candidates based on prejudicial, irrelevant, or just plain incorrect information. This is why Checkr has made it its mission to make hiring more fair by providing businesses with background check technology that's not only faster and simple, but more accurate.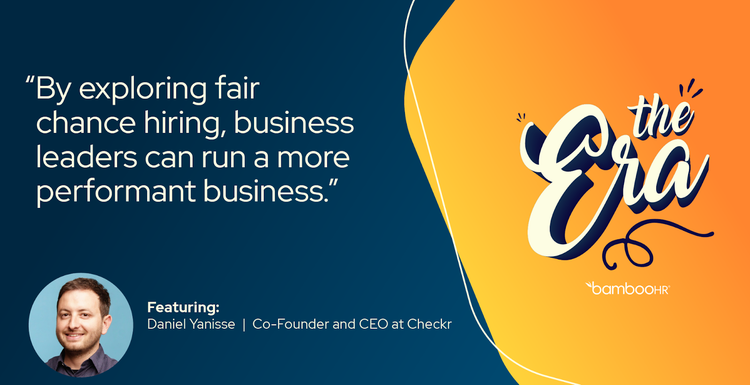 Better Background Checks Improve Candidate Experience and Help Businesses Grow
Stand Out from the Crowd
Traditionally, background checks are a tedious, slow compliance step for HR, and as a candidate, you never really know what information they cover. Simplifying background checks and making them more transparent can be a big differentiator in the candidate experience, especially in such a tightly competitive job market.
Investing in People Is Investing in Business
Investing in candidates with less-than-perfect experience isn't just a moral choice—it's also good for business. As Daniel explains, an estimated 30 million Americans have criminal records, so there's a huge pool of highly motivated and experienced workers just waiting to be tapped.
Some of the business benefits of giving people second chances include:
Reduced cost of hire
Increased diversity
Higher employee loyalty and productivity
Get all these benefits and more when you add Checkr to BambooHR.
How Fair Chance Hiring Fits in with Diversity, Equity, and Inclusion Strategies
For Daniel, fair chance hiring is about "being open to people who have made mistakes," and it should be an integral part of DEI.
Of course, equitable hiring practices are just the first step, but as businesses look at the different dimensions of diversity in their recruiting and hiring, people with criminal backgrounds should be right there with the more established criteria, like education and identity. Technology like Checkr can make it easier to include more qualified people in the final pool of candidates.
To be clear, technology isn't a silver bullet for eliminating bias in hiring decisions. However, in Checkr's case, it reduces data inaccuracies, allows businesses to be more intentional in screening and disqualifying candidates, and gives everyone more visibility into the nuances of background check information.
This results in businesses having better information to make fairer hiring decisions and candidates having a better hiring experience.
Listen to the full conversation with Daniel.
Episode 8: How to Maintain a Healthy Culture at Any Scale
For a team of any size to be successful, it needs to build a culture of integrity, compassion, and teamwork. Donna Morris uses her twenty years of experience to deliver innovative people solutions at Walmart, the country's largest private employer, all while prioritizing employee culture, diversity, and inclusion.
Improving Employee Experience Improves Customer Experience
Unless you're a company of one, you have to get your employees to buy into your purpose in order for them to deliver an exceptional service or product to customers—and the stronger your experience for your people, the more likely they're going to give customers a great experience.
By having a clearly defined purpose or mission, you're also more likely to attract people who feel invested and motivated to bring that to your customers and the communities in which you do business.
Tie HR Priorities to Business Outcomes to Impact the Daily Employee Experience
Trying to impact the daily employee experience for even 20 people can be daunting. For Donna, that number is in the millions, but her philosophy at Walmart and her advice to HR at any company is the same: be strategic and find those HR priorities that will help drive the business outcomes you're working towards.
For example, one of the four strategic priorities Donna and her team focus on to drive Walmart's business outcomes is wellbeing. Encompassing physical, emotional, and financial wellbeing, it emerged as one of the top concerns for the company as a result of the pandemic.
In many ways, the pandemic has forced HR to make more business decisions. While that may be scary to some, it's also given HR a real opportunity to shape the business through its people. As challenging as the last two years have been, they've acted as a beacon shining a light on how people really are a business's most important asset.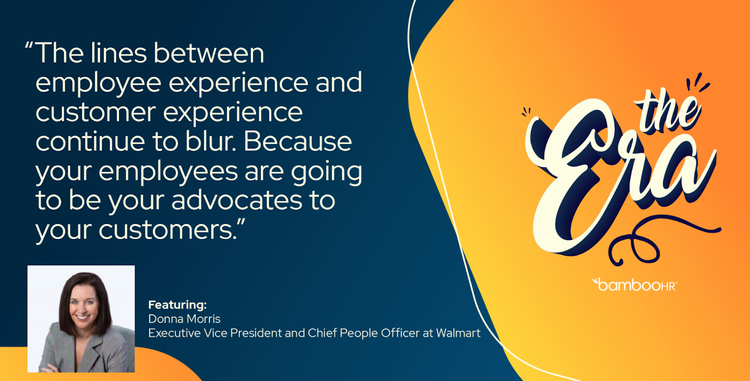 Focus on the Community Broadens Diversity
Another HR priority at Walmart is inclusion, and Donna's perspective is to make that the driving force behind increasing diversity in the workplace. Instead of just focusing on recruiting people with specific identity markers, she feels it's more inclusive to think of the community:
How can we better reflect our customers and communities?
How can we be allies for each other?
How do we all create an environment to bring out the best in each other?
Most of all, focus on encouraging everyone to bring their authentic self to work.
Listen to the full conversation with Donna.
Stay connected with us by subscribing to the show wherever you listen to podcasts. If you like what you've heard, please rate the show. Your feedback helps us make content that's valuable to you and your work.