Applicant Tracking System (ATS)
Modern recruiting tools help you find and hire the right talent fast.
"We hired 110 people in two weeks to staff our COVID-19 vaccination clinics. That would have been impossible without BambooHR. I'm so thankful we became a customer when we did."
Sylvia Decker, HR and Operations Manager | The Centre for Family Medicine
A hiring experience they'll tell their friends about.
A great hiring process should feel seamless from application to offer letter. If it isn't, you'll lose talent to competitors and damage your employer brand in the process. BambooHR makes the hiring process easy on candidates and ensures timely communication at every step of evaluation, so applicants feel acknowledged and informed, your hiring team looks like all-stars, and your reputation goes through the roof.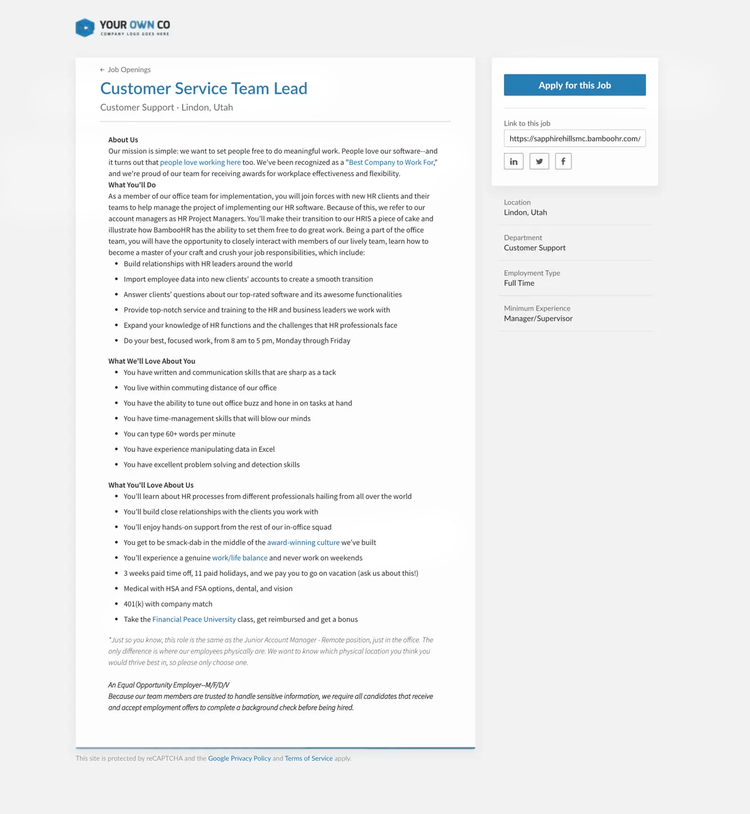 Send offer letters on time, every time with our hiring system.
When you find the perfect candidate, sending an offer can't happen fast enough. BambooHR makes it as fast as humanly possible—faster, actually. Our customizable offer letter templates auto-populate candidate info for all your different positions, job types, and other requirements. On the candidate side, electronic signatures make accepting an offer as simple as sending an email—no more hunting for a printer and fax machine.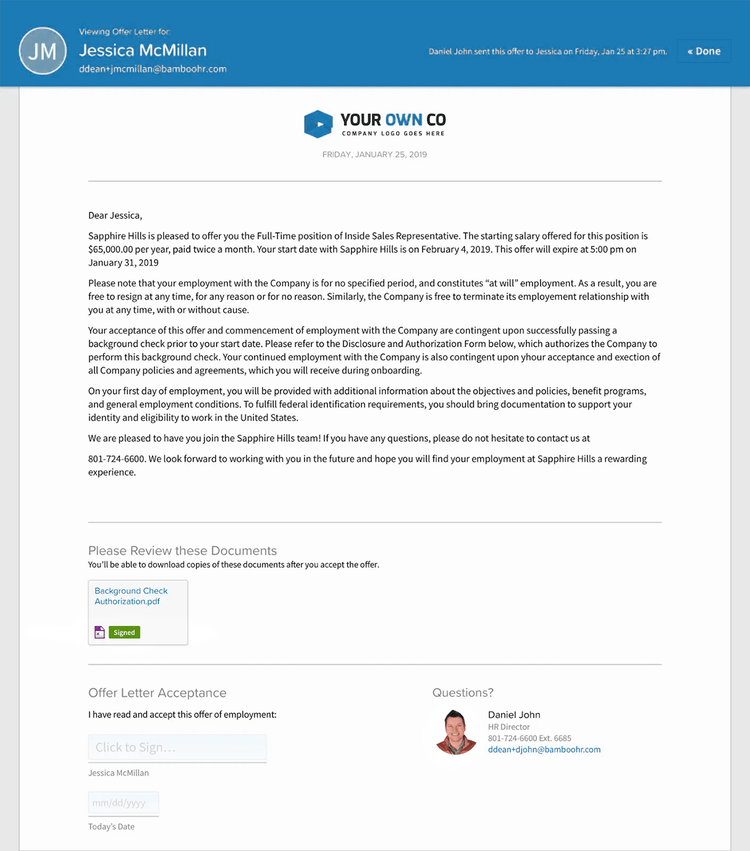 You don't have to take our word for it.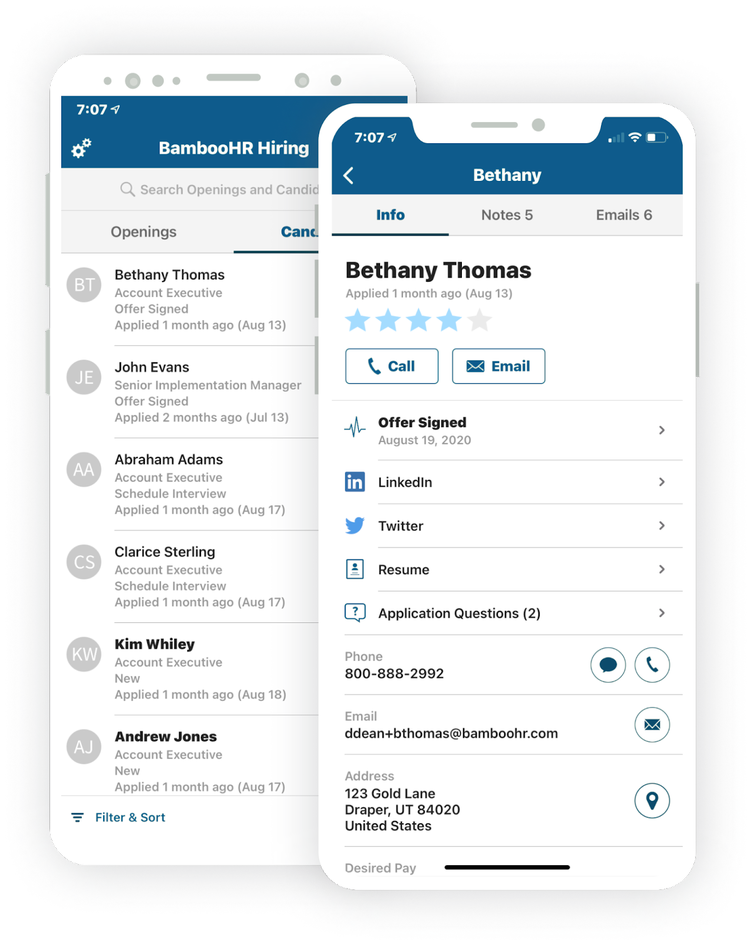 BambooHR® Hiring: our ATS app for iOS and Android.
Recruiting doesn't stick to a nine-to-five schedule, and it doesn't care if you're stuck in traffic. But thanks to the BambooHR® Hiring mobile app, your hiring team can post jobs on the go and begin reviewing candidates the instant they submit an application. Collaborators can see resumes, view responses to candidate questions, and provide ratings and feedback from home, the beach, or even the carpool lane. Just not from the driver's seat, please.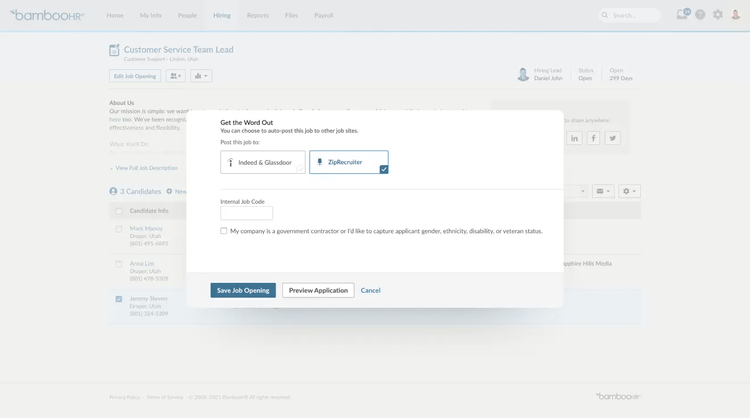 Post open positions on job boards with a few clicks.
Attracting high-quality candidates can be hard with all of the noise in today's job market, but in just a few clicks, BambooHR recruiting software lets you share job postings across multiple top-performing channels. Now you can cut through the noise and reach top candidates right where they're searching, on job boards like Indeed, Glassdoor, and ZipRecruiter, and on social media sites like LinkedIn, Facebook, and Twitter.
An awesome hiring process deserves awesome onboarding.
We don't believe the hiring process stops at the offer letter. BambooHR hiring software lets you transition from hiring to onboarding without missing a beat. Hiring managers can customize new hire packets informing employees what to expect on day one, introducing them to their new team, and assigning key onboarding tasks so they'll be ready to go as soon as they enter the building.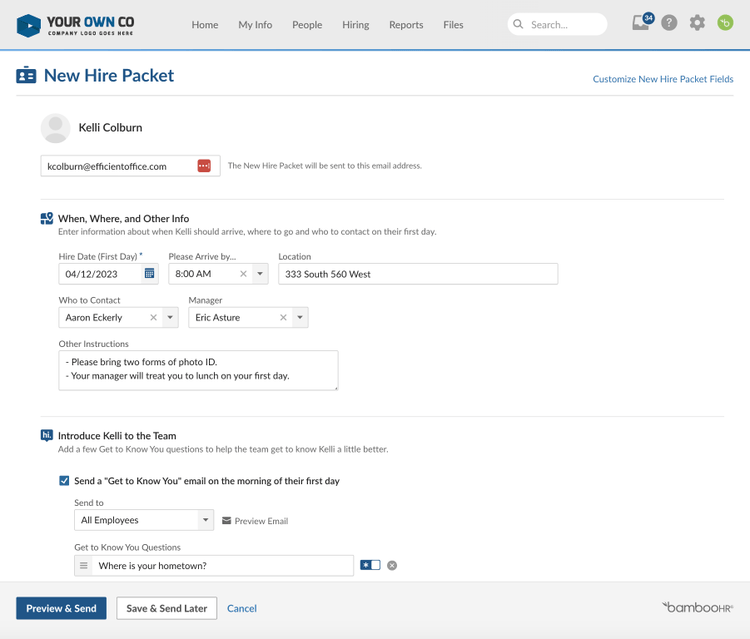 We are better informed during the hiring process than most organizations because of BambooHR. It enables us to make higher quality hiring decisions.
—Dylan Hackley | Gupta Media
The power of the BambooHR® applicant tracking system (ATS) in the palm of your hand.
Speed up the recruiting process—and wow new hires—with an award-winning applicant tracking system and intuitive onboarding.
Make getting documents signed fast, organized, environmentally conscious, and painless for everyone involved.
Can I hire using the BambooHR® Mobile app?
You can hire and recruit with BambooHR on your smartphone using the BambooHR® Hiring app (available for iOS and Android). The app is designed specifically for anyone involved in the hiring process. You can use it to review candidates the instant they apply, coordinate with other hiring team members, and communicate directly with applicants. (The BambooHR Hiring app is separate from the BambooHR Mobile app, which is designed for managers and employees.)
Which job boards do you integrate with?
Once you create a job posting in BambooHR, it just takes a couple of clicks to share it on Indeed, Glassdoor, ZipRecruiter, and social media sites like LinkedIn, Facebook, and Twitter.
Can I send offer letters to be signed electronically?
Yes! With BambooHR, you can create professional offer letters and send them to new hires to sign electronically, along with any other documents or disclosures you need from them.
What happens when someone accepts my offer letter?
BambooHR helps you move seamlessly from hiring to onboarding with customizable new hire packets: let new hires know what to expect on their first day, introduce them to their new team, and get important paperwork signed electronically even before their start date.