Employee Satisfaction with eNPS®
Harness the power of employee Net Promoter Score℠
"We love BambooHR Employee Satisfaction! We've been able to retire our ancient ways of doing employee satisfaction surveys with long lists of questions and get all the information that we need if our employee's just give us a couple minutes of their time. We're already seeing improvements in our communication throughout the organization on areas that we need to work on and getting feedback from our employees that says they feel 'heard.'"
Courtney Woolfork, HR Specialist | Matthew 25 AIDS Services
Anonymity encourages honesty.
Sugar-coated criticism only leads to one thing: cavities in your efforts to improve. Our engagement software makes it clear to employees that their answers are completely anonymous, which means they're more likely to be honest about their concerns. Since they feel free to reveal their true feelings, you can feel confident the feedback you're seeing is real and accurate.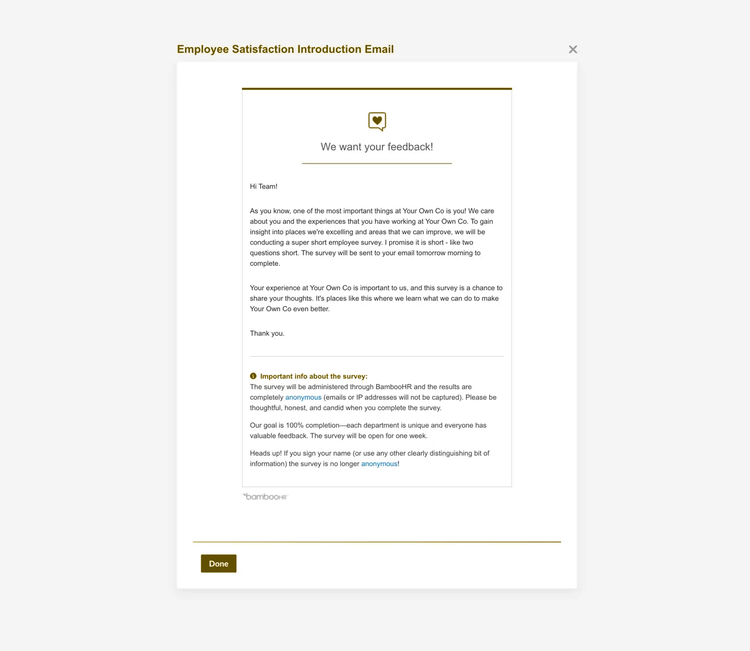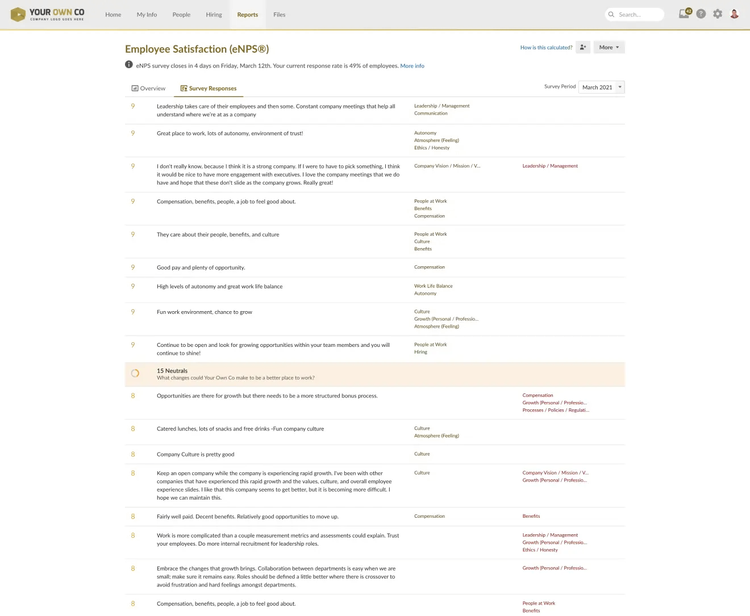 Know—and show—the why behind the score.
The honest feedback in Employee Satisfaction surveys contains critical insights, but it takes a BambooHR approach to reveal them. Intelligent keyword tagging and a most-mentioned topics section create the foundation for a brilliant engagement report. Sentiment assignment allows you to fine-tune the data even further, for pinpoint accuracy and a clear picture of the pluses and minuses behind your eNPS rating. By unlocking not only data, but deep understanding as well, Employee Satisfaction turns you into a strategic superhero without a cape (unless you want to wear one, which is fine with us).
Track trends to tailor your impact.
BambooHR Employee Satisfaction doesn't just help you dig deep—with the Most Mentioned Topics Over Time feature, you also get the big picture. Seasonality or changes in your initiatives can affect how your people feel about key workplace topics, including culture, compensation, and leadership. Understand what you're doing well, where your positive and negative feedback comes from, and where to intervene to help your employees feel more valued.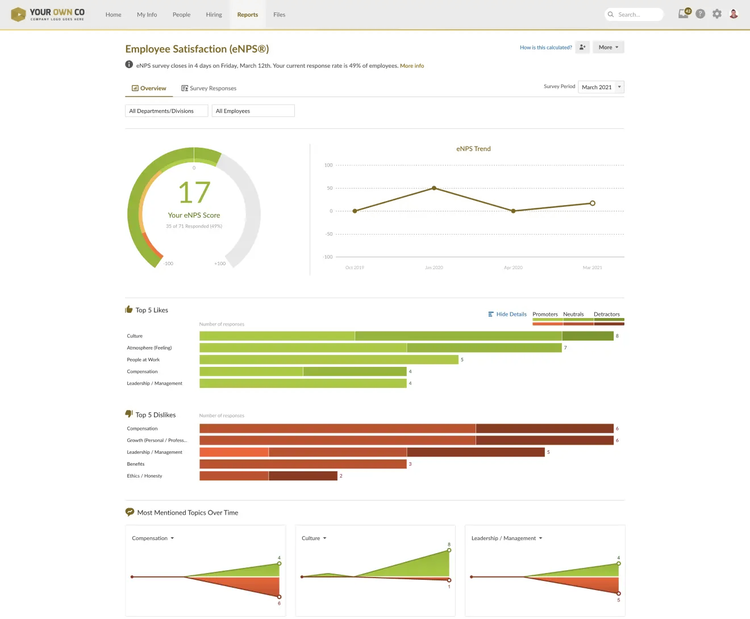 You don't have to take our word for it.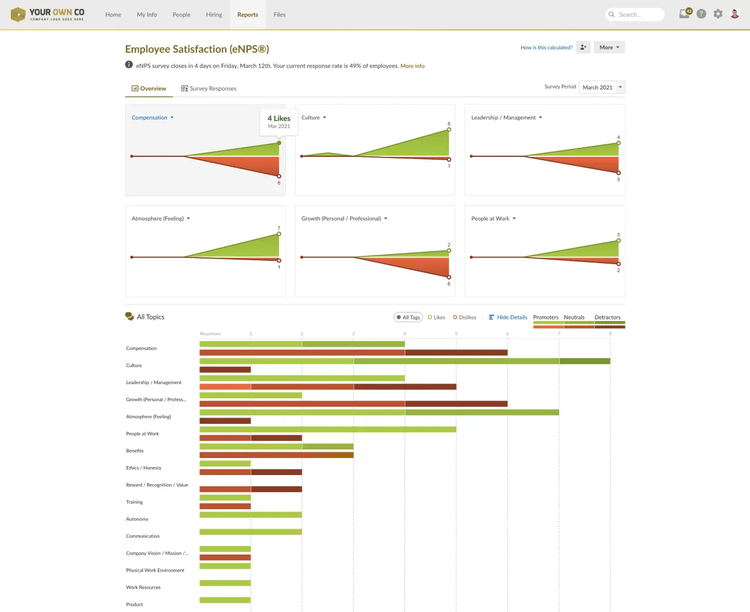 Increase employee loyalty & reduce turnover.
When you find out what really matters, you can fix what's getting in the way—and that creates loyal, engaged employees. Research shows that perks and bonuses aren't enough to keep employees on board when things they really care about—like recognition, career development, and work-life balance—are lacking. With BambooHR® Employee Satisfaction, you know exactly which elements you need to prioritize to make employees feel truly valued.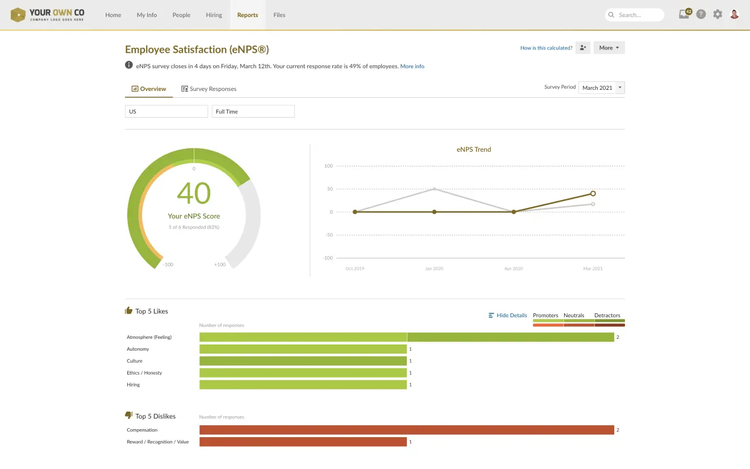 Improve productivity.
With an estimated seven trillion dollars lost to low engagement every year, just think of how the decisions you make can help recapture the love of your people—and the revenue boost of happy employees. BambooHR Employee Satisfaction with eNPS can't make those decisions for you, but it can help you understand what matters to your workforce so you can target your next initiatives.
Why measure employee satisfaction with eNPS®?
There are a hundred ways to define employee engagement and just as many theories on how to quantify it. But to improve employee engagement within your organization, it takes more than a single tool or theory—it takes following through on educated decisions based around feedback from your own people. Employee Satisfaction with eNPS uses a proven scoring system from one of the world's most respected management consulting firms to ensure your decisions are based on honest, accurate, and actionable information.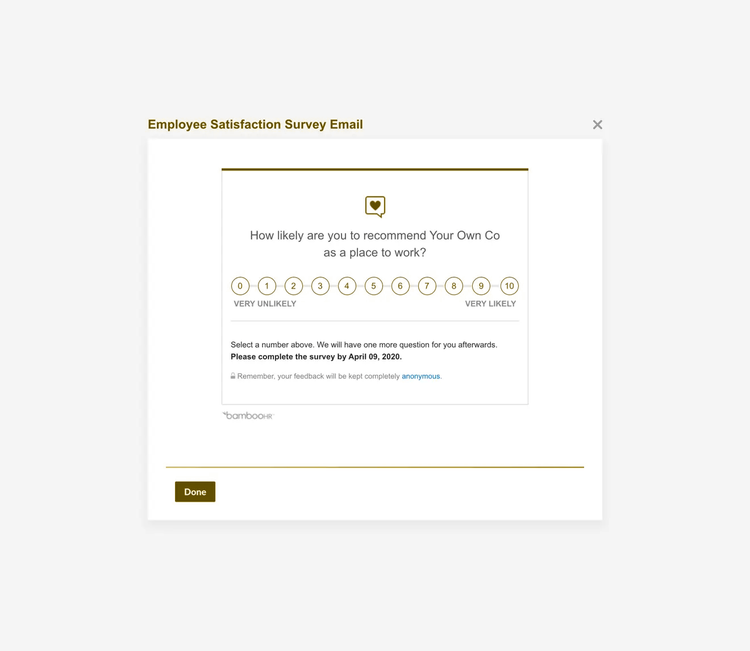 Address the traditional review shortcomings and deliver real improvement with performance management that actually works.
Dig deeper to discover how compensation is impacting employee sentiment or motivation.
Give employees visibility into benefit elections with ease.
*Net Promoter, NPS, and the NPS-related emoticons are registered trademarks, and Net Promotor Score and Net Promoter System are service marks, of Bain & Company, Inc., Satmetrix Systems, Inc. and Fred Reichheld.