Time-Off Management Software
Take a permanent vacation from tracking PTO.
"Prior to BambooHR we used email and paper to track PTO. The double, sometimes triple, handling of requests was beyond frustrating. Employees now request off and receive their managers approval (or denial) within minutes."
TJ Zawodniak, HR Manager | Huntington Steel & Supply
It's like a crystal ball for PTO tracking.
Manual vacation tracking brings a whole bag of monkey wrenches to throw into your workflow, but an accidental gap in coverage might be the biggest and heaviest. That's where our Who's Out Calendar can help. It lets you see at a glance who's scheduled time off today, tomorrow, or anytime in the future, making it easier for managers and HR to maintain adequate staffing or approve holiday time-off requests and easier for you to schedule all-hands events and compliance training.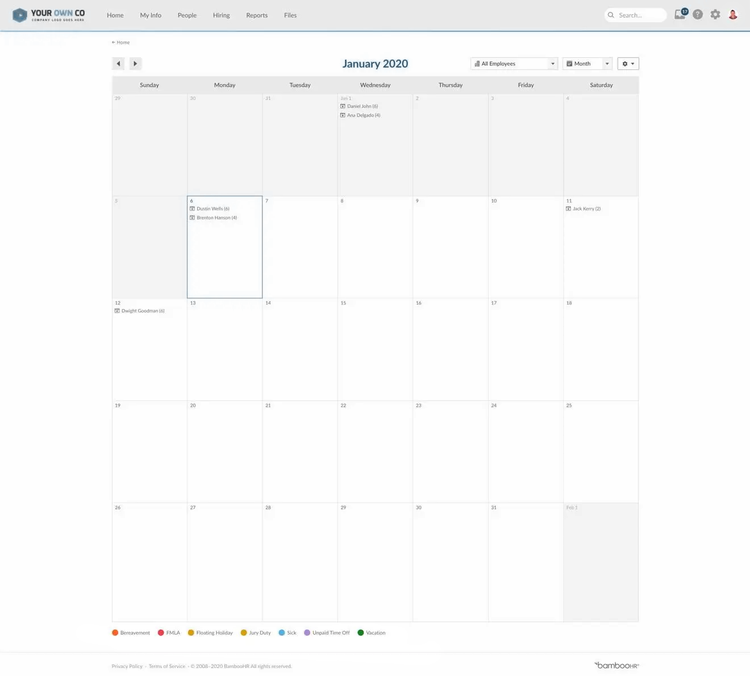 You don't have to take our word for it.
Put strategic reporting at your fingertips.
If you're tracking PTO in spreadsheets, putting together an accurate time-off report may sound like a fantasy. But with BambooHR, you can generate several different reports with just a few clicks. We give you the power to dive deeper into employee PTO and look for trends that may not seem so obvious until you look at the data, helping you be a more strategic partner to your organization.
Approval workflows keep you moving forward.
Need to keep everyone in the loop? No problem. You can add up to five people to the approval workflow for every PTO policy, ensuring no request goes unseen or unanswered. Once an employee submits a request, managers can approve it instantly with the push of a button. They can even add a note of encouragement ("Have a great vacation, Sue!") or an explanation in case the request was denied or needs adjustment.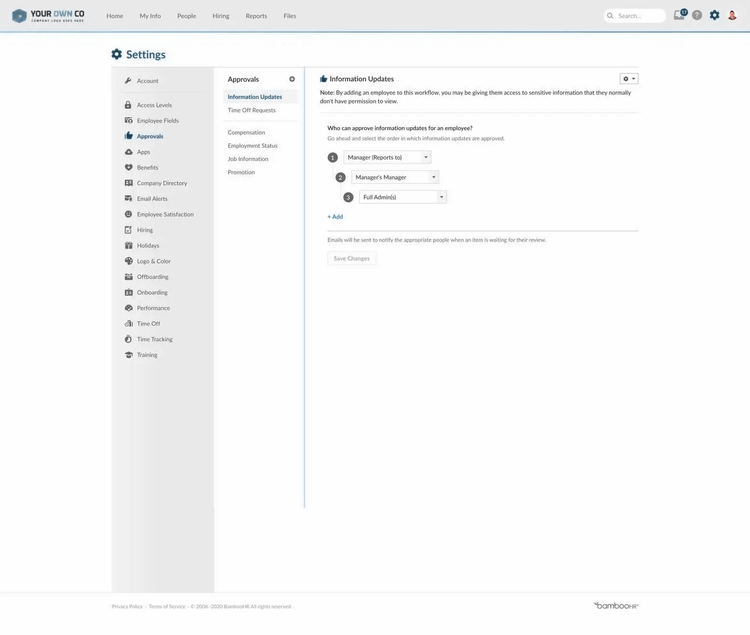 Spend minutes tracking hours with time tracking software making punch cards a thing of the past.
Give employees visibility into benefit elections with ease.
Eliminate double entry and keep paydays accurate.