Fast, easy, and accurate payroll with BambooHR®.
"I have been doing payroll for more than 25 years. I have never worked with a payroll system that is as consistent and provides this level of service. Moving from a competitor to [BambooHR] has saved me one full day each payroll period. Essentially it's given me back 2 full working days per month."
Kim Mitchum, Director of Accounting and Payroll | ENERGY worldnet, Inc
Double data entry? Not if we can help it.
Managing employee data, tracking hours, and running payroll in multiple systems can mean hours of data entry, which means countless chances to make small errors that have big consequences. Fortunately, there's a better option. Information in BambooHR like wages, hours, account numbers, benefits, deductions, and withholdings automatically flows into payroll, so you can skip the double entry and feel confident your data is up to date.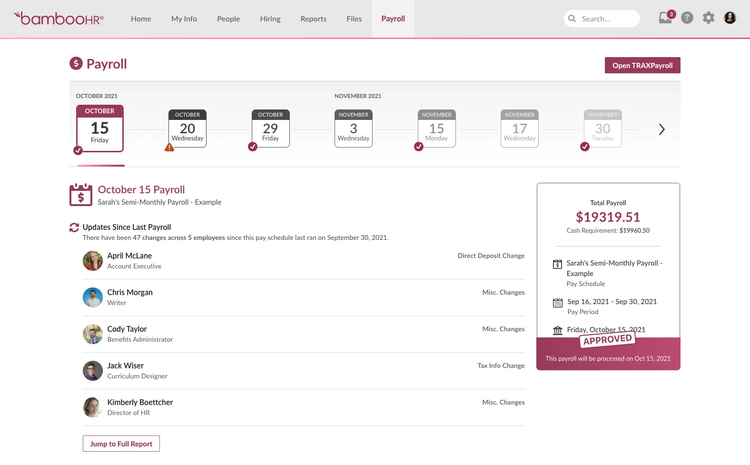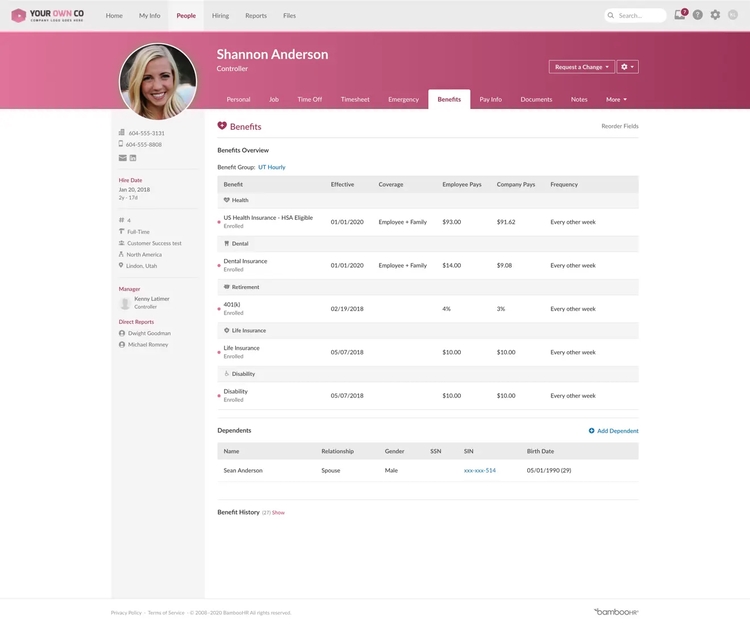 A single source of data makes your life easier.
A single trusted source of data—With BambooHR managing the data you need to run payroll, you can feel confident that when you make an update, the right data automatically flows into payroll.

One system for employees—Employees can access all their payroll information like pay stubs and direct deposit accounts right in BambooHR.

Save hours on data entry—Any data in BambooHR, including valuable time tracking information, is always included in payroll.
You don't have to take our word for it.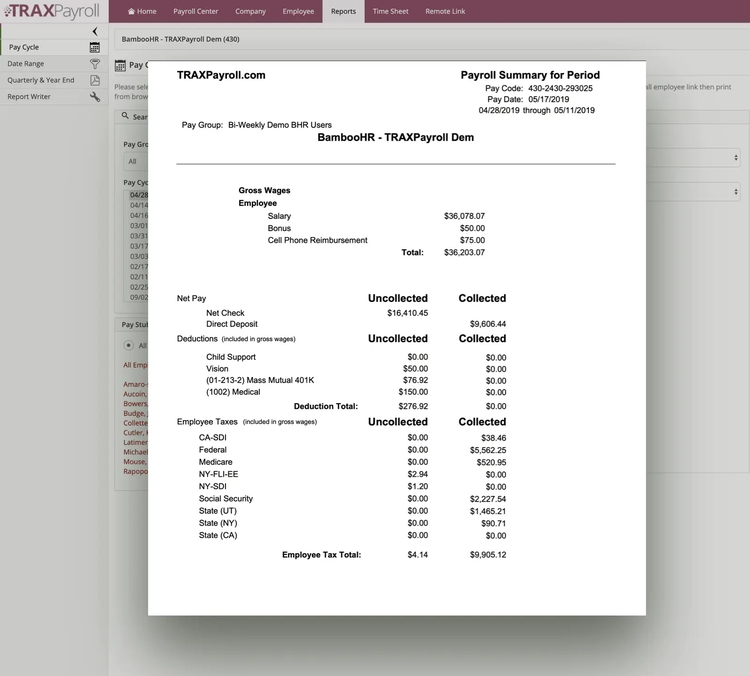 The reports you need, when you need them.
Trying to predict labor costs and make strategic payroll decisions without the right data is as risky as crossing the street blindfolded. But tracking down and reporting on all that information by hand is just as crazy. That's why BambooHR gives you instant access to over 100 standard, exportable payroll reports—because whether you're looking to evaluate cash requirements, assess total deductions, or analyze a complete payroll summary per employee, you can trust our payroll software to keep everyone on the same page.
Empower your employees.
Employees today want an active role in tracking their compensation, and BambooHR makes that incredibly easy. Your U.S.-based employees can access their pay stubs on the go and manage pay information like direct deposit and federal withholdings anytime, right from their phone or desktop. That's a great employee experience, and it comes built-in with payroll.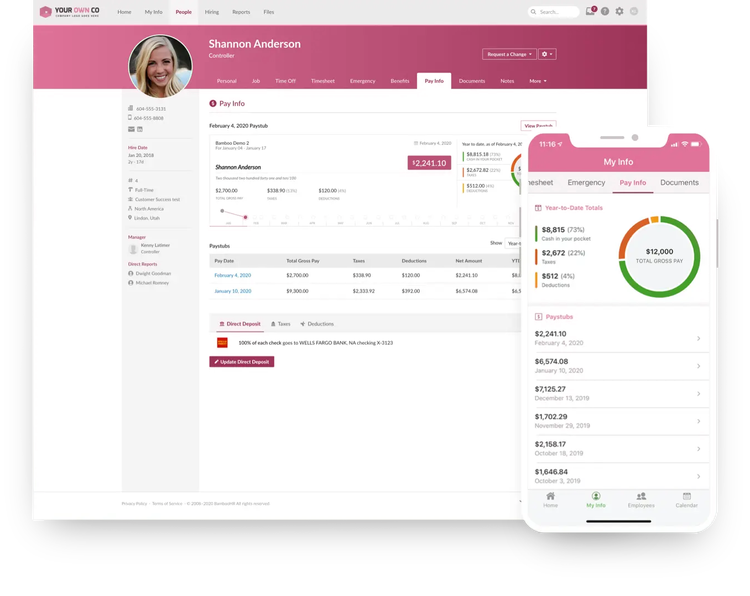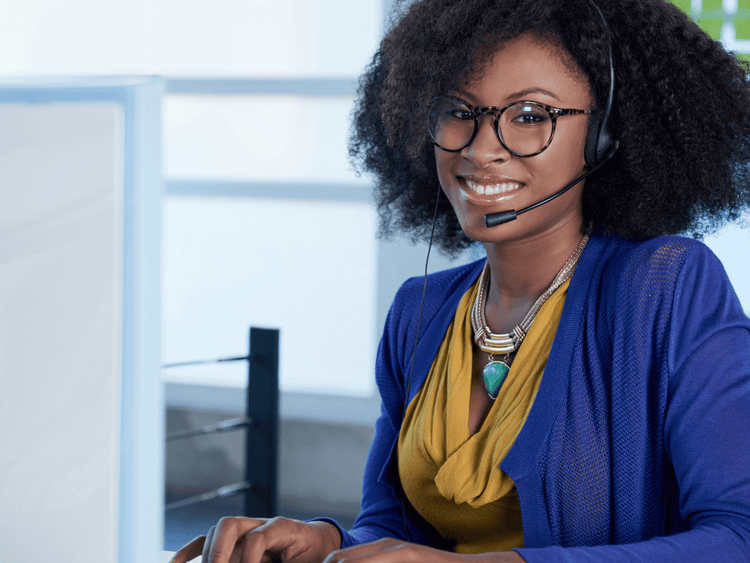 When you need us, we're there.
When you have a question or a problem with your payroll system, you can't afford to wait a week for a response. You'll have direct access to a team of real human beings with the right knowledge and experience to help you quickly and give you the level of care that you know and love as a BambooHR customer.
Data security you can trust.
The last thing you want to have to worry about is whether or not your employees' sensitive payroll data is secure. Our top priority is keeping your data private and protected. That's why we have important security measures in place like a SOC II audit report, three-tier backup redundancy plan, advanced data encryption, continuous monitoring, and diversified data centers. With BambooHR, you can sleep well at night knowing all your payroll data is safe and sound.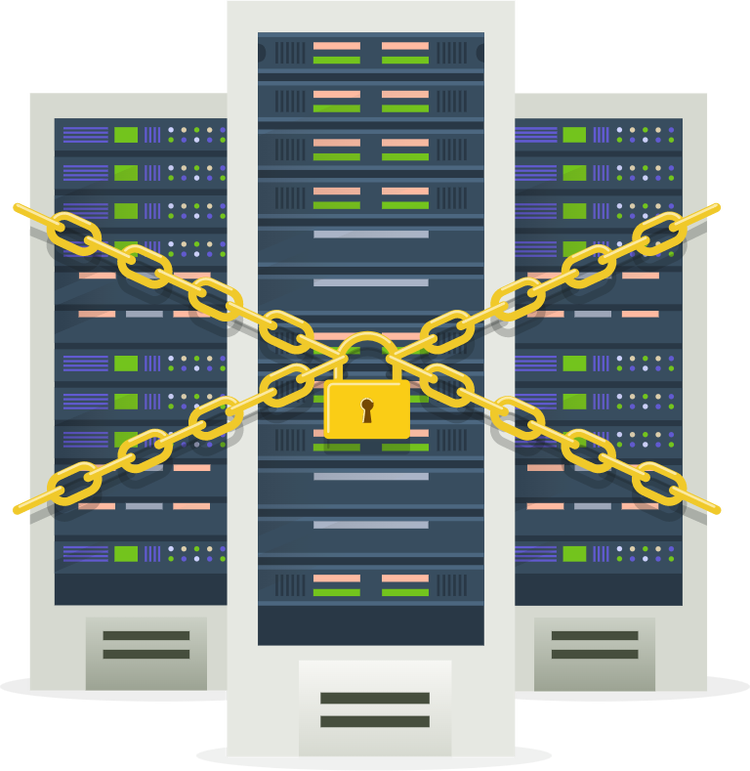 Our customers say it best.
We asked payroll professionals who use BambooHR to share how our payroll software helps them stay ahead, stay accurate, and stay strategic.
I've used plenty of other payroll softwares and HR information systems, and BambooHR is by far the best.
—Eric Dyches | Sorenson Capital
Spend minutes tracking hours with time tracking software making punch cards a thing of the past.
Leave the PTO paper trail behind with digital time-off requests and approvals.
Give employees visibility into benefit elections with ease.