Fast, easy, and accurate paydays.
"I have been doing payroll for more than 25 years. I have never worked with a payroll system that is as consistent and provides this level of service. Moving from a competitor to [BambooHR] has saved me one full day each payroll period. Essentially, it's given me back 2 full working days per month."
Kim Mitchum, Director of Accounting and Payroll | ENERGY worldnet, Inc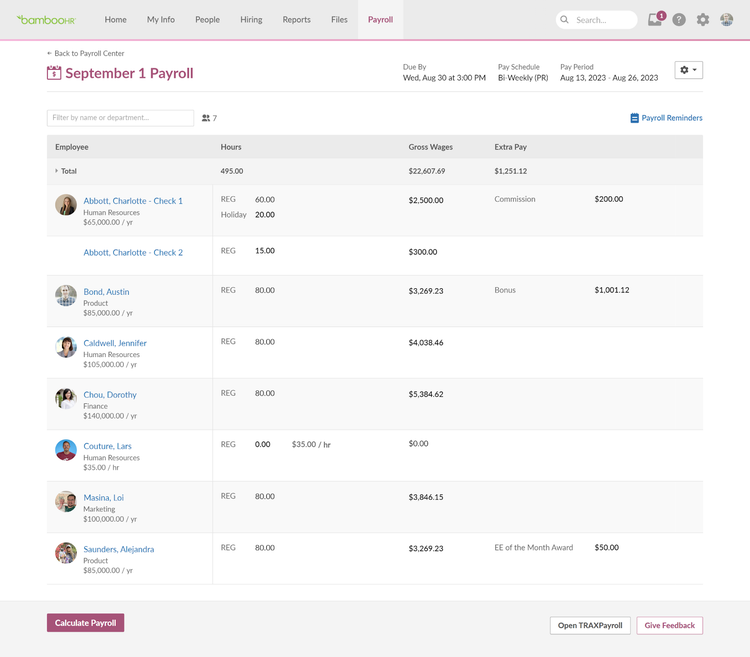 Double data entry? Not on our watch.
Everything works together in BambooHR to give you a clear, streamlined experience across all your HR tasks. A single source of data means time tracking, time off, and benefits info all flow directly into Payroll—automatically. No double data entry required.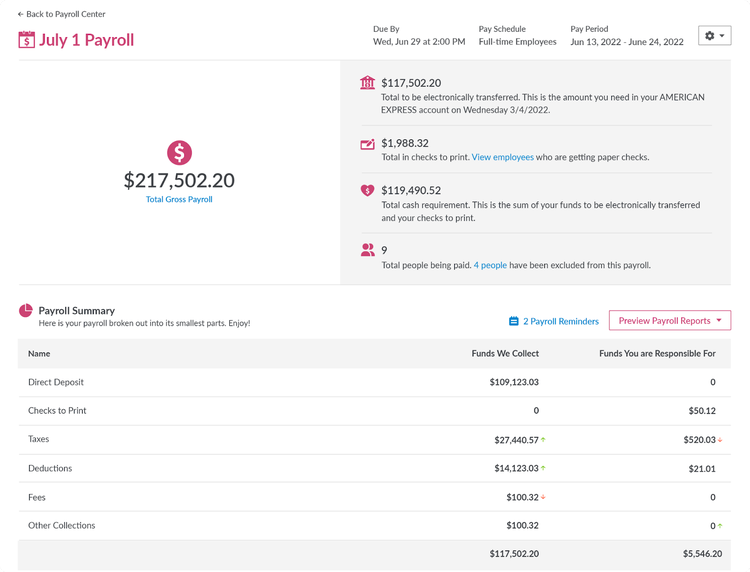 The reports you need, when you need them.
Whether you're looking to evaluate cash requirements, assess total deductions, or analyze a complete payroll summary per employee, BambooHR helps you make smart, data-informed decisions with instant access to dozens of standard reports. You can also set various access levels, empowering other leaders with people data.
Employee self-service sets HR free.
As a people-first HR platform, BambooHR prioritizes employees' user experience alongside yours. When your employees can easily find pay stubs and edit information like withholdings and direct deposit right in their BambooHR profile or the mobile app, that means fewer shoulder taps for you and a better experience for everyone. And with all that saved time, you can focus on more strategic tasks.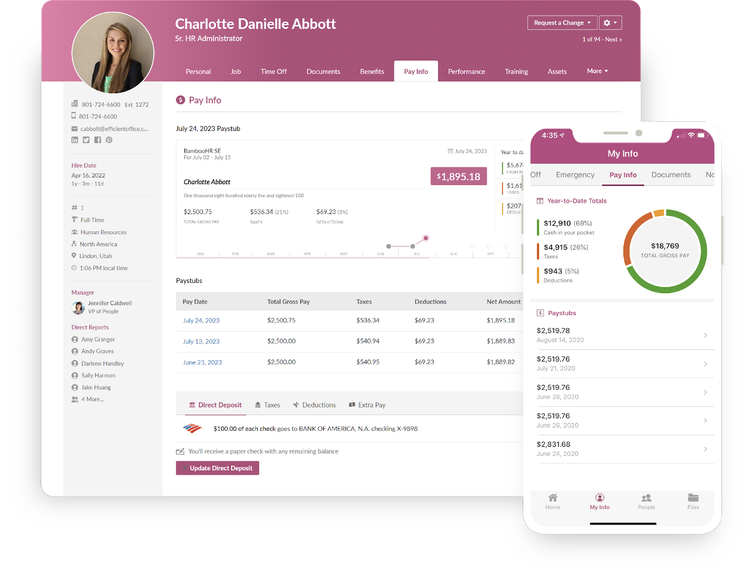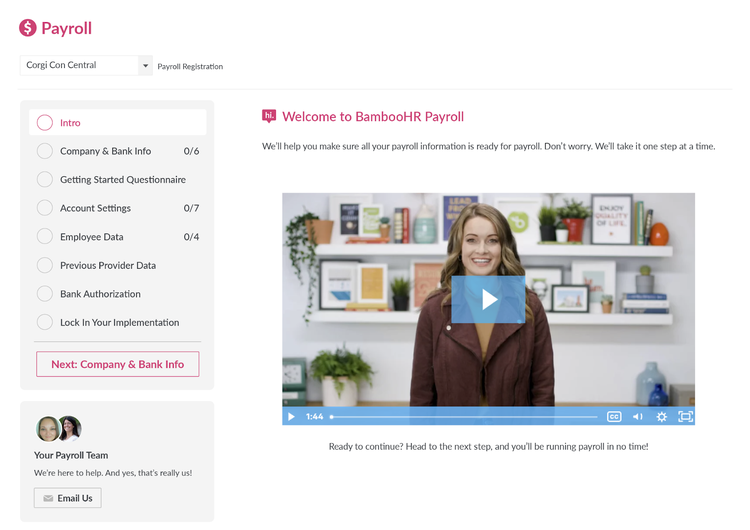 Make the no-sweat switch to BambooHR.
We take the pain out of switching payroll providers. Switching takes less than 4 weeks for most new accounts, and a dedicated implementation specialist is with you every step of the way to ensure you hit the ground running without missing a beat—or a pay period.
Support like this is a game-changer.
Our goal is to set a new bar for the level of care, attention, and expertise you can expect from a support team. Our award-winning payroll support team is here when you need us—one on one and human to human.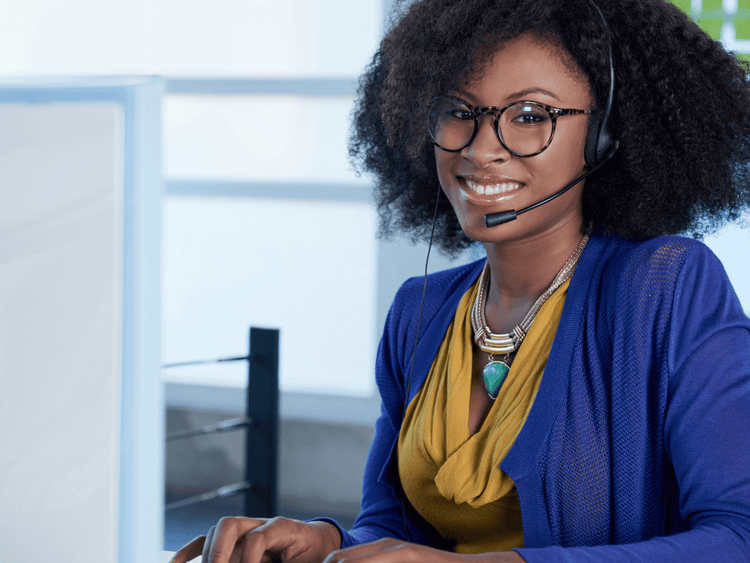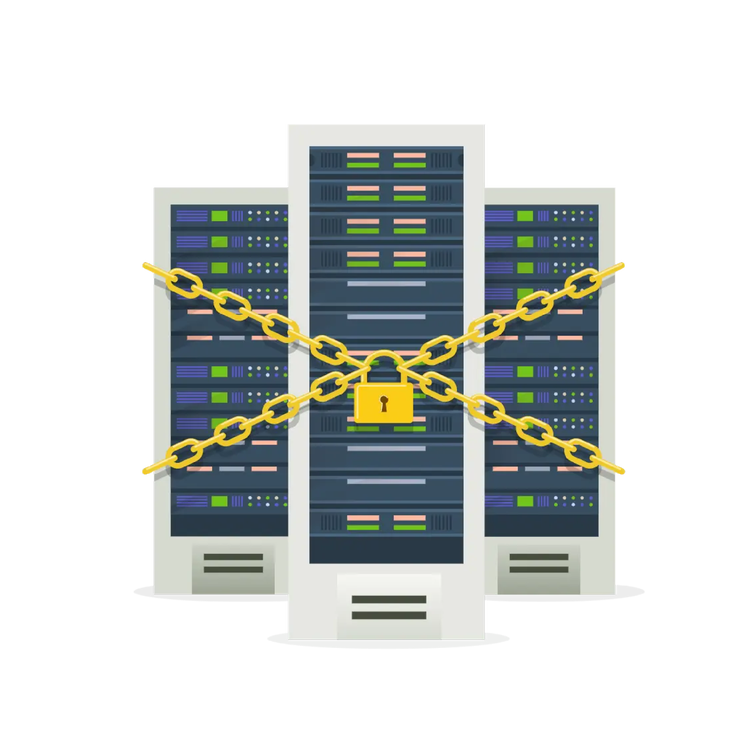 Data security you can trust.
Our top priority is keeping your data private and protected. With BambooHR, important security measures like a SOC II audit report, three-tier backup redundancy plan, advanced data encryption, continuous monitoring, and diversified data centers keep your payroll data safe and sound.
Our customers say it best.
We asked payroll professionals who use BambooHR to share how our payroll software helps them stay ahead, stay accurate, and stay strategic.
I've done a lot of implementations in my career and there is always something wrong. My biggest surprise with BambooHR is when the data was ready, there was not a single error.
—Jonathon Bartlett | Indica Labs
Everything works together in BambooHR.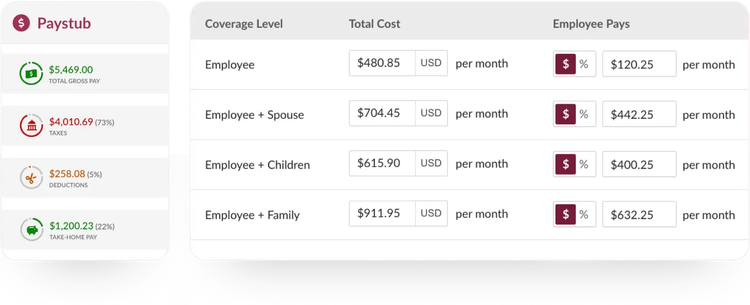 Ben Admin and Payroll go hand in hand.
When you combine Benefits Administration and Payroll in BambooHR, sparks fly. No more double entry or triple-checking data. Just a seamless flow of always-accurate data from system to system. That's what happens when everything works together in a complete HR platform!
Payroll + Time Tracking = Clockwork paydays.
Imagine a pay period ending without having to chase down a single timesheet or enter a single line of hourly data by hand. That's the BambooHR way to do time and payroll! Time Tracking data flows into payroll, and instant reports with smart analytics help you beat the payday clock with time to spare.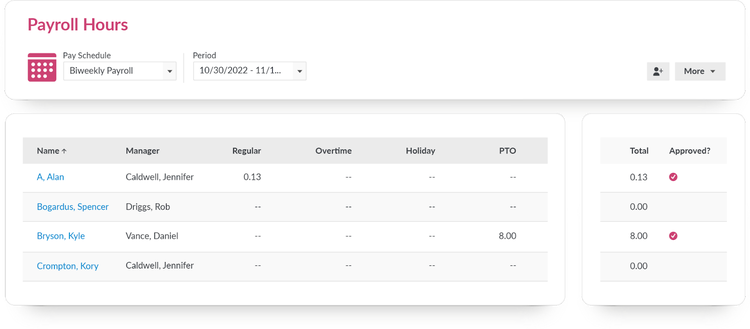 Spend minutes tracking hours with time tracking software making punch cards a thing of the past.
Leave the PTO paper trail behind with digital time-off requests and approvals.
Give employees visibility into benefit elections with ease.