Employee Time Tracking Software
Spend minutes tracking hours.
"As a one-person HR department, the automation of BambooHR® Time Tracking has reduced my time spent on time tracking by more than 75 percent. It has saved managers and employees more than 30 percent. We are now tracking overtime in real time!"
Jessica Neal, HR Manager | American Cedar & Millwork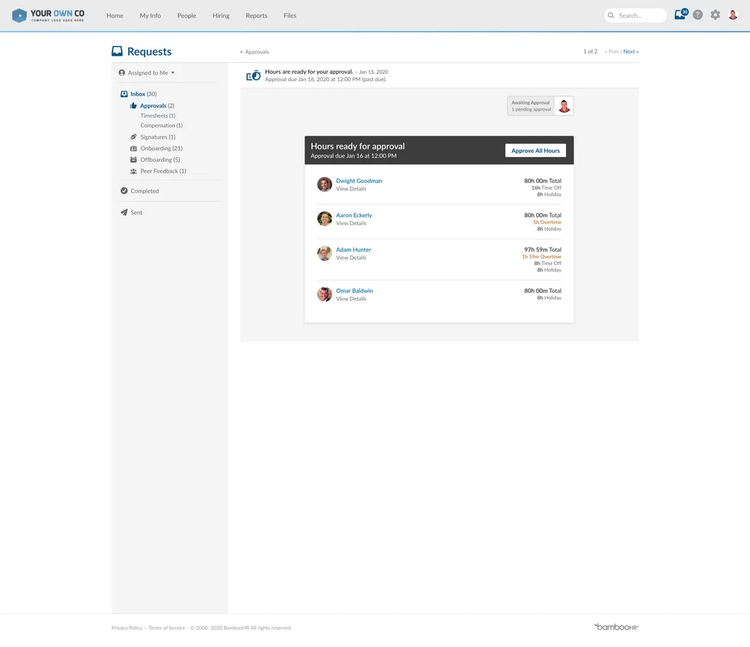 Approve employee time with one click.
Time and attendance monitoring just got a whole lot easier. Managers don't have to send countless emails or wait for employees to hand in their timecards—the approval workflow handles all of it, with timesheets attached for easy review and one-click approval.
Clock in where it makes sense.
With the BambooHR® Mobile app, time tracking goes wherever your workforce goes. Employees can clock in and out on the go, check their timesheets and fix errors, and log hours to specific clients, just like on the web app. And here's something new and exclusive to the mobile app—geolocation. Managers get a single snapshot of the location their employees clock in and out from, ensuring better hours tracking.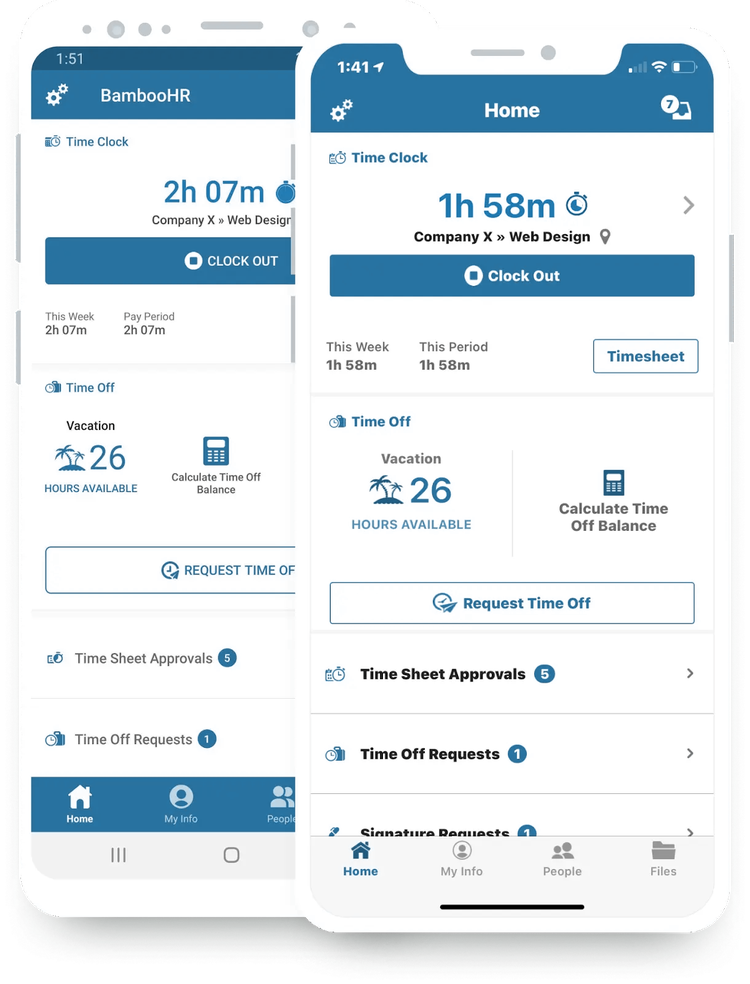 You don't have to take our word for it.
Leave overtime tracking to us.
Overtime laws vary state-by-state, turning payroll into a calculation and compliance headache. Our time and attendance software does all the heavy lifting for you, with built-in overtime calculations for all 50 U.S. states and territories to keep your numbers spotless.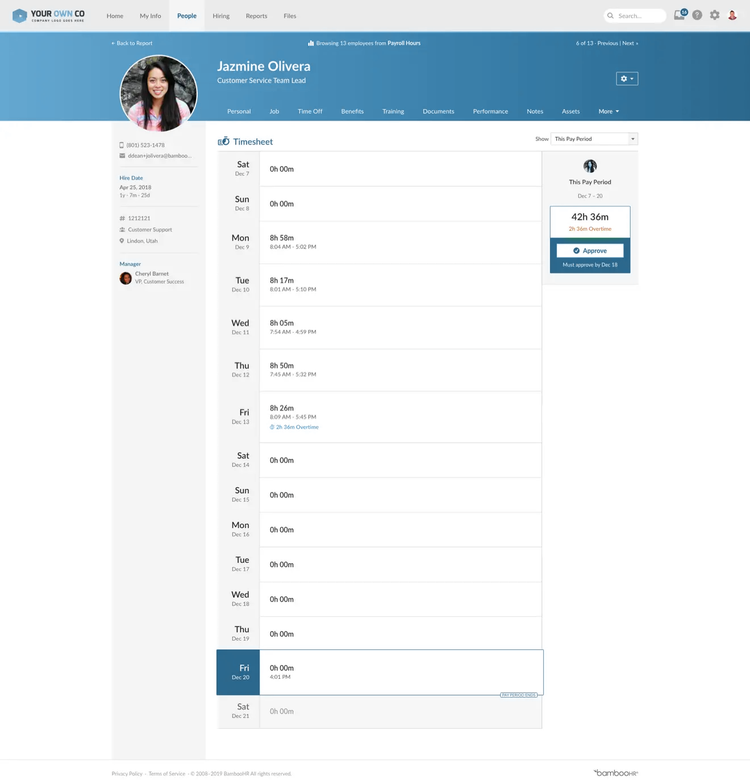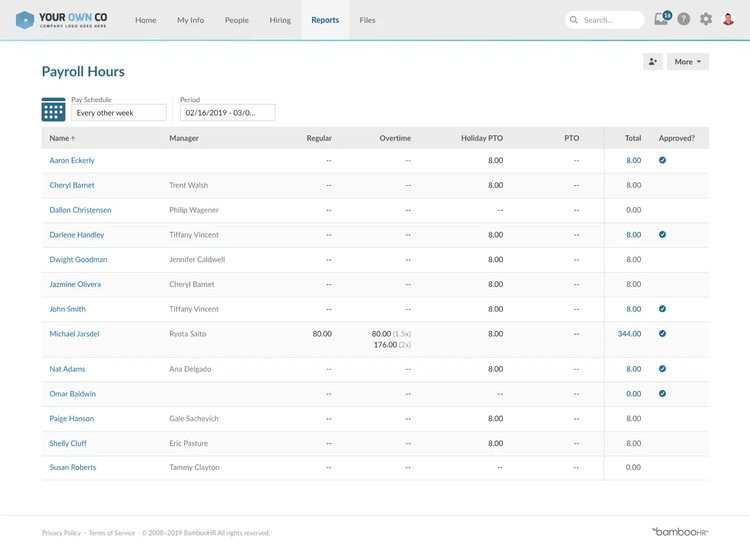 Capture it all in one report.
The Payroll Hours Report compiles all the general, overtime, and PTO hours for the pay period and features built-in timesheet approvals to make your job easier. No more hunting and gathering data from multiple systems or copying and pasting information into a spreadsheet. It's just another thing our time and attendance software makes easy.
Reduce your risk.
We know compliance is a concern. BambooHR Time Tracking takes a load off your mind by automatically calculating total hours, overtime, PTO, and holiday pay. BambooHR payroll hours reports and timesheet approval workflows give you confidence and convenience to run payroll quickly and accurately, every time.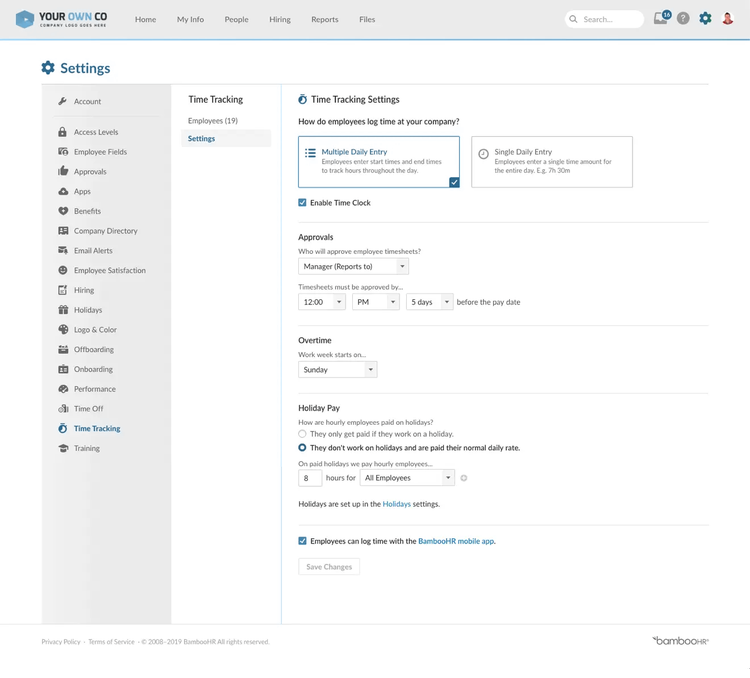 Eliminate double entry and keep paydays accurate.
Leave the PTO paper trail behind with digital time-off requests and approvals.
Give employees visibility into benefit elections with ease.