Assembly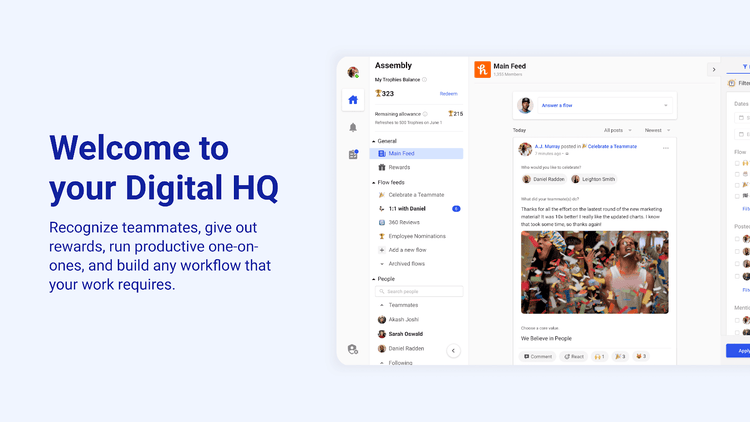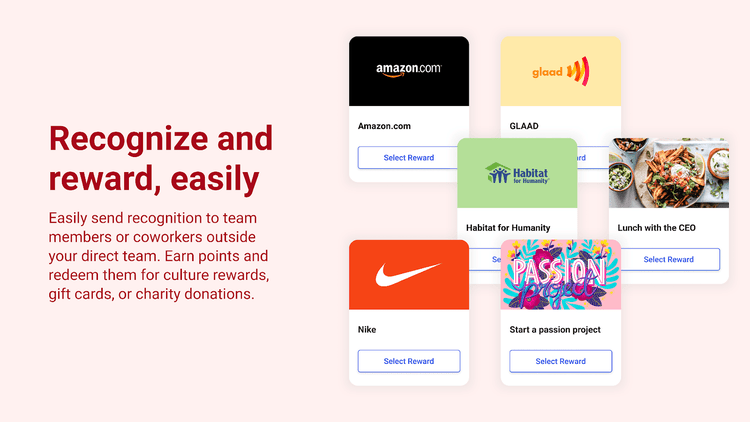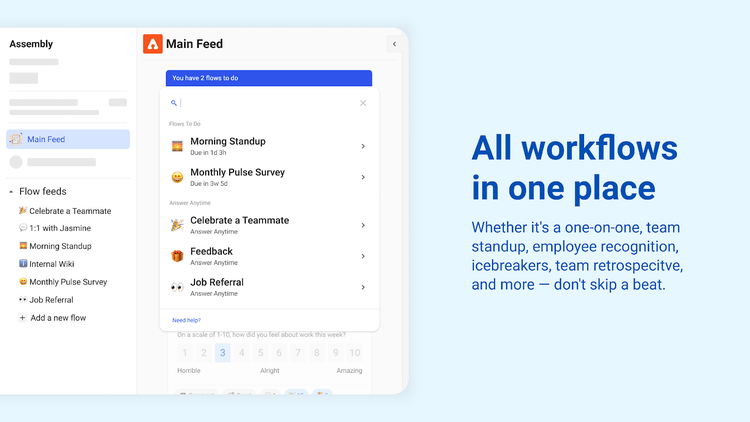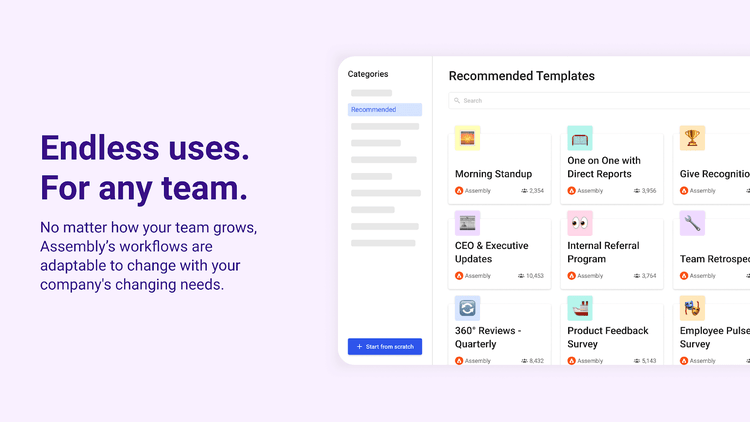 Discount Packaging
23% off PEPM for all BambooHR Customers!
Overview
Easily automate and create your own workflow or choose from over 50+ workflow templates. Assembly has helped thousands of companies achieve 95% employee engagement. Assembly works great for teams of all sizes and is free for unlimited users. Assembly can help you measure engagement, celebrate achievements / birthdays / anniversaries, inspire employees, and encourage growth & meaningfulness in their work. Assembly offers a variety of useful features and integrates with Microsoft Teams, Office 365, as well as popular SSO & HRIS solutions.
Workflow Automation
Workflow automation can help your business save time and money, diminish errors, and boost productivity. Almost every department in your business can benefit from workflow automation. Whether it's marketing, human resources, finance, or sales – the technology can help you work smarter, not harder.
Peer Recognition & Rewards (Gift Cards, Charities, & Culture Perks)
Give internal culture a boost with personalized rewards. Employees can redeem points and choose from a catalog of over 1000 rewards, including gift cards, charity donations, or create customized rewards specific to your company (think: extra PTO, team party, lunch with a CEO, etc.).
Template Library (100s of workflow templates)
Integrate all your work into one flexible place. Choose from 100s templates across employee recognition, engagement, team communications, productivity, and more. Make edits to existing templates based on your company's needs, and make sure you're asking the right questions at the right time to the right people. Increase productivity and add much-needed simplicity to your work.
Employee Directory & Profiles
Power up your employee network and help teams connect, celebrate, and collaborate with one another. With our rich employee profiles, you can get visibility into their department, email, manager, direct reports, local time, birthday, workaversary, and more!
Integration
How It Works:
Customers can connect to BambooHR to automate managing how users are added/removed from Assembly. Upon connecting to BambooHR they can select 1) everyone who joins/leaves their BambooHR ; 2) specific teams; or 3) manually selecting members from the BambooHR member list. Whoever meets the criteria selected during integration will automatically be added/removed from Assembly whenever they are added/removed from BambooHR.
BambooHR Field
Sync Direction
Partner Field
Field Logic or Notes
is this turned on by default or is it configurable?
Employee #
Employee ID
This is the identifying field for the integration. The two systems Employee #/ID must match.
Default
Work email
Work email
This email is used to add/remove users from the platform; it also serves as their login email
Default
First name
First name
We import this to populate the member's Assembly profile details
Default
Last name
Last name
We import this to populate the member's Assembly profile details
Default
Birthdate
Birthdate
We import this to populate the member's Assembly profile details
Default
Hire date
Department
We import this to populate the member's Assembly profile details
Default
Job Title
Jobe Title
We import this to populate the member's Assembly profile details
Default
Publisher
Assembly
Updated: 05/06/2021
Phone Support:
8184863588
Email Support:
Support Hours:
8AM-5PM PST