Ease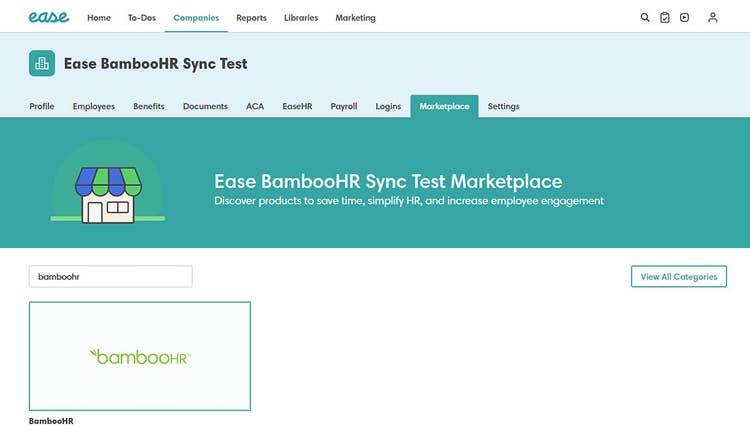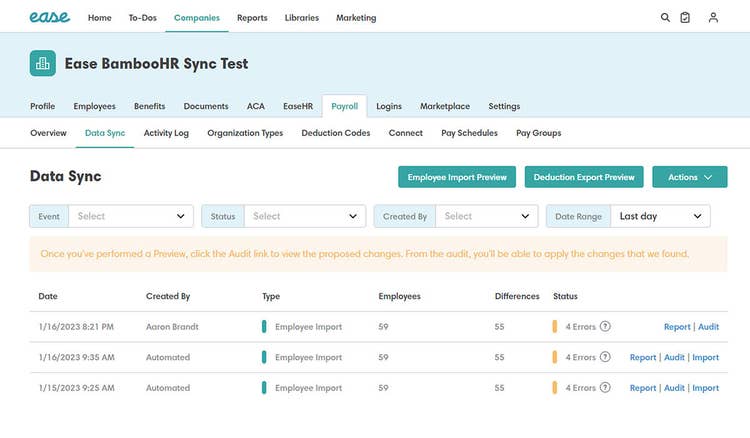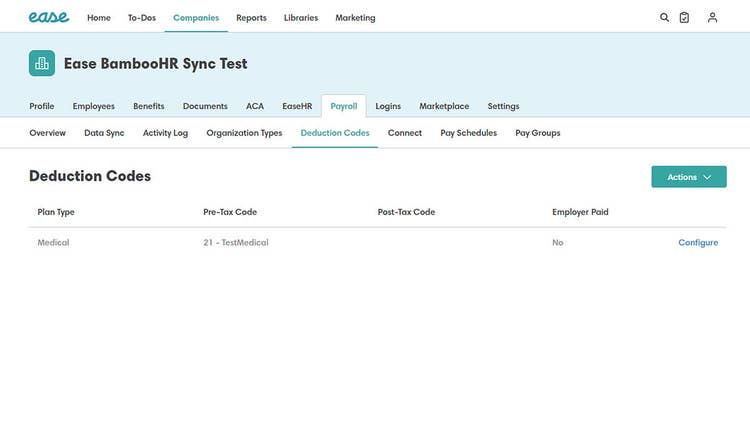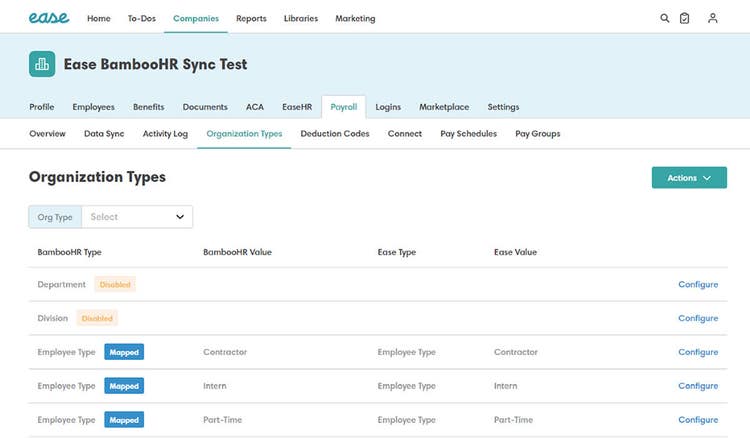 Overview
Ease helps insurance agencies offer their SMB clients better service through simple technology. Today, over 2,300 agencies trust Ease to support benefits needs for more than 85,000 employers and their 3.4 million+ employees.
Ease + BambooHR Payroll Integration
Keep Benefits & Payroll In Sync: Calculating benefits deductions to ensure accurate and timely payroll can be tedious and error-prone. The solution? Integrating your online enrollment solution with BambooHR. Ease will send deduction data from open enrollment, new hire enrollment, and qualifying life events to BambooHR. With one system of record, data discrepancies will decrease and accounts will always be up-to-date.
New Employee Onboarding, Simplified: Onboarding a new employee can come with a lot of duplicate data entry. Even if they all live on digital systems, individually adding employees to your benefits administration system, payroll provider, and HRIS software can be repetitive and time-consuming. With the Ease and BambooHR payroll integration, you can set up a new hire in one system, and they'll be created in another.
Lightweight Payroll Connection Setup: Integrating HR platforms can be drawn out and cumbersome. With Ease's in-product payroll connection setup, employers can sync their payroll system with ease directly from the Ease platform. No spreadsheets or project plans are needed!
Benefits Administration & Management
You don't need to be a tech expert to build and manage your groups' plans in Ease. You're able to do in hours what used to take days or even weeks of tracking down paper forms and finding missing information. This digital solution gives you access to:
Lightning-Fast Setup: Get a group ready for online open enrollment in as little as 2 hours. Add plans and customize each detail including rates, contributions, eligibility, plan documents, and more. Access our Forms Library to add one of 9,300+ digitally mapped health insurance forms to each plan.
Improved Profitability For Small Groups: With Ease, not only can you digitize your entire agency, but you can increase the ROI for each group you support with powerful features to save time and avoid duplicate data entry from group to group and year to year.
Better Service: Brokers and employer HR teams work together to provide benefits support, track enrollment progress, and answer employee questions.
Stay Compliant: Securely store all enrollment data and HIPAA-compliant documents like SBCs and health insurance forms in Ease.
Getting Started With Simple Setup: Payroll
With the Ease and BamboHR payroll integration, get your payroll and benefits squared away in six simple steps. Simply proceed to your company profile in Ease and click on the Marketplace tab, type BambooHR in the search bar, select the BambooHR tile that pops up, and click the enable button to begin the six Simple Setup steps listed below.
Complete any of the required actions items.
Connect your Ease and BambooHR Payroll accounts in the Connect tab.
Map your BambooHR Payroll organization types to Ease values so we can import them.
Map your BambooHR Payroll deduction codes to Ease so we can export them.
Perform your first import to match and sync employee details from BambooHR Payroll into Ease in the Data Sync tab.
Once you've imported the unique payroll identifiers from BambooHR Payroll, you can perform your first export to sync all employee deductions from Ease into BambooHR
Here's a short video of the steps involved to enable the marketplace tile in Ease.
Integration
How it works.
This integration automatically syncs employee deduction and demographic information from BambooHR to Ease, eliminating duplicative data entries between HR and benefits systems, reducing the risk of errors, and saving you time. Both scheduled and manual data sync options are available.
What data syncs?
BambooHR Field
Sync Direction
Ease Field
Email Address (Home Email/Work Email/Best Email
Login Email
Gender
Sex (Male, Female)
Pay Type
Type (Hourly, Salary)
Pay Rate
Hourly Rate/Annual Salary
Mobile Phone
Personal Phone
Termination Date
Termination Date
Termination Type
Termination Type
Simple Setup: Payroll, What Additional Fields Sync?
BambooHR Field
Sync Direction
Ease Field
Benefit Amount
Employee Recurring Amount
Benefit Effective Date
Effective Date
Benefit Change Date
Change Date
Benefit End Date
End Date
BambooHR Payroll
Employee Benefits Enrollment Payroll Deduction Amount(s)
BambooHR Payroll
Deduction Code(s)
Publisher
Ease
Updated: 01/18/2023
Phone Support:
1-702-800-2690
Email Support:
Users can visit help.ease.com for assistance
Support Hours:
Monday through Friday 6 a.m. to 5 p.m. PST 9 a.m. to 8 p.m. EST