Teamatics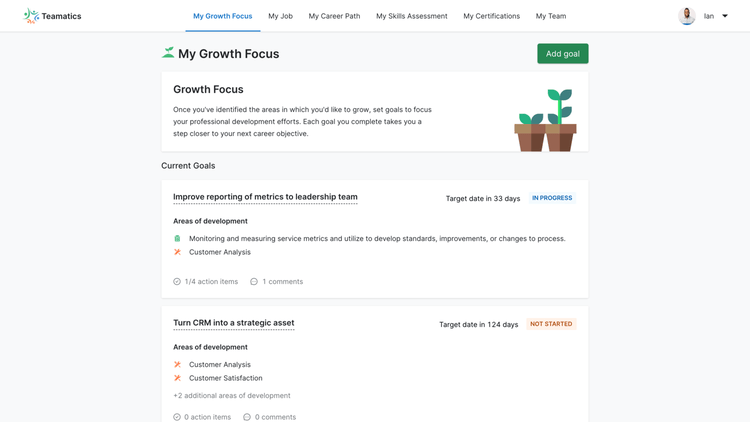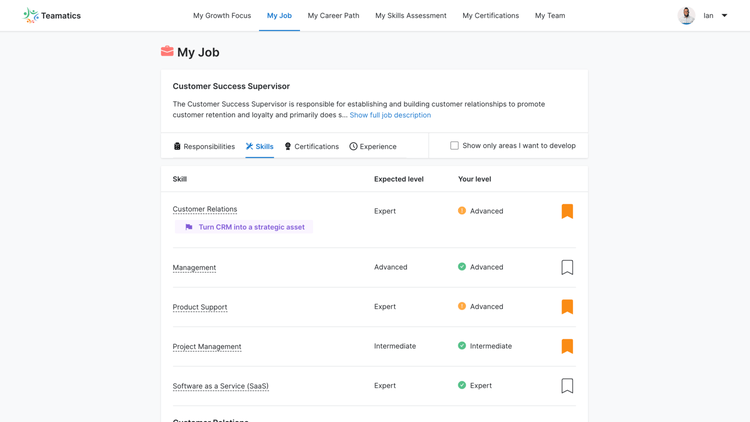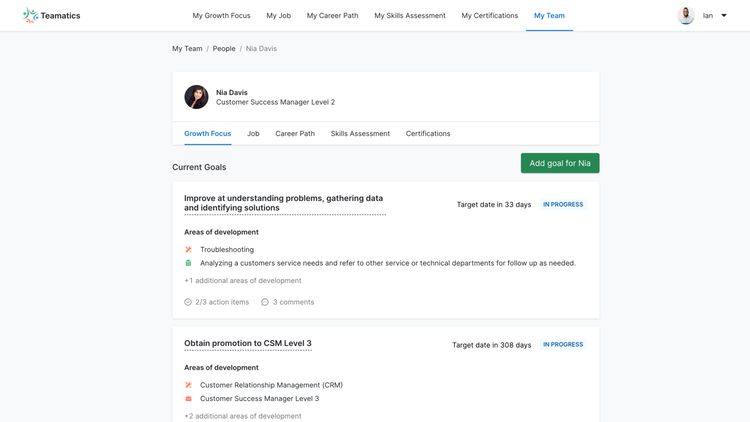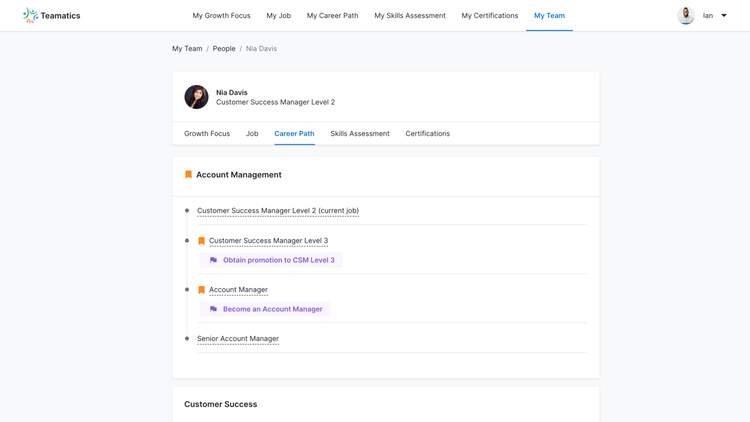 Overview
Teamatics helps you focus on employee development to advance the careers of your people. Transform your performance management process and employee experience by implementing a framework of setting clear expectations related to roles and career paths, providing on-going peer and manager feedback, and achieving career development goals.
Make career development a win for everyone
Teamatics focuses on employee career growth so your people are more successful in their current roles and better prepared to advance within your organization. They benefit, their managers benefit, and the company benefits.
Help your managers be more successful
Teamatics provides your managers with a clear understanding of where each individual is at, where they want to go, and how they wish to get there. Help facilitate on-going growth-focused collaboration between managers and their team members.
Get a return on your career development assets
Teamatics is the centralized repository for your competency frameworks, job descriptions, career ladders, skill inventories, development plans and/or certification tracking. Make all of your career development assets accessible, actionable, and up-to-date.
Integration
How it works.
With both data synchronization and single sign-on (SSO), Teamatics is fully integrated with BambooHR. Teamatics pulls employee information from BambooHR, which is the "record of truth" for your people, saving you from having to maintain it separately in Teamatics. Teamatics utilizes each employee's First Name, Last Name, Email Address, Job Title, Supervisor, and Department/Division from BambooHR and synchronizes updates on a nightly and/or ad-hoc basis.
Each of your employees is also able to seamlessly SSO from BambooHR into Teamatics to set and track their development goals, maintain their skill profile, identify areas of passion and/or ones they wish to develop, see areas in which they can improve and grow in their current job, and discover other opportunities for growth within your organization.
What data syncs?
BambooHR Field
Sync Direction
Teamatics Field
Field Logic or Notes
Employee #
External Employee ID
This is the identifying field for the integration. Teamatics will store the BambooHR Employee # and use it synchronize with updates from BambooHR
Status
Status
Teamatics only syncs employees that are marked as "Active" in BambooHR
Preferred Name
First Name
The Preferred Name is used in place of the First Name when it exists, in Teamatics
Work Email
Email Address
This is an identifying field for the integration. Teamatics will initially match existing team members (e.g., the Teamatics admin) with those pulled from BambooHR using their work email address
Job Title
Job Title
Also used to populate Jobs in Teamatics
Reports To
Manager
Also used to populate access permissions and initial career paths in Teamatics
Division
Team
This is a configurable field
Profile Picture
Photo URL
Publisher
Teamatics
Updated: 11/15/2017
Phone Support:
+1 719-800-2085
Email Support:
Support Hours:
9:00 am - 5:00 pm pst
Monday-Friday