An HR Glossary for HR Terms
Glossary of Human Resources Management and Employee Benefit Terms

HR Business Partner
What Is an HR Business Partner?
An HR business partner (HRBP) is a human resources professional who aligns a company's people strategy with their business strategy. As opposed to working in the HR department, an HRBP collaborates with executives and may even sit on the board of directors. This partnership allows HR to be a part of the organization's business strategy which can benefit both the employees and company overall.
What Does an HR Business Partner Do?
As opposed to focusing on day-to-day HR operations such as talent acquisition, payroll and benefits processing, and disciplinary procedures, an HRBP focuses on the company's big picture by developing strategies and coaching department heads.
Their general business acumen and expertise in the employer's business sector allows them to use their HR knowledge to support company goals. In larger companies, multiple HRBPs are assigned to a specific department.
Get the Definitive Guide to Company Culture
A vibrant company culture which supports and nurtures employees—and helps your organization achieve its goals. Created by BambooHR experts, our guide offers a step-by-step plan for leveling up your company culture.
What Does a Senior HR Business Partner Do?
If there are multiple HRBPs in an organization, they will report their department's progress to a senior HRBP. A senior HRBP's purpose is to ensure that each department can work toward the company's goals while upholding the organization's core values and mission statement.
Generally, senior HRBPs are skilled in four areas: Developing strategies, managing operations, responding to emergencies, and mediating conflicts. They leverage their skills and people data to train leadership on optimal people management and develop long-lasting solutions for department-specific issues.
What Does It Mean to Be a Strategic Business Partner?
A strategic business partner can bring about organizational change by combining their HR expertise with their overall business knowledge of finance, competition, market trends, company objectives, and more. Their proposed solutions for executives align with legal and compliance requirements. Moreover, they rely on HR metrics and trend analysis to develop the company's workforce to meet established goals.

Gaining leadership buy-in is imperative, so strategic business partners are skilled at networking and establishing relationships across the company.
What Qualifications Do You Need to Be an HR Business Partner?
To become an HRBP, some employers may require:
A bachelor's degree or master's degree in HR Management or a related field
At least five years of traditional HR experience in areas such as talent acquisition, people management, and benefits administration
Technical abilities such as analytical skills, knowledge of relevant labor laws, strategic leadership, cultural awareness, project management, and business acumen
Workplace skills such as interpersonal communication, mentoring, active listening, and the ability to drive change
HR Business Partner vs. HR Manager
An HRBP and HR manager are two separate roles. An HR manager supervises the HR department and day-to-day processes such as recruiting, hiring, benefits administration, and more.
In contrast, an HRBP is a liaison between HR and other business units. They strategize and advise the company's C-suite and department managers to help align the HR agenda with business goals.
An Award-Winning, Complete HR Platform
In BambooHR, everything works together to help you manage data and benefits, hire talent, run payroll, and help employees thrive. Best of all, it's easy and intuitive for busy HR teams!
You might also like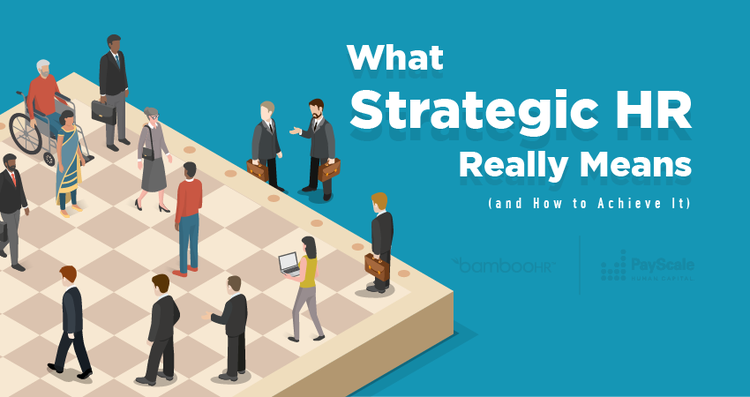 Join a panel of experts from PayScale and BambooHR as they dive into what it means to be strategic in HR and how to achieve it in your own organization.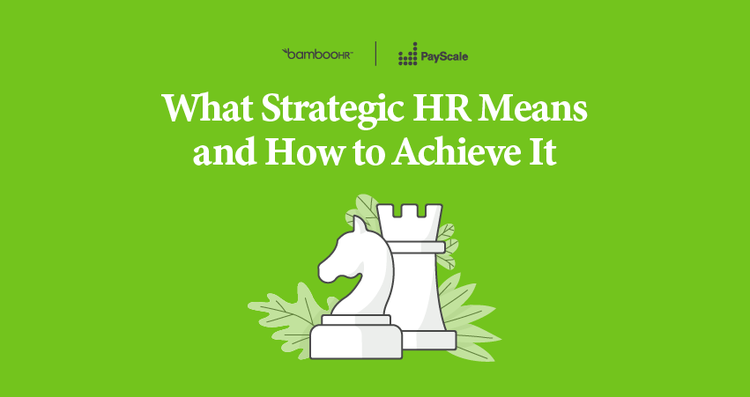 As an HR professional today, you have more opportunities than ever before to work as a strategic partner in your organization. In this ebook, learn from HR leaders on what it means to be strategic in HR and how to achieve it in your organization.