An HR Glossary for HR Terms
Glossary of Human Resources Management and Employee Benefit Terms

HR Business Partner
What is an HR business partner?
The definition of a HR business partner is an experienced human resource professional who works directly with an organization's senior leadership to develop and direct an HR agenda that closely supports organizational goals. Rather than working primarily as part of the internal human resources department, the HR business partner works closely with senior leadership, perhaps sitting on the board of directors or collaborating regularly with the C-suite. Placing a human resources professional in close contact with executive leadership makes HR a part of the organizational strategy. The business partner model for human resources is becoming more and more popular among business organizations.
What does an HR business partner do?
The role of the HR business partner is to make sure human resource policy and procedure throughout the organization fit the needs, goals, and aims of the organization and its top leadership. There is less focus on administration, compliance, and management. Rather than performing the day-to-day trainings or dealing with policy wording or the details of benefits packages and hiring, the HR business partner works with the big picture.
The person in this position determines and steers the objectives of the human resources department of the organization, focusing more on developing strategy rather than implementing policy. The HR business partner ensures that HR strategy fits into the organization's overall business strategy.
The HR business partner is not a vice president, nor is this person a human resource manager. Instead, an HR business partner is more of a consultant who works in human resources, building relationships and providing resources in departments throughout the organization.
Take the next step
Explore our BambooHR packages and get a quote in no time flat.
What is the definition of a business partner?
The definition of a business partner includes any contractual, exclusive bond between parties that represents a commercial alliance. The two parties may be individuals who agree to work together to create and manage a business. The parties may also be separate teams, groups, or businesses that agree to cooperate and work together for a mutually beneficial common purpose.
What does it mean to be a strategic business partner?
A strategic business partner is a leader who is included in conversations about the future, mission, goals, and overall strategy of a company or organization. A strategic business partner, while not a member of the C-suite or executive leadership team, has a voice in their HR conversations. A strategic business partner is a consultant whose opinions and ideas are valued. The HR business partner is generally considered to be a strategic business partner that can offer recommendations, make decisions, and carry out goals.
To be valued as a strategic business partner and merit an invitation to conversations about the organization's future, a human resources professional must have a certain set of skills and knowledge. This professional must understand all areas and departments of the business, and how HR can benefit these aspects. The individual is skilled in listening to problems and ideas, and in clearly articulating solutions.
HR business partner vs. HR manager
An HR business partner and HR manager are separate roles and represent two different models of conducting human resources services within an organization. The HR manager's work focuses around developing policy and enforcing procedure. This position is accountable for systems such as processing payroll, recruiting, hiring, system administration, and more. The HR manager oversees the HR department.
The HR business partner, on the other hand, does not have administrative responsibilities over a department. Their primary function is to work with the company's senior leadership team and with department managers to help guide and communicate overall company strategy. HR business partners collaborate with the HR department while consulting the executive team on HR issues and initiatives. They may have a hand in developing HR initiative and strategy that affects the whole organization.
HR software with heart.
BambooHR® lets you focus on people, not processes.
You might also like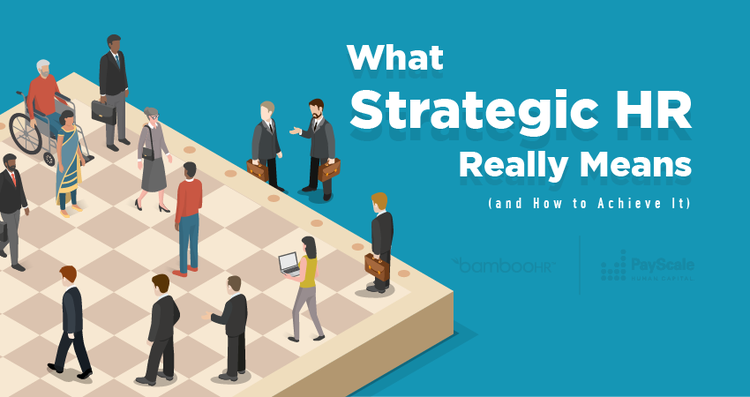 Join a panel of experts from PayScale and BambooHR as they dive into what it means to be strategic in HR and how to achieve it in your own organization.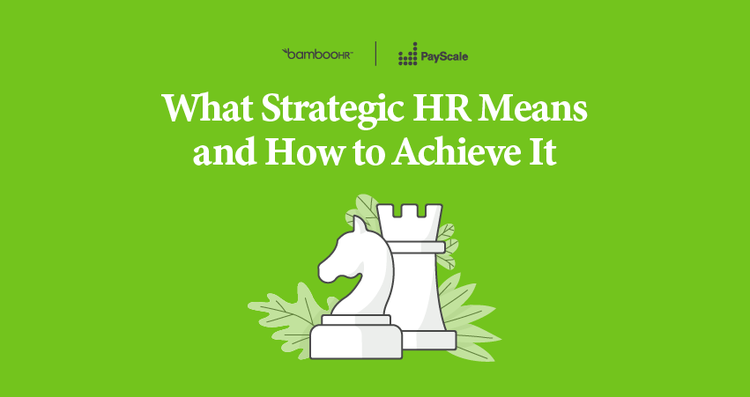 As an HR professional today, you have more opportunities than ever before to work as a strategic partner in your organization. In this ebook, learn from HR leaders on what it means to be strategic in HR and how to achieve it in your organization.