8 Must-Have Benefits of Automated Payroll

Automation makes your life easier. Automating your electricity bill makes it impossible to miss a payment. The calendar on your phone auto-syncs with the one on your computer, so you don't forget any appointments. Netflix automatically plays the next episode, even when you don't want it to, but the next episode already started, so you might as well keep watching.
These little automated tasks might not seem like a big deal, but they can save you a lot of hassle. So imagine all of the headaches and time your organization can save with automated payroll.
What Is Automated Payroll?
Automated payroll is a way to help you simplify the act of paying your employees on time and accurately. Most payroll employees love using an automated payroll system because it can save time and effort on headache-inducing processes like federal, state, and local tax filing, processing direct deposits, generating reports, and calculating withholdings.
Payroll managers don't have all day every day to spend crunching numbers and managing spreadsheets. Many also have other responsibilities like recruiting and hiring, employee relations, training and development, and benefits management. Perhaps payroll is part of their job as an executive assistant or office manager. Here is a breakdown of everything a payroll manager is in charge of (and this isn't including all those other duties outside of payroll):
New Hire Tasks
Demographic information
Bank information
Pay schedules
Withholdings
Benefit deductions
Weekly Tasks
Calculate hours
Adjust hours for PTO and holiday
Adjust pay for overtime and garnishments
Submit payroll
Provide employees with pay stubs and checks
Run any mid-cycle payroll corrections
Periodic Tasks
Payroll reports
Open enrollment benefit changes
Worker's compensation
Federal, state, and local tax filing
Employee tax form filing and distribution
Spending hours of precious time doing every single one of these payroll tasks manually in addition to all of their other duties instead of using automated payroll? Fuhgettaboutit!
An automated payroll system can't do everything for you, but it can help a lot. If you're questioning whether your expensive payroll software is worth the cost, asking yourself if it's time for your organization to get automated, or just wondering what automated payroll is, keep reading for some of the many benefits of an automated payroll system.
What Are the Benefits of Automated Payroll?
Like we've mentioned, automating your payroll process just makes things easier, but let's dig into some of the specific benefits of automated payroll.
#1 Reduce Errors
A survey from The Workforce Institute at Kronos Incorporated found that 49 percent of U.S. workers will start looking for a new job after experiencing only two problems with their paycheck. Someone's pay isn't something you want to mess up.
Just like calculators are a bit better at math than our human brains, payroll software is better at calculating the correct deductions, overtime pay, PTO, and commissions that affect an employee's pay. Plus, if you aren't manually entering data, there's no risk of mistyping a number or copying over data incorrectly.
#2 Save Time
We've already reviewed the many tasks filling a payroll employee's plate. Automating some of those tasks can save a significant amount of time. Tamerra Sedacy, payroll specialist at BambooHR, estimates, "An automated payroll system saves me up to three to five hours of work. It can replace the majority of the manual data I would normally have to do."
#3 Increase Security
Paperwork and spreadsheets are not very secure places to keep your important payroll data. With an automated payroll system, your data is encrypted and password-protected, so no one (besides you and your team) can easily access it.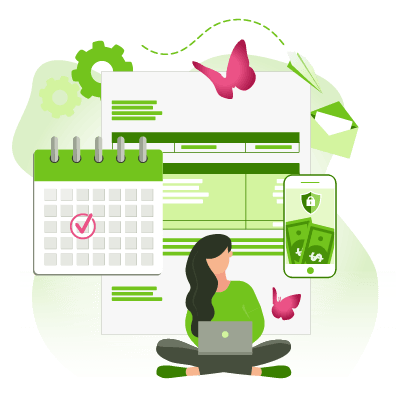 #4 Create Reports Easily
Making strategic payroll decisions or predicting labor costs is easier with a bit of automated help. What's not easy is digging through all your manual work to track down your payroll information and assemble it into a report by hand. Many automated payroll software platforms will give you downloadable reports, so you can be confident that everything is running smoothly and you are making the correct decisions for your organization.
#5 Simplify Tax Filing
Taxes are complicated. There are thousands of tax jurisdictions in the U.S. and tax rules change regularly. And if your organization operates in multiple states, you have even more to keep track of. Staying on top of all these changes can be time-consuming and incredibly costly if you get it wrong. Automated payroll keeps track of these updates in tax policy, makes sure you meet all the correct deadlines, and calculates withholding tax for individual employees. This way, you can feel confident your taxes are filed correctly and on time.
#6 Complete Records
The Fair Labor Standards Act requires employers to keep three years' worth of pay records. In these records, you should include hours worked, payment rates, payroll dates, and more depending on your state laws. Automated payroll systems will keep this data organized for you, so you stay compliant and be prepared for a possible audit.
#7 Employee Self Service
Giving employees autonomy to view their paychecks easily and update their personal information can help streamline your payroll process, keep extra tasks off your payroll specialist's to-do list, and limit errors. With automated payroll, many systems allow employees to:
Edit their own personal information
View and print pay stubs
Update their direct deposit
View benefits statements
View deductions
Access and print W-2 and 1099 forms
Fewer emails, shoulder taps, and pings throughout the day can make a payroll manager's life a lot easier.
#8 Save Money
An automated payroll system might scare off some businesses with its price tag, but the American Payroll Association estimates that automation can reduce your payroll processing costs by as much as 80 percent. Many of the previously mentioned benefits of automated payroll contribute to an overall lower cost for your organization. When you eliminate most expensive errors, you can drop your costs in the long run. Plus, as they say, time is money—which is especially true for businesses.
How to Automate Your Payroll Process
You have a few options for running your payroll. In a BambooHR State of Payroll survey with 500 respondents, 48 percent of organizations reported that they use third-party software, 24 percent said they use homegrown payroll software, and 27 percent said they opted to outsource the task entirely by using a local accountant, national accounting firm, or professional employer organization (PEO).
Pay your people on time, every time with BambooHR Payroll.
We admit we are a bit biased, but if you are looking to automate your payroll process, integrating a third-party system will be easiest for many organizations.
One of the most important features you should look for in a third-party system is that it communicates with your HRIS, so employee information like wages, hours, account numbers, and withholdings can all be stored in one place. That means you can further reduce your risk of errors by cutting down on the need for double entry. So you get all the automated payroll features that make it easier to run your business, plus a simplified system.
What to Look For in an Automated Payroll System
Integrating a new payroll system takes some effort (gathering data, setting things up for your organization, etc.) so be sure to carefully evaluate your payroll system before selecting it. In our State of Payroll survey, we asked respondents what makes payroll software effective. Their top responses give a good idea of the features you should look for when you choose a payroll system. These automated payroll features can help cut down on the most prominent payroll pain points:
Federal, state, and local tax filing
Time and attendance tracking
Employee self-service access
PTO tracking
Employee data management
Reporting
Software integrations (i.e. time tracking, accounting, benefits, etc.)
Additional pay adjustments like reimbursements or bonuses
As you consider different payroll system options, ask yourself these questions:
Does this system work with the current size of my company? Can this system grow with us?
Does this automated payroll system integrate with my HR software?
How much time am I currently spending completing payroll? How long would it take me with this automated system?
What features are most important to me in a payroll system? Does this system include those features?
These questions should help you land on an automated payroll system that works well for your payroll manager and your entire organization.
When Should an Organization Automate Payroll?
If you've just hired employee number five, doing payroll manually might cut it for now, but adopting an automated payroll system early on that can grow with your company can be greatly beneficial. Our payroll specialist Tamerra explained the benefits best: "I think companies should adopt automated payroll from the beginning. If a company is small but plans to grow, then it will be way faster and easier to onboard employees with one system rather than try to switch or start from scratch down the line. People get very comfortable with the way things are. If you already have a system in place that supports growth, you will be better off in the future. It may even allow you to grow more than you had originally planned."
If you're still manually running your payroll each period, hopefully you've been convinced by now that it's worth it to automate your process. Start researching different automated payroll systems and crunching the numbers to find the ROI. You'll find the benefits of automated payroll can save you a lot of time and money and have you reaching for the ibuprofen a little less often.