How Your Employees Really Feel About Compensation

Find Out How Your Employees Feel About Compensation
Do you know what your employees really think about their compensation, benefits, employee experience, company culture, and everything else your organization has to offer? If not, your retention strategy is floating adrift. Retention is high on HR and business leaders' list of priorities, and a key part of retention is offering the environment and total compensation package employees really want.
In our 2022 Compensation Trends report, we found that 51 percent of employees say they'd stay with a company or job they dislike if the salary is high. And while it might seem great that those employees are sticking around, they aren't sticking around for the right reasons and—they likely aren't giving you their best work.
51% of employees say they'd stay with a company or job they dislike if the salary is high.
While compensating your employees appropriately is certainly part of creating a solid retention strategy, you need to create the full package—good compensation, an attractive company culture, and a solid benefits package. The best way to do this is by going directly to the source—your own employees. BambooHR Employee Satisfaction and Employee Wellbeing help your organization spot important positive and negative trends in employee wants and feelings through anonymous feedback.
Here are some of the ways Employee Satisfaction and Employee Wellbeing can help you get to the bottom of important topics like compensation to help you find and keep the best people for your organization.
BambooHR® Employee Satisfaction
Employee Satisfaction uses the popular Net Promoter-based eNPS®* survey method with anonymous, open-ended feedback to give you and your executive team a research-backed employer brand score and an understanding of how your employees are really feeling about your organization.
What Is an Employee Net Promoter Score?
An Employee Net Promoter Score, or eNPS, is a numerical rating of how employees feel about your company calculated simply by asking a single query:
"On a scale of zero to ten, how likely are you to recommend [your company] as a place to work?"
What Makes Employee Satisfaction Different from eNPS?
One of the biggest criticisms of the Net Promoter rating method is that it's just a number. But while we think there's a lot of insight that can be drawn from your eNPS score, we also think there's always room for more. That's why Employee Satisfaction builds on the eNPS survey with a single, easy question:
"What changes could your company make to be a better place to work?"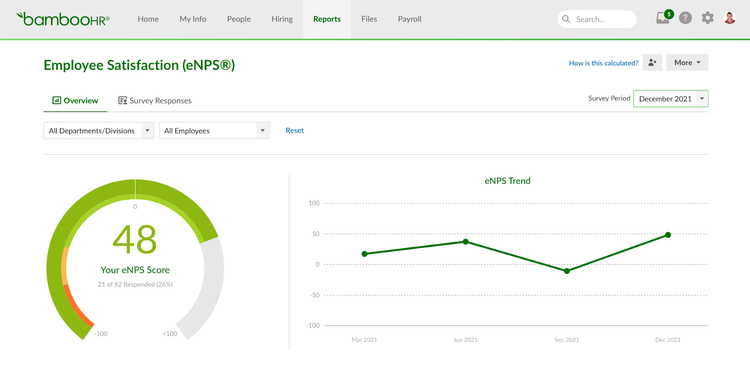 Depending on their answer to the first question, employees are divided into promoters, neutral, and detractors. The percentage of detractors is subtracted from the percentage of promoters to give your company's eNPS score, which is expressed as a number between 100 and -100. (You can find a more in-depth look at how the eNPS score works here.) Meanwhile, Employee Satisfaction goes to work on the long-form responses, intelligently analyzing the language your employees use to create keyword clouds divided into positive and negative sentiments. If that sounds pretty smart…it's because it is.
The Why Behind the Score
The number you wind up with, and seeing that number change over time, will give you solid data on how your company is doing when it comes to employee satisfaction. And your employees' answers to the second question—what they'd do to improve your company—help you dig deeper into what they wish your organization offered and what gets them excited—or anxious—about coming to work.
Are they disappointed in their pay? You can create a strategy to help your employees better understand your compensation plan. Do they love the health challenge you did last quarter? Great! Come up with more great programs like that one.
Anonymity Means Honest Answers
While keeping an ear to the ground and checking in with managers can help you get a feel for what employees are loving or hating about your organization, anonymous feedback lets employees really let loose. And since employees can feel more comfortable sharing their real feelings using Employee Satisfaction, you can feel more confident using their feedback to make positive changes at your organization.
That's just the tip of the iceberg. Learn more about the power of BambooHR Employee Satisfaction.
BambooHR® Employee Wellbeing
Employee Wellbeing is a culture survey that was designed to help you provide an optimal employee experience and improve your employee engagement. It gives you insights into how employees are feeling about your organization, their work, and how they're being supported, so you can make informed decisions that will help you improve your culture and increase retention.
Employee Wellbeing prompts employees to answer four short questions with an optional free response for each question on a monthly, bi-monthly, or quarterly basis (whatever schedule you choose).
The questions you choose may differ each month, but all of them have been carefully designed and tested to give you an accurate and actionable image of your workplace. The survey questions are organized under the following categories:
Happiness
Relationships
Personal Motivators
Company Motivators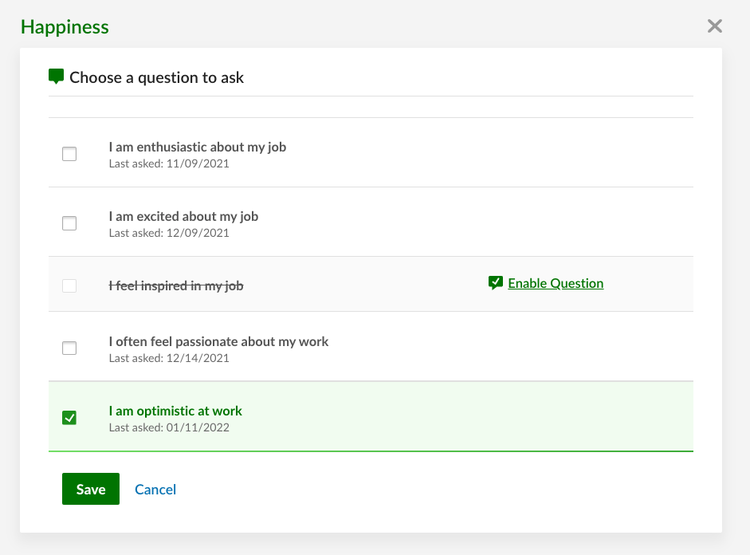 And once again, anonymous answers empower your employees to share their true feelings and experiences, which gives you the information you need to celebrate (and replicate) your wins and make plans for improvements.
Take a closer look at the benefits of BambooHR Employee Wellbeing.
How BambooHR Employee Satisfaction and Employee Wellbeing Work Together
Perhaps you're thinking that one survey is plenty. But in tandem, Employee Satisfaction and Employee Wellbeing help you understand two things about your employees that will help you create a great place to work with highly engaged employees:
How likely they are to recommend your company as a place to work (Employee Satisfaction)
What they need to engage with their work and thrive at your company (Employee Wellbeing)
Employee Satisfaction gives you a company-wide view of employee satisfaction, but satisfied employees are not always engaged employees. Your own employees could be among the 51 percent who said they're only staying with their job for the pay. When it comes to measuring (and improving) the employee experience as a whole, Employee Wellbeing takes the baton from Employee Satisfaction to focus on illuminating the practical, emotional, and intellectual needs of employees as individuals.
The better you understand your employees and how they're feeling about important topics like your compensation strategy and company culture, the better your organization will be able to retain top talent and see impressive growth.
Check out the full 2022 Compensation Trends Report
*Net Promoter, NPS, and the NPS-related emoticons are registered trademarks, and Net Promoter Score and Net Promoter System are service marks, of Bain & Company, Inc., Satmetrix Systems, Inc. and Fred Reichheld.