Introducing Our New ATS Mobile App: BambooHR Hiring

So, you've found the perfect candidate. Their resume ticks all the boxes. They blew everyone's socks off in the interview, and their references rave about both their performance and interpersonal skills. As you're putting the finishing touches on the offer letter and getting final approvals to hire, you see this in your inbox: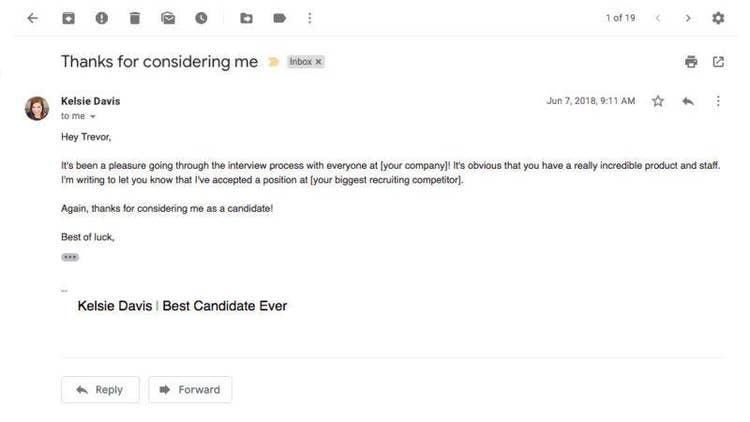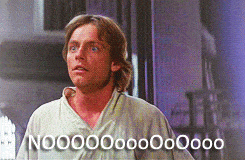 Sound familiar? Unfortunately, in today's ultra-competitive hiring market where the best candidates are snatched off the market within 10 days, it's all too common. With such great pressure to find, evaluate, and hire candidates before the competition, we're thrilled to announce a mobile hiring app to help recruiters, HR professionals, and hiring managers hire the right people faster. Introducing our new applicant tracking system (ATS) mobile app: BambooHR Hiring.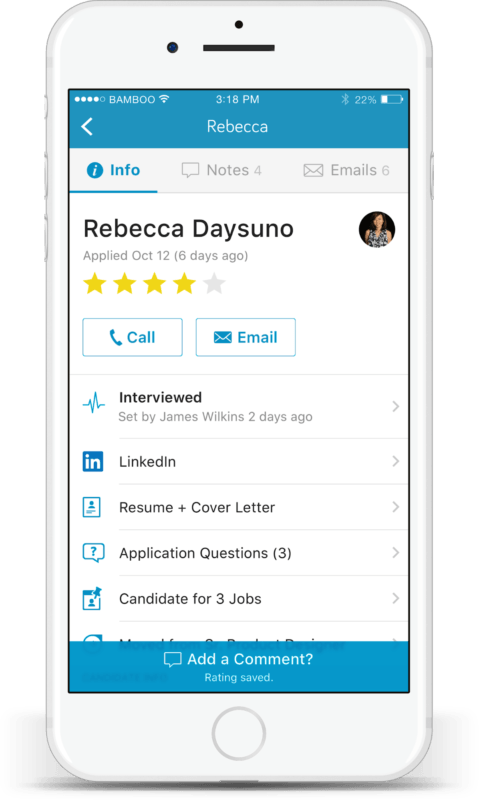 The new app enables ATS users to view applications, rate candidates, update candidate statuses, make comments, and email and reply to candidates right from their mobile device. Being able to do all this on the go helps organizations hire the right people more quickly, create a great candidate experience, and modernize their recruiting process.
Hire the Right People More Quickly
As illustrated above, nothing is more frustrating than having the best candidates fall through your fingers due to quicker competition. Almost half of candidates decline job offers because they have accepted an offer from another company, so it's crucial that you act fast.
On the flip side, it's also crucial that you adequately evaluate each candidate. After all, if you hire a bad candidate quickly, you don't really benefit. BambooHR Hiring can help you speed up the process and maintain the quality of your evaluation.
Collaborators can review a candidate's cover letter, resume, and responses to application questions immediately from the mobile app. After reviewing, you can coordinate with hiring team members to move candidates through the process and set up next steps. Throughout the process, you can document comments and ratings to keep track of everyone's feedback on each candidate. Finally, you can communicate directly with candidates through phone or email (including using email templates) right from the app.
Create a Great Candidate Experience
Because the hiring market is so competitive, candidates don't have to put up with sub-par experiences. In fact, of those who had a negative candidate experience, 42 percent said they would never apply to that company again and 72 percent shared their poor experience with someone else either directly or online. Conversely, a different study from The Talent Board found that 61 percent of candidates who had a positive experience would "actively encourage colleagues to apply to the organization."
So not only does a negative candidate experience impact your ability to hire top talent today, it also impacts your ability to hire others in the future. But with BambooHR Hiring, you can create a smooth and efficient candidate experience to help your organization hire the best employees now and in the future.
Because BambooHR Hiring enables you to contact candidates right from your mobile device, communication is more timely. It is also more accurate as members of the hiring team can check and update information from anywhere. Other benefits that previously existed in our ATS also help improve the candidate experience like automatic notifications for candidates once their application has been received and user-friendly career pages.
Modernize Your Recruiting Process
Overall, the BambooHR Hiring app is one more way that BambooHR's ATS helps you modernize your recruiting efforts. Top candidates want to work for top organizations, and top organizations use tools that help them create efficient and enjoyable processes. Your recruiting process is the first peek candidates get into your organization's practices, so make the most of that first impression.
BambooHR's ATS and Hiring app provide you with:
Responsive design career pages that are delightful and intuitive for candidates to use
A user-friendly application process to reduce obstacles to applying
Custom application questions to help you target the right candidates
Electronic signatures and offer letters to speed up processes
The ability to share your job ads to social sites
The ability to share to free job boards like Indeed and Glassdoor
Using the BambooHR ATS and Hiring app will help you show candidates that your organization is committed to top-notch processes and experiences. If you can be the early bird and the intelligent bird, you're much more likely to get the worm. (Not that you should think about candidates as worms . . . they probably wouldn't appreciate that.)
We're eager to hear how our new ATS Mobile App, BambooHR Hiring, helps you hire better candidates more quickly and provide a better candidate experience. Our goal is to help you create a more strategic recruiting process, and we're confident that this new app will do just that. To learn more about BambooHR Hiring, check out our ATS page on bamboohr.com or download the app on your Apple device or Android device. iOS or Android.