Make Onboarding a Walk in the Park

Hiring a new employee can mean a mountain of work for HR. Lots and lots of forms to be filled out and stored, desk space cleared, onboarding activities, office supplies gathered, equipment readied. When your company is growing and you're hiring often, the journey through that mountain of to-dos may feel insurmountable. HR software helps you manage onboarding tasks more easily so you can focus on helping new employees have a great first day—rather than worrying about checking items off your list.
HR software contains the tools to simplify the onboarding process. A standard template list of forms and other tasks needed for each new employee is a valuable tool. Using a template, you will know exactly what needs to get done and when. You can set when to complete each task ,and email alerts will remind you. You can also add specific tasks depending on job position, which customizes the list for each new employee. You should also be able to assign tasks to others. For example, you'll want to let IT know to set up your new employee's computer.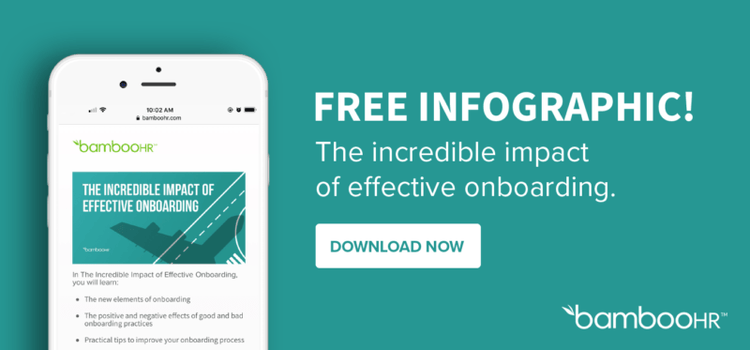 https://www.bamboohr.com/resources/ebooks/the-new-hire-onboarding-checklist-everything-you-need-to-know?utm_source=OSe-BambHR--walk-in-the-park
Forms don't have to hang out on paper anymore, and signatures aren't sealed with ink. You can email out necessary forms as soon as your new employee is hired. Standard forms—such as W-4s, company policies and confidentiality agreements—can be checked off as soon as they appear in your inbox. And signing is a cinch with online signatures, no scanning or faxing necessary. No physical storage is needed either, as the information for each employee will be copied over to their individual employee online records.
With most of the "paperwork" filled out and before the first day, you can spend new employees' first days on training and getting them productive faster. That mountain of work each time a new employee comes onboard becomes a walk in the park!
Feel like trying out HR software free? Click here to start your free trial.