Simple Performance Management that Really Delivers

When you think of performance management, you might shudder at the memory of endless questionnaires, desperately trying to remember every project from the past nine months, and receiving belated, irrelevant feedback. With BambooHR® by her side, 321 The Agency director of people and culture Chelsea Stonerock proves that it doesn't have to be that way.
Identifying What Was Missing
When Chelsea started her job at 321 The Agency, an Orlando, Florida-based digital creative marketing agency, she was happy to find out they were using BambooHR—the same HR software she had used and liked at her previous agency. But her experience with BambooHR also helped her see that 321 wasn't yet taking advantage of all its available features.
"Conversations about how people were doing and their growth weren't happening consistently," she remembers about her start at 321. In the agency world where employee turnover is high, this communication is essential to help keep employees engaged. She knew BambooHR® Performance Management could help her streamline the review process and help employees look for opportunities for growth and development within the organization.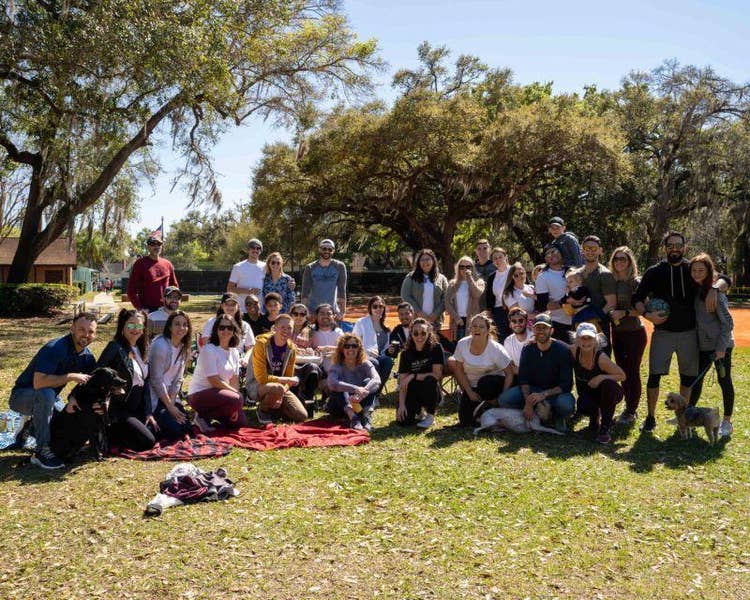 Performance Reviews and Employee Growth
"I encourage one-on-ones with managers so conversations about performance are happening all the time," says Chelsea, but bi-annual Momentum Meetings, as 321 calls their six-month review meetings, "encourage people to focus on what they are going to do for the next six months and how they are going to grow."
BambooHR makes it easy to see what kind of growth is happening. With performance reviews stored digitally, Chelsea has an overview of how everyone at the company is doing. "Having everything stored is very valuable. People change, and it is so nice to be able to go back and see what was said last time, where they were standing, and observe progress."
Sometimes asking the right questions works better than asking more of them. Although you can customize with up to three additional questions per review period, BambooHR Performance Management recommends starting with the simple, pre-set questions built into the software. These questions are designed to improve engagement and successfully measure growth. "I like the simplicity of the questions," says Chelsea, "you just don't need 17,000 questions!" And simplicity makes it easy to spot and address problems. "I get a bird's eye view of everything that's going on. It makes red flags obvious so I can jump on problems as soon as they arise."
An Automated Process
As director of people and culture, Chelsea is balancing a lot of responsibilities and needs to have time so she can address problems in the moment. Any task she can automate frees up time for her to spend bettering her organization and working with the people at 321. "I like to put things into place that are systematic," she says. "Then, I don't have to think about it all the time. Things like always having the peer reviews take care of themselves is great for me."
Once everything is set up, it runs all on its own. BambooHR Performance Management sends automatic reminders to employees that it's time to fill out their six-month review, so Chelsea doesn't have to spend time reminding employees herself.
Simple, Effective Performance Management
Chelsea is a fan of BambooHR Performance Management because she knows it works, and she knows it simplifies the process. She even uses it for herself. "I use the system for performance management for myself, and I love reviews with my manager. It helps me shuffle through all the mud, refocus, decide what my goals are for the next six months, and see how those goals line up with the overall company goals."
Interested in learning more about BambooHR Performance Management? Learn how it can set you and your organization free to do great work.
BambooHR® Performance Management Software
Improve employee performance without the pain.