Welcome, Home!

We're so excited to announce the release of our totally redesigned dashboard, Home. Home is the new one-stop shop for all the information you need on a daily basis, and it's intuitive to use when you need access to deeper data. We really hope you'll enjoy using it.
MAKING A GREAT FIRST IMPRESSION
When you love Bamboo like we do, you want everyone else to have that loving feeling. Part of that is making it easier and faster and more functional, but part of it is making it beautiful, so people will want to use it. With Home, we tried to do both, because first impressions matter.
The original dashboard was functional, but as we continually updated other tools, it started to feel out of date, and that doesn't live up to the BambooHR experience. We wanted to give you something so easy to use that it became second nature to your daily routine: come into work, check Home, go about your day.
HR is about peoplework. Not paperwork. Learn more about the #1 software for small and medium businesses
We're always talking to customers, and that makes it easier to know some of the problems we need to solve. We also use contextual inquiry—visiting actual users in their places of work to observe how they use our product—because you can't really be objective about your own design until you see someone experience it firsthand.
We're all about improving your experience, making your life easier, and setting you free to do real, rewarding work.
HOW IT WORKS (BETTER)
We designed Home to work for you, instead of the other way around. By bringing your most-accessed information to the surface, Home eliminates the need to dig deeper until you need to see more. Improved readability means that information is easier to see at a glance, and it sticks with you longer so you don't need to check back as often.
Notifications Widget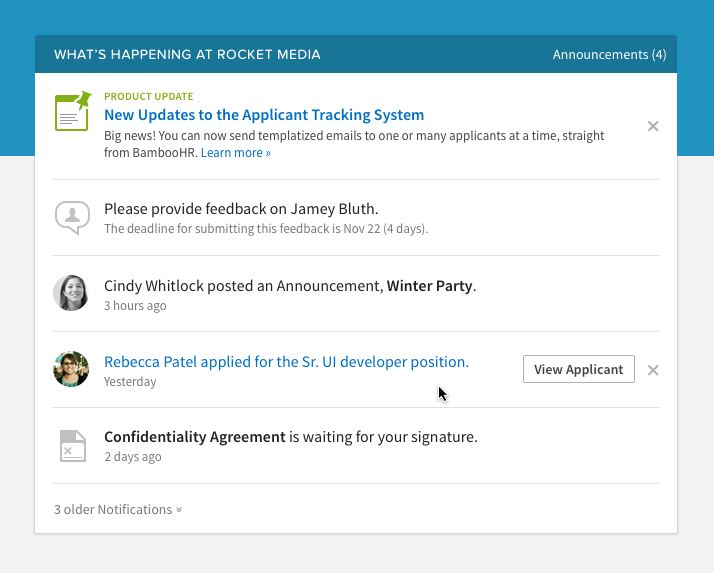 This new window shows you updates—announcements, onboarding and offboarding tasks, applicant position notifications, approval requests—in a timely, relevant way that summarizes automatically to keep things from getting overwhelming.
New Hires Widget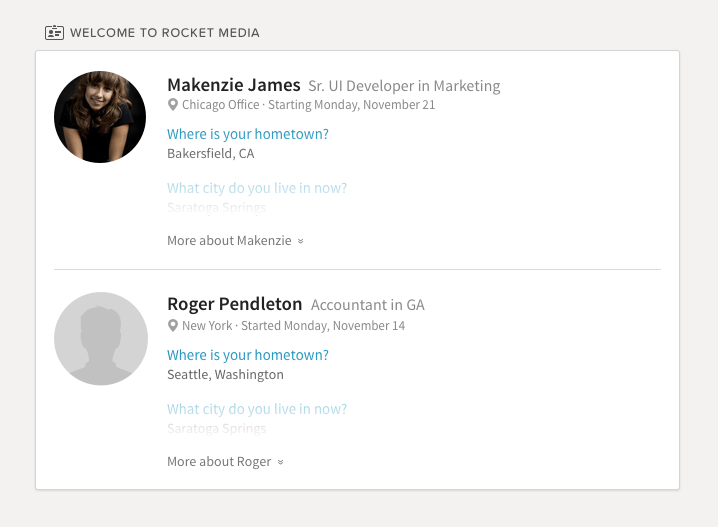 The New Hires widget solves the, "Who's that new guy/gal in the hallway?" problem. It's where you'll see information about all the new people at your company,
Reporting Widget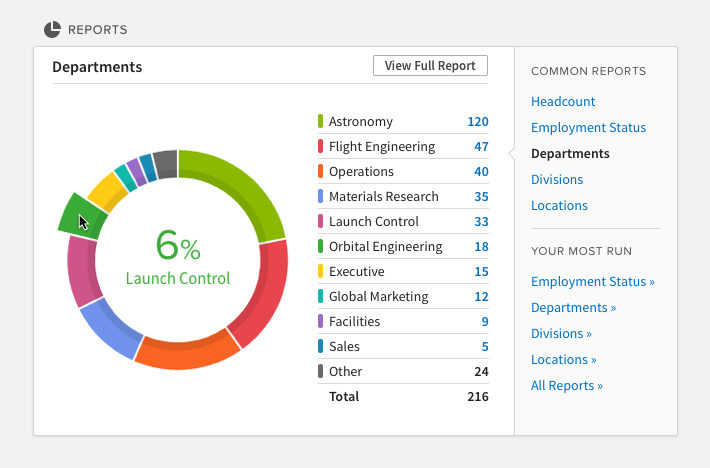 Reports have always been a valuable asset to your business. With the new Reporting widget, they're right there at your fingertips. The widget displays some basic reports, like Headcount or Employment Status, along with quick links to some of your most commonly run reports for easy access.
Goals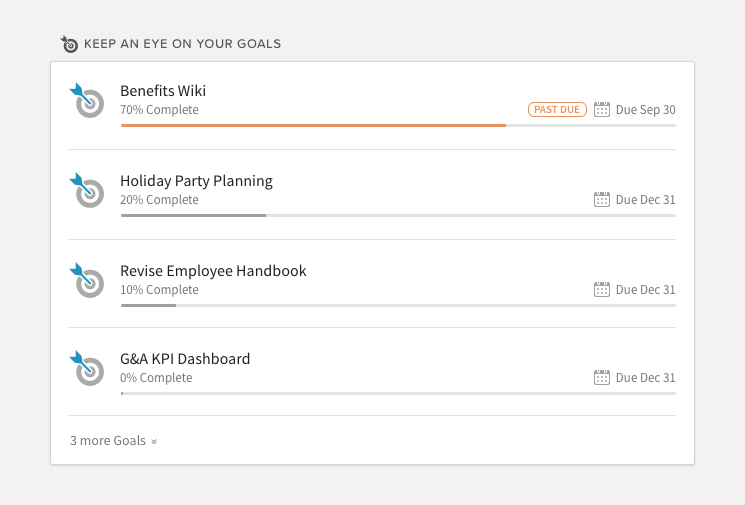 Instead of being a once-a-year ritual, goals can stay top of mind with the new Goals widget. Employees will see a quick overview of each goal, completion percentages, and due dates right in BambooHR Home. Getting more information is as easy as clicking on the widget to quickly navigate to a deeper look.
HR is about peoplework. Not paperwork. Learn more about the #1 software for small and medium businesses
WANT TO LEARN MORE?
Our customer service team has been working hard creating articles that give all the nitty-gritty details about using and navigating the new Home screen, but if you have questions, our Support Heroes are always available to help. Give us a call or drop us a line!
Bamboo Home Overview in Help Center (secure link)
Help Articles on Widgets (secure link)