Why Employee Engagement Matters to Your Business [Infographic]

Take a peek around your office today. Are people doing their best work? Passionate about what they're doing? Feeling fulfilled? Or does it look more like they're staring at their screens or wandering aimlessly, waiting for the clock to hit 5 PM?
Chances are, at least some of your employees are doing the latter. In fact, if you're like most organizations, only 33 percent of your employees are engaged. And this lack of employee engagement could be incredibly costly.
Cost of Disengagement
You likely already understand how painful disengagement is, but maybe you don't have the support you need to fix it. If some executives at your organization don't view employee engagement initiatives as worthwhile, it might help to speak to them in a language they should understand well: money. For instance, you could hit them with this truth bomb:
Disengaged workers cost the U.S. $483 billion to $605 billion each year in lost productivity.
While disengagement can have tangible effects on the bottom line, there are plenty of other important, less tangible impacts. For instance, employees who are disengaged likely aren't very happy at your organization. If they're unhappy, they're unlikely to do great work or stay at the company.
Benefits of Engagement
No matter which battles your organization is facing or which outcome you're trying to improve, there's a high chance that more engagement can help. Studies show that organizations with high engagement have reduced turnover, improved product quality, increased profitability, and many other benefits. For example:
When compared to those companies in the bottom quartile of engagement, companies in the top quartile of engagement experienced 17 percent higher productivity.
So, overall, having highly engaged employees is simply good business strategy. This is great news for you because creating successful engagement initiatives could make you invaluable to your organization.
Boosting Employee Engagement
You may be wondering, much like Alice lost in Wonderland, "Would you tell me, please, which way I ought to go from here?" Well, the Cheshire Cat's response to Alice is helpful: "That depends a good deal on where you want to get to." And before you can figure out where you want to get to, you have to find out where you currently are:
Evaluate current engagement levels. Even if you think you have a good idea of how engaged your employees are, evaluating engagement levels across your organization is a good idea. Using tools like BambooHR's Employee Satisfaction with Employee Net Promoter Score (eNPS) or Performance Management can help reveal why employees are or aren't currently engaged.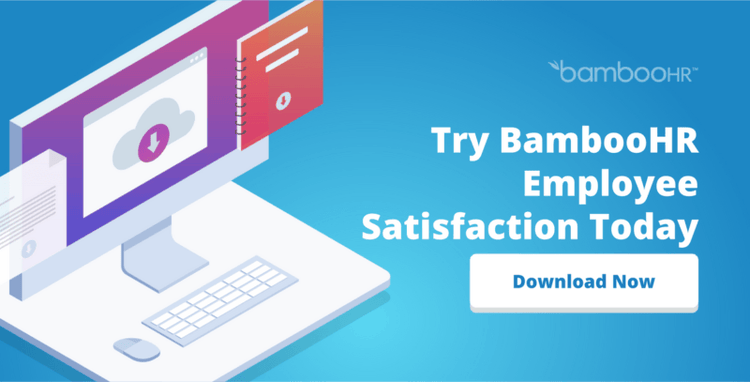 https://www.bamboohr.com/employee-net-promoter-score-software/?utm_source=OSe-Blog-why-employee-engagement
Explore Employee Satisfaction with eNPS
Plan which elements to improve. After you have some ideas of which direction your organization needs to head, you have to prioritize. If you try to do everything at once, you won't get much done. Instead, select the elements that will make the biggest impact on engagement in the shortest amount of time, and start executing.
Execute your plan. Get focused, get buy-in, and get going! Different elements will require different programs. You may need to start making large overhauls to parts of your culture. You may just need to provide some effective training for managers. If you have a smaller organization or don't have the buy in to create overarching programs, you can execute a plan to improve engagement with individual employees. Even improving the engagement of one excellent employee can go a long way.
Employee engagement can provide a huge boost to multiple areas of your organization. On the other hand, disengagement can cost you big time. Learn more about the costs of disengagement and benefits of engagement (as well as how to boost it) by downloading the full Why Employee Engagement Matters to Your Business infographic.