How to Build and Manage a Stellar Remote Workforce

Interested in more expert advice on this topic? Watch our free on-demand webinar, How to Build and Manage a Stellar Remote Workforce, featuring JD Conway, head of talent acquisition at BambooHR; John Grotegut, head of global talent acquisition at HireVue; and Melissa Escobar-Franco, HR manager at Workable.
Remote work is popping up everywhere, with 67 percent of organizations offering work-from-home options in response to the coronavirus pandemic. Some HR experts predict that working from home will become even more common in the post-coronavirus economy. So if building a remote workforce is something you're only just considering, buckle up––it's here to stay and will likely grow in popularity.
But even if you've already got whole teams working remotely, there's plenty to be done to keep remote employees engaged and connected to the rest of your operation. In fact, connection is one of the main challenges with remote workers since they're more likely to feel left out than their in-office colleagues.
Three HR experts tackled how to best handle remote workers during a recent webinar, and we'll be sharing their advice with you here. Keep reading for expert insight on building strong connections with new and existing employees, navigating compensation, and other best practices for building and managing a remote workforce.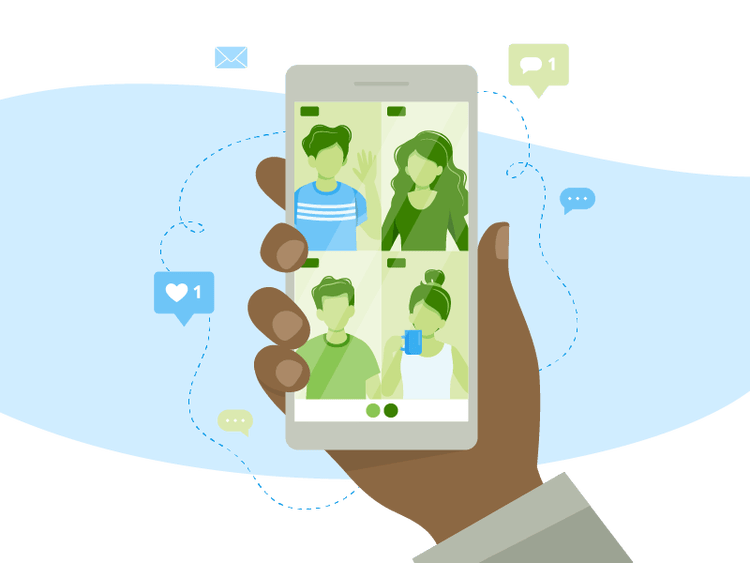 What to Do Before You Hire Remote Workers
Build an Attractive Employer Brand
As with in-person recruiting, you want to stand out and attract the right candidates by giving them a feel for who you are as an organization. Tried and true practices still apply. As JD Conway, head of talent acquisition at BambooHR, points out, employer brand isn't just a gimmick or a pithy phrase, like "work hard, play hard." You need to take a close look at what your company is like, assess its unique strengths, and focus on crafting an authentic message. Ideally, your brand messaging should allow candidates to see themselves working with their prospective teams.
One way to do that is to get your people involved in the messaging about your organization. John Grotegut, head of global talent acquisition at HireVue, advocates this kind of sincerity. For example, employees at HireVue are invited to share their interests on the company's blog, whether related to their experience at the company or not, which gives people an idea of who HireVue employees are.
And this is especially critical for remote positions since those candidates, once hired, may never even work in the office. At HireVue, engineers work remotely, and one particularly popular HireVue blog post included pictures submitted by engineers showing where they work. Small things like this include your employees' perspectives, helping prospective remote workers get a genuine feel for what it's like working for you.
Melissa Escobar-Franco, HR manager at Workable, also recommends empowering employees to have a voice outside of company channels, like LinkedIn, Glassdoor, or even participating in events. While this also opens up the door to negative criticism, how an organization responds to feedback says a lot about who they are.
Determine What Constitutes "Culture Fit"
Culture is an integral part of an employer's brand; ideally, your brand reflects your culture. But once you figure out how to best show off who you are as an organization, how do you maintain that culture when hiring? Our HR experts all agree that looking for "fit" might limit your recruiting efforts to hiring the same type of people. It's more effective to think about how to add to your culture based on what your values and needs are.
Culture relies on clearly stated values, which should be inclusive, and these should always be at the core of any interview or role assessment––rather than waiting until the interview to start asking yourself whether a candidate actually reflects those values. First, determine the characteristics you need and how they are going to fulfill culture requirements; then come up with questions to find out if the candidate possesses those qualities. This also means hiring managers need to be trained on what your organization truly means by "culture" and how to assess it in an interview setting.
Decide Who Will Be Eligible For Remote Work
Part of the initial struggle of implementing a remote workforce, Melissa points out, is making the decision in the first place. Should your company roll out a remote workforce policy? Before answering, consider whether you're missing out on prime candidates by not having such a policy. But that's only half of the decision, she warns. Once you've decided to allow it, you also need to decide how you're going to frame it.
Here are a few questions she suggests asking when implementing remote work:
Which roles will be eligible for remote work?
Will remote work be limited to certain levels, e.g., only for leadership positions?
If your organization has multiple offices or locations, will remote work be limited to certain locations?
How will you maintain and communicate your organization's culture to remote workers?
While it may seem like a simple "yes" or "no" decision, many factors go into putting such a policy in place. Your remote employees will thank you for making those decisions ahead of time and creating a clear, consistent experience for them.
Have the Right Technical Setup
For remote workers, communication and connection in large part relies on technology. As John explains, there's nothing more frustrating for someone working remotely than not having something work or not getting the support they need, especially compared to someone in office.
Here are a few crucial technology questions to ask before rolling out a remote work policy:
Do you have the tech tools in place to support remote workers (e.g., video conferencing, instant messaging, project management, laptops, etc.)?
Do you have the tech staff to support them, and do your remote workers know how to contact them?
Providing your remote workers with the right technical support will go a long way in proving to them that you value them. Giving them the right tools to build connections will ensure they remain engaged and productive.
How to Determine Compensation for Remote Workers
Compensation, while always a delicate balancing act, may seem even more complicated for remote positions. Even for remote workers doing the same job, differences in location and cost of living make it difficult to determine what fair pay is. And what if there's a difference in compensation between in-office and remote employees? Our HR experts recommend two guiding principles:
1. Don't Penalize Remote Workers
Compensation should be the same across positions, whether in office or remote. In other words, you shouldn't pay a remote worker less than what you would be willing to pay a local hire. Otherwise, it seems like a punitive measure and sends the signal that you don't actually value your remote workforce. If you're not willing to pay market value for talent, Melissa cautions, someone else will.
2. Do Your Homework
Pay equity also depends on market rates and the local cost of living, as we mentioned above. So while you may not be paying less for a remote position, you may need to adjust compensation depending on where your remote employees are located. Here are some steps to take when doing compensation research:
Review benchmarking data to get a baseline.
Perform a market analysis to determine fair market value, especially if hiring across state or national borders (e.g., for national estimates, JD recommends the Bureau of Economic Analysis's quarterly reports on wage and cost of living increases).
Explore salary surveys to ensure a fair approach to compensation.
Create a clear and consistent pay grading system based on specific reasons, especially if certain locations don't have an in-house HR professional.
Overall, it's about doing your due diligence early in the recruitment process: Have an accurate job description, and then determine through multiple resources what is a fair range for that position. Define up front what your expectations are for that role, and remember to take pay equality into account for the team as well. Setting a fair salary range gives you flexibility to hire the talent you're looking for while avoiding pay inequity and a nasty shock when teammates compare compensation—or when there's no budget for a salary increase for a top-performing employee. As Melissa puts it, "Doing the right thing and doing your homework will save you from having uncomfortable conversations later on or having to make changes."
How to Onboard Remote Workers
Engaging employees early shows new hires that the organization is invested in their success. As with other aspects of establishing a flourishing remote workforce, you can't just rely on what you do for your main office.
Here's a list of suggestions to get you started with onboarding remote workers:
Have a detailed plan for what you want to accomplish with your new hires in the first week, the first month, the first quarter, etc.
Work with management teams to create specific plans for getting new hires onboarded and integrated with their teams.
Introduce new hires to people at the organization.
Introduce new hires to your business's history and culture.
Make onboarding fun!
What this looks like will depend on your organization. HireVue and Workable both favor an initial in-person experience at their company headquarters for new remote hires. This helps new hires learn about the company in different ways, make friends, and connect fully with the culture. They also get to know those key people they'll turn to when they have questions. If an in-person visit isn't possible, our HR experts also bring up job shadowing and mentorships (both of which can be done virtually) to integrate remote workers and connect them to the company.
Need more help with onboarding? Get our definitive guide!
How to Manage Remote Workers And Keep Them Engaged
The key to managing and engaging remote workers is essentially the same: communicate! Remember, technology is your friend in these situations, so use your communication and collaboration tools as much as possible.
Here are suggested best practices for communication and engagement:
Encourage managers and other team members, especially those in office, to include remote options for all meetings (e.g., a Zoom or Google Hangout link) so remote employees can join.
Always opt for a video call over a voice call––a human face goes a long way toward building rapport.
Use project management tools to increase interdependence within teams and to increase transparency about workflows, workload, and responsibilities.
Make sure your reward and recognition programs include options for remote workers.
Put engagement measurements in place (e.g., employee Net Promoter Score® or the Great Place to Work survey) to keep a finger on your workforce's pulse.
Have managers hold weekly one-on-one meetings using video conferencing with remote workers to take down as many barriers as possible to remote working relationships and promote frequent communication.
As with other aspects of building a remote workforce, the key to managing a remote workforce is to have a plan in place and build strong relationships. That may mean being a bit more creative in your approach. For example, at HireVue, the professional services team is completely remote, and as a team-building activity, they had a virtual white elephant party where each team member received a gift and opened it on screen with the team. HireVue also has a company party every year at their headquarters. They send a gift card to remote workers who aren't able to attend, so they can take part in the celebration, too, and feel included.
Keep Your Remote Workers Close
Remote workers are really not so different from any other employee: they want to know that they're valued and heard. With adequate planning, research, and little ingenuity, you can easily come up with a remote workforce strategy and go after all the talented, dedicated workers out there.
Watch our on-demand webinar on how to best build and manage a remote workforce!