Getting the Most from HR Software
Would you rather use a typewriter or a word processor? An encyclopedia or a search engine? Software helps people do all kinds of tasks faster, easier, and better than before—including human resources responsibilities. No longer must HR professionals be buried in paperwork, PTO balance inquiries, and tedious double-entries. HR management software has revolutionized the way they work and magnified the positive impact they have on their organization.
In this chapter, you'll learn:
The benefits of HR software
Different features of HR software
How to choose the right HR software for your needs
Implementation tips
And more
We'll primarily discuss the most powerful and widely used type of HR software: a human resource information system (HRIS), also known as a human resource management system (HRMS).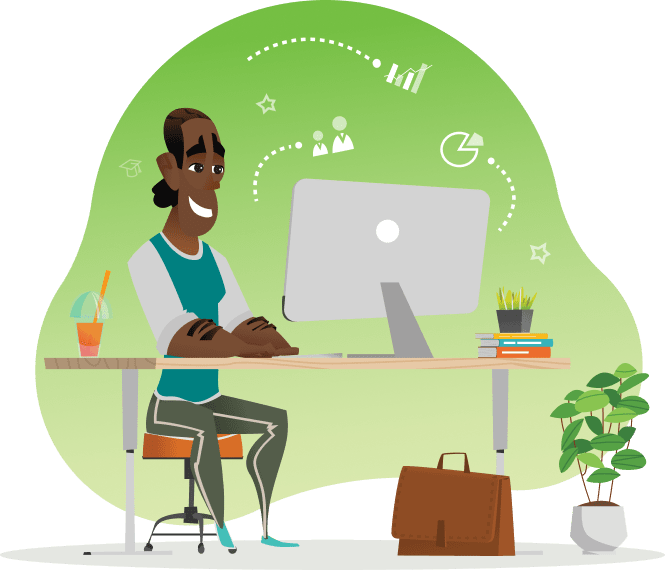 What Is an HRIS?
Some HR software is designed to do just one thing, such as gathering employee feedback or tracking employee hours. An HRIS is a software package that combines multiple systems and processes. An HRIS collects and stores data about employees, but in most cases that's only the beginning. The features in typical HRIS software perform basic functions for end-to-end human resources management—and many systems cover advanced needs as well.
Working together, the features in a well-rounded HRIS help companies organize and manage their people data and streamline human resources functions. For example, an HRIS may help automate recruiting, track employee time, process payroll and manage benefits, automate administrative tasks, keep records, track compliance, and much more.
These capabilities become increasingly important for small businesses as they grow. As a handful of employees becomes a few dozen, then a hundred, then two hundred, it becomes harder and harder to keep everything organized and everyone on track using paper and spreadsheets. And the longer you wait, the more challenging it becomes to put all of that information into new HR management software.
How One Business Benefits from Their HRIS
"It automates a lot of those foundational elements in HR—whether it's making sure we've got all of our personal data on file or tracking our PTO. ...A centralized system that can automate our onboarding and offboarding frees up a ton of time within my team that we can now use to meet the important part of HR, which is working with our people, developing and growing them."
—Tracy McDonald, Vice President of People, Left
There are many HR software systems on the market, and no two are exactly alike. Capabilities and advanced functions vary significantly, so it's important to choose a system that's well suited to your organization's unique needs (more on how to do that below).
Some organizations buy HRIS software that is installed on their own hard drive or server, but more and more are choosing a cloud-based HRIS as it provides a range of benefits, from access-anywhere convenience and flexible expansion capability to automatic software updates and worry-free data storage.
What Benefits Does an HRIS Offer?
The benefits of an HRIS are enormous, but they basically fall into three categories:
Managing data: A full-featured HRIS saves time, effort, and money by keeping all employee data in one organized, secure database and by streamlining or automating many tedious, repetitive HR tasks.
Analyzing data: HRIS software gives you tools for deeper understanding of employee data. You can easily generate an array of insightful reports to identify trends and help leaders make informed decisions.
Elevating HR's role: Combining these benefits—greater insights with more time to act on them—leads to the third major benefit: HR can be recognized as a full-fledged strategic partner whose contributions are essential to the company's growth and success.
These broad benefits spark a wide variety of advantages and improved outcomes that make HR's job easier and more effective. Here are just a few examples:
Centralized data means no more hunting through filing cabinets for the right papers or tracking down the latest version of a spreadsheet.
You can standardize data from different business units or geographic locations.
You only have to enter information once that will be used for many HR tasks, and you don't have to log into multiple systems that don't communicate with each other.
Self-service makes it easy for employees to view and manage their personal information, so HR doesn't have to spend time on smaller things like address changes and PTO balance inquiries.
Automated reminders automatically nudge everyone to meet key deadlines and remember important events.
You can store compliance data in the HRIS, and software updates help your organization maintain compliance.
HRIS software can make managers' and employees' jobs easier too, by streamlining such things as time entry and performance management.
Ready for a better way to do performance management?
The Definitive Guide to Performance Management
Different Features of HR Software
It's amazing how many different things HR software can do. No single HRIS has every conceivable feature, but that's okay: you can choose a system with the features you need and avoid paying for those you'll never use. Available features include:

What Should You Look For When Choosing an HRIS?
If you are tasked with selecting the right HRIS software, deciding between the many competing systems on the market may seem daunting—but it doesn't have to be. Whether you're choosing your firm's first HRIS or replacing your current system, the following steps will help you make a wise choice and ensure you don't overlook anything.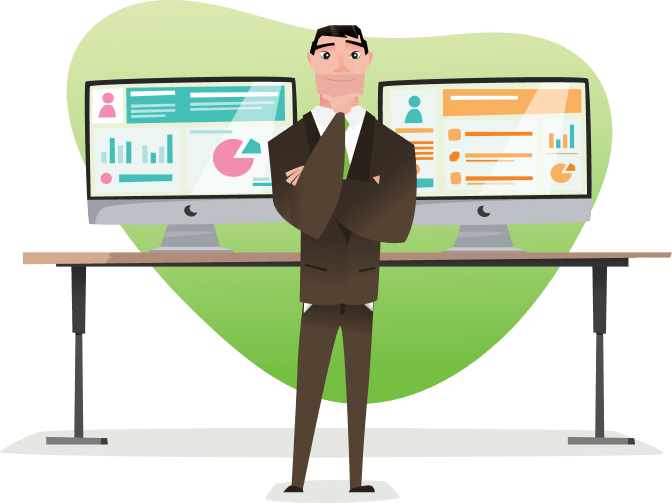 Important: Be careful to choose a system that can scale with your organization.
1. Determine Your Needs
You may already be thinking about some pressing problems you'd like to solve with HR software. That's a good start, but you need to dig deeper to determine all of the needs an HRIS should help you with, now and in years to come. That means gathering input from stakeholders throughout your organization about the features they need and want.
Make a list of your organization's HR software needs in each of these categories:
Simplifying tasks and processes
Solving current problems
Overcoming upcoming challenges
Achieving long-term goals
Supporting your organization's mission and values
Refer to the features we listed above to help ensure your lists are complete.
Important: Be careful to choose a system that can scale with your organization, add additional features when needed, and continue to be a good fit as your company's needs evolve.
2. Anticipate Key Players' Concerns
New HRIS software will directly affect key individuals and departments throughout your organization. Determine who will be most affected by the change and what concerns they will have.
Key players often include:
Other HR team members
Payroll
Finance
IT
Managers
Executives
Ask each individual to share their questions and concerns. Chances are they will each have different priorities and perspectives. For example, managers may wonder whether the new system is easy to use, IT may want to know about data security, and executives may focus on ROI.
Make a list with everyone's feedback. Armed with this information, you'll be prepared to ask HR software vendors the right questions when the time comes.
3. Research the Features
Next, it's time to determine which HRIS software products have all the features needed to meet your buying criteria. Online HRIS research can quickly help you find highly rated systems and compare their features. Remember, you're not looking for the greatest number of features; you're looking for the right combination of features to meet your requirements. Try to find several options that are worthy of further investigation.
4. Shop Around
Once you've done your homework, you're ready to contact vendors for demos, free trials, and price quotes.
As they show off their HRIS software, carefully consider how simple and intuitive it is to use. A live demo isn't ideal for this because the person doing the demo knows how to make everything look easy. Try systems out yourself whenever possible. Ask to see how long it takes to complete workflows you'll use most often.
Also, ask each vendor how long their implementation services will take in your case. Implementation is the process of migrating your data to a new HRIS, training your people to use it, and successfully launching it. HRIS software often requires about six to eight weeks to implement.
5. Final Steps
Once you've finished shopping, you can decide on your top pick and maybe a good runner-up, too. Then all that remains is to get the decision-makers on board and make the purchase. Our free ebook, The Complete HRIS Buyer's Guide, can help you with these additional steps. It also provides more detailed information about every phase of the selection process.
How Can You Make Sure Implementation Goes Smoothly?
Once you've chosen your new HRIS software, you'll be eager to get it up and running. This will take some time and effort, but the results will be worth it. When implementation is complete, you and your coworkers will finally be able to enjoy all those cool new features and benefits that will make your jobs easier and more efficient.

Implementation is a complex process with lots of moving parts. Even if you're on a tight budget, hiring an implementation service to guide your company through the job will be money well spent. You can buy HRIS implementation from the same company that makes your new system, or, in some cases, you can choose an independent service.
For a smooth-running implementation, other individuals and teams throughout your organization also need to be involved.
Depending on your organization's size, this might include:
Internal and external implementation teams
An in-house project manager
HR representatives
IT representatives
Company stakeholders from other departments or teams that will use the HRIS
Consultants
HR can play an important part in making sure everyone's efforts are clearly planned, well coordinated, and move forward on time. Work with your implementation team to decide what steps will be needed, who will be responsible for them, and how long each step will take.
The steps in your implementation plan should include:
Working with managers to determine what it will take to automate each affected business process
Coordinating with third-party services that must sync with your new HR software
Installing the new system
Gathering all company and employee data and migrating it to the new system (this can be a time-consuming process, but some migration services will do most of the heavy lifting for you)
Configuring and testing the HRIS before it goes live
Training for yourself, stakeholders, and employees on how to use the new system
Launching it live and making any needed technical adjustments
Gathering feedback from stakeholders and end users
Be generous in determining your implementation timeline; seasoned pros say most customers underestimate how long it will take. As mentioned above, implementation often requires six to eight weeks—but it depends on which HR software you choose and how complex your needs are. Implementation might take a few weeks or a few months.
During the entire process, HR can help employees look forward to using the new system, explain how the new HR software will help them with their work, and provide regular updates on implementation progress.
Measuring the ROI of Your HRIS
The same executives who wanted to see an ROI estimate before supporting your firm's HRIS purchase will also want to monitor its ROI after implementation.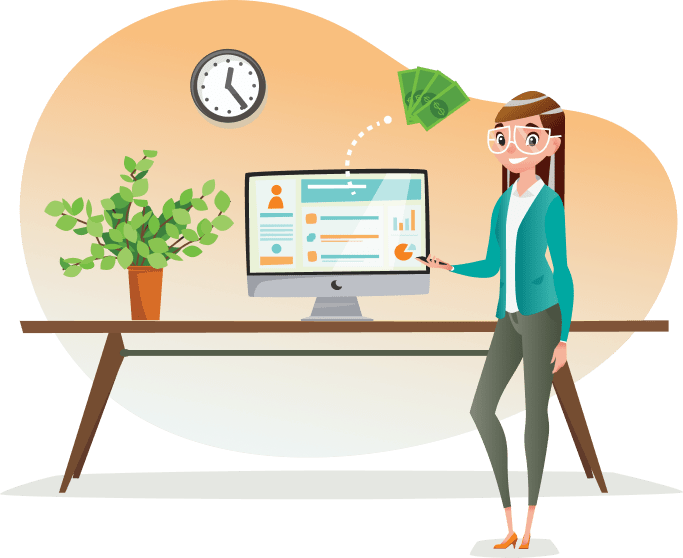 Savings
To provide information about savings, you should first identify the most relevant software features for your organization to track and measure. Next, gather information about cost and time savings compared to figures prior to implementation.
Whether you are moving to your first HRIS or replacing previous HR software, here are some before-and-after comparisons you could include:
Labor costs for each feature you choose to track
Administrative productivity improvements resulting from automation
Recruiting costs
Time to hire
Turnover rates
Employee job satisfaction
Expenses
Measuring HR software expenses will require you to account for a mix of one-time costs, which can be spread over the expected life of your system when calculating ROI, and recurring costs.
Here are some examples of these costs:
Initial purchase price
Monthly subscription fee
Installation
Data migration
Customization
IT maintenance work
Updates
Once it's launched, good HRIS software can easily track many metrics that will help you and your leaders evaluate ROI, such as tracking time spent on specific jobs. Study the reporting and analytical functions of your new HRIS carefully to learn how to get the most from them.
Intangibles
Measuring ROI is straightforward when you're talking about things that are easy to quantify with numbers. However, many benefits of HR software are intangibles that are hard to measure, e.g. convenience, usability, and employee engagement. Make sure your leaders know how intangibles add value to your HRIS, perhaps by listing them separately in your ROI report.
HRIS Software Success Stories
What real-world results can you expect from HR software? We asked BambooHR customers to tell us some of the ways our HRIS has benefitted their small or medium-sized business.
Inputting and updating time tracking information takes 50 percent less time than it used to.
Reports that once took two days to create are now ready in only two hours.
Automating administrative tasks saves the HR manager 1.5 hours every day.
Automating time-off management saves 40,000 dollars in annual labor costs.
By streamlining a variety of HR functions, BambooHR improves average employee performance by 25 to 30 percent.
Enhanced time tracking enables managers to reduce overtime by as much as 30 percent.
Since adding BambooHR® Performance Management, performance assessments that used to take hours per employee are completed in about 15 minutes, saving nearly 40,000 dollars per year.
BambooHR has also enabled ISTS to transition to a completely paperless HR department.
These are just a few examples of the value that HRIS software can provide. Whether you choose BambooHR or another system, a well-designed HRIS that's a good fit for your needs will save money and improve efficiency while magnifying HR's impact and helping your organization to thrive.
You've read the guide. Now try the #1 HRIS for SMB, for free.
Start your Free Trial of BambooHR today!