The Great Gloom: In 2023, Employees Are Unhappier Than Ever. Why?
BambooHR's Employee Happiness Index Benchmarks Employee Satisfaction Across 8 Key Industries
First came the Great Resignation—and now businesses around the world are experiencing the Great Gloom.
From the start of 2020 through the present, employee happiness has steadily declined at a rate of 6%. But 2023 has seen a steep and steady drop, with a decrease of 9% in eNPS since January, declining at a rate 10x faster than the previous three years.
As employees become unhappier, volatility—or how happiness varies from month to month—is steadily decreasing as well. Today, employees experience less extreme highs and lows than ever before. Most simply accept that morale is getting worse.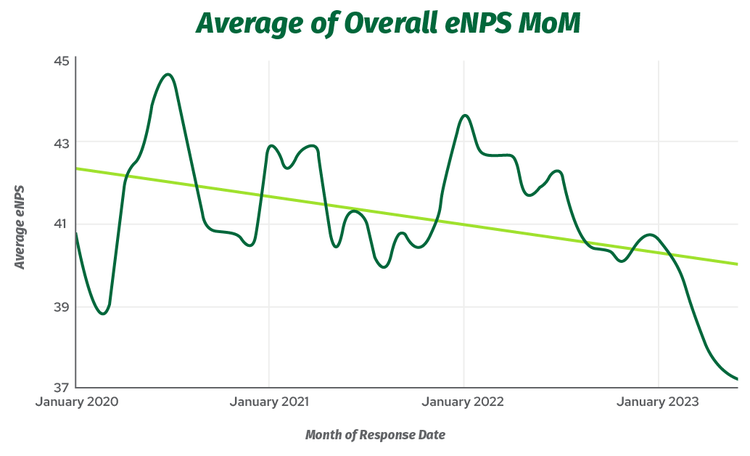 The data comes from BambooHR's database of employee Net Promoter Scores® (eNPS)*, collected monthly from January 2020 through June 2023—now released publicly for the first time.
BambooHR's findings echo other recent studies. According to Gallup's July 2023 survey, 80% of Americans are dissatisfied with the way things are going in the US. Job satisfaction has dropped by 8% since 2019.
To learn more about how these trends are impacting the workplace, we analyzed eNPS data from more than 1,600 companies, including more than 1.4 billion self-reported eNPS scores since January 2020. We considered:
Employer Net Promoter Score (eNPS): eNPS helps employers measure employee satisfaction. It consists of two questions—a numeric rating of how likely employees are to recommend the organization as a place to work, and an open-ended question about their reasoning. These scores (categorized as promoters, passives, and detractors) are used to quantify how employees feel about their company.
Volatility: Volatility is the total movement of eNPS over time, calculated using the percentage difference between each month's average eNPS. High volatility reflects more dramatic highs and lows within a time period, while low volatility denotes consistency.
Average Volatility: A sum of the difference between each month's average eNPS, showcasing volatility as eNPS movement rather than a percentage.
Read on to discover which industries are most severely affected—and what human resources professionals, managers, and business leaders can do to remedy the situation.
*Net Promoter, NPS, and the NPS-related emoticons are registered trademarks, and Net Promoter Score and Net Promoter System are service marks, of Bain & Company, Inc., Satmetrix Systems, Inc. and Fred Reichheld.
Key Takeaways for Human Resources Professionals
Use data-driven approaches to measure employee happiness. Anonymous surveys—such as BambooHR® Employee Satisfaction—help you gain insights into how employees really feel. Casual or observational methods won't give you the full truth, as employees may conceal their unhappiness for fear of backlash. At worst, C-suite leaders may have little idea that morale is at risk until it begins to show up in costly turnover or lost productivity.
Focus on the norms in your industry. Macroeconomic challenges impact some industries more than others. You can use BambooHR's Employee Happiness Index to keep tabs on your industry's benchmarks.
Key Takeaways by Industry
The construction industry is the happiest on our list, potentially because of rising wages and plentiful job opportunities. However, experts predict labor shortfalls that may put pressure on employees in the months ahead. Human resources professionals should focus on refining their recruitment strategies and training programs to prepare for an influx of less experienced workers.
In the technology sector, employee happiness is plummeting fast. Beyond industry-wide financial stumbles, unpopular return-to-office mandates may be to blame. Human resources professionals should reconsider and advocate for flexible or fully remote work environments.
The finance industry has managed to remain nimble and responsive to fast-changing workplace norms. Its openness to remote and hybrid work, as well as its focus on company culture, promise to sustain employees' high levels of satisfaction.
Since 2008, nonprofit employment has grown 3x faster than the for-profit sector—possibly due to nonprofits' mission-driven cultures. As more workers crave meaning, nonprofits should continue focusing on benefits and professional development opportunities.
In the restaurant and food and beverage industries, staff shortages are putting pressure on employers to raise wages. However, money isn't the only factor that influences happiness. Employees want to work in a positive, supportive environment that offers professional development opportunities.
As the travel and hospitality industry recovers from the pandemic, employee happiness is steadily improving. But looming staff shortages threaten this industry's stability—so HR professionals should focus on recruitment and retention, including compensation, benefits, and professional development opportunities.
Educators feel overworked, underpaid, and underappreciated. Human resources professionals should advocate for changes that educators value most, including adequate compensation, a supportive workplace culture, and assistance navigating the tense political environment.
Healthcare is the unhappiest industry on our list. Human resources professionals should strive to foster a culture where employees feel valued and included in effectively run teams. Healthcare workers are more likely to commit to a values-driven employer who prioritizes high-quality, patient-centered care.
Employee Happiness Index Benchmarks (2020–Present)
Year
Volatility
Volatility of Average eNPS
Average eNPS
Overall, June 2023 represents an all-time low for employee happiness, which peaked near the beginning of the pandemic in April 2020.
In April 2020, happiness spiked to an all-time high (45 eNPS) as the initial shock of lockdowns faded and more information about the virus—and relief plans—emerged. Nearly two-thirds of employees (63%) identified as promoters, likely out of sheer gratitude as the US unemployment rate soared to a record-breaking 14.7%.
Beyond the workplace, the 2020 pandemic ushered in historic levels of overall unhappiness. As the public health crisis upended normal life, Americans struggled with lockdown-induced isolation, depression, and irritability. Just 42% believed their children's future standard of living would be better than their own, the most pessimistic outlook since data collection began in 1994.
After 2020, Americans began to rediscover a sense of normalcy. Both 2021 and 2022 began with high levels of happiness and provide a benchmark for how employee happiness fluctuates throughout a typical year. Positive sentiments gradually tapered off throughout the summer months before rebounding slightly as the winter holidays approached.
But so far, 2023 mirrors the dramatic, atypical patterns we saw during the first months of the pandemic. Employee happiness is plunging dramatically, with no signs of recovery.
April 2023 saw the highest level of employees identifying as detractors (18%), while the average percentage of promoters trended downward slightly. Employee happiness reached another low point of the last few years in June 2023, with an eNPS of 37.
This reflects the way the pandemic's lingering health and economic effects continue to disrupt Americans' lives. Around 65 million people now live with long COVID, with symptoms spanning cognitive problems, respiratory issues, and chronic fatigue. In June 2023, real wages rose faster than inflation for the first time in more than two years—yet 61% of Americans still live paycheck to paycheck and 21% struggle to pay their bills.
In 2023, Employees Are Resigned to Their Unhappiness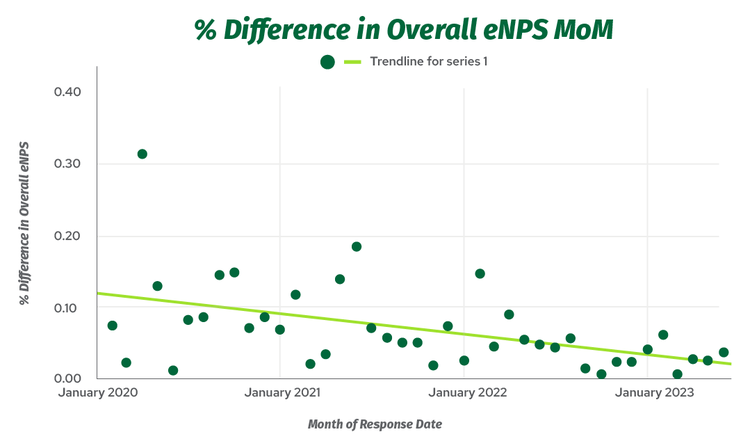 Like employee happiness, volatility has decreased throughout 2023. Employees report more consistent eNPS results, with less month-to-month variability than previous years.
In 2020, volatility was at an all-time high, with the difference month to month adding up to 118 percentage points of movement across the entire year. That's nearly 6x the level of volatility we're seeing in 2023, when employees' self-reported happiness has varied just 20 percentage points since January.
When it comes to average eNPS volatility, 2023 has seen just 3 points of movement from January through June—compared to 11 points of movement throughout 2020.
Employees aren't experiencing highs or lows—instead, they are expressing a sense of resignation or even apathy.