First Impressions Are Everything: 44 Days to Make or Break a New Hire
In the first six months of 2023, employment grew in the US by an average of 278,000 jobs per month—continuing a streak of 30 consecutive months of job growth.
While these positive trends signal a resilient labor market, this influx of new hires also comes with risks for businesses. When these hundreds of thousands of new hires show up on their first day of work, the onboarding process that greets them can make or break their decision to stay long-term.
Without an effective onboarding process, businesses risk getting trapped in a cycle of turnover—and the costs add up fast. Recruiting, hiring, and onboarding a new employee is pricey, with hard costs ranging from $7,500 to $28,000 per new hire.
We surveyed 1,565 US full-time employees, including 500 human resources professionals, to find answers to these important questions:
How long should your onboarding process really take?
What are the top steps every successful process must include?
How can you avoid tanking the new-hire experience with these common mistakes?
Read on to discover how employees feel about onboarding—and the best ways to grow your workforce.
Key Takeaways About Onboarding
70% of new hires decide whether a job is the right fit within the first month—including 29% who know within the first week.
On average, companies have 44 days to influence a new hire's long-term retention.
44% of employees say they've had regrets or second thoughts about starting their job offer within the first week.
23% of employees admit they've cried within a week of joining their new company.
1 in 5 workers (20%) say their company doesn't do anything specific to help new employees make friends and find support among their coworkers.
On Average, Companies Have 44 Days to Convince New Hires to Stay
During the first seven weeks on the job, new hires will decide whether they'll commit to your company or leave for greener pastures.
These first moments shape employees' sense of belonging, with nearly three-quarters (70%) knowing if the job is the right fit for them within the first month. Here's how that breaks down: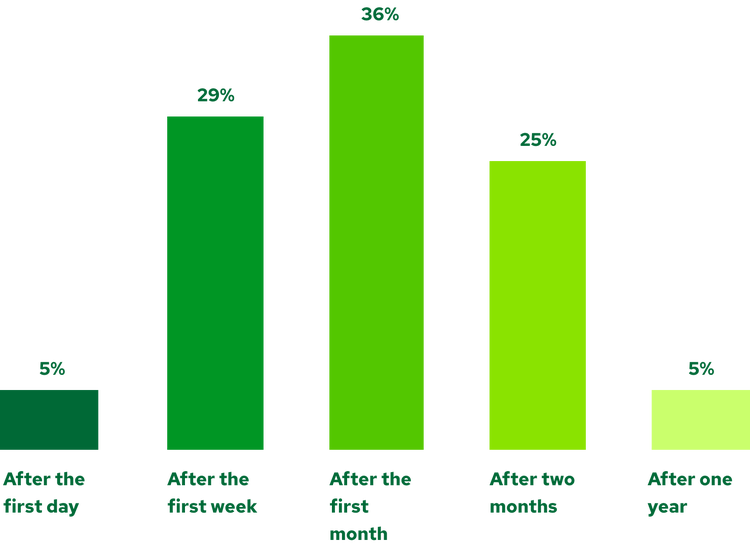 On average, employees will make up their minds in just 44 days—less than two months after their start date. In other words, a typical employee will draw their conclusions by the time they've received three paychecks or attended just six weekly meetings.

» Learn More: How to Hire Employees: 7 Best Practices That Attract Top Talent
Nearly Half of New Hires Regret Their Decision Within a Week of Their Start Date
Unfortunately, 44% of employees say they've had regrets or second thoughts about accepting their job offer within the first week.
In fact, starting a new job can be so disappointing that nearly one-quarter of employees (23%) admit they've cried within their first week.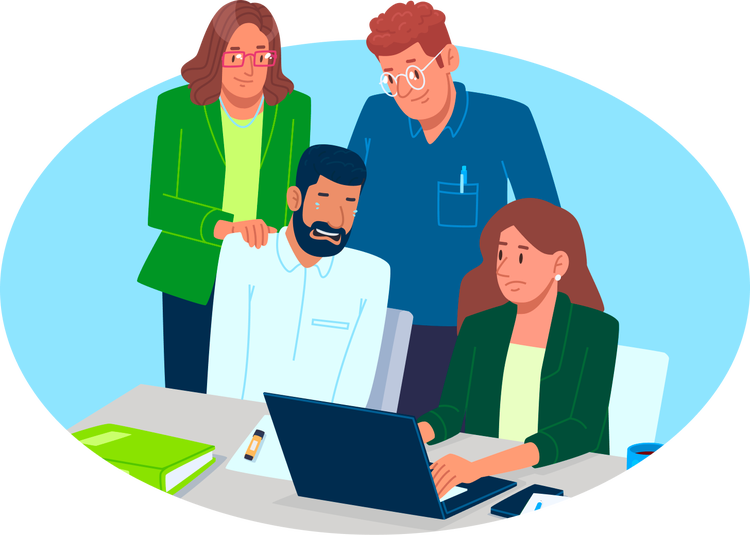 Once first impressions are made, it's hard to move past them. Nearly two-thirds of employees (62%) say their impressions of their company from the first day at work are still accurate, with 60% agreeing that first impressions are hard to change.
For companies, this means employee retention hinges on a narrow window of opportunity. By the time a new hire has been on the job for two months, it'll be almost impossible to shake any negative first impressions.
By contrast, a great onboarding experience can pay dividends for years to come. If a new hire gets a warm welcome, their positive first impression may make them more forgiving and loyal.
» Learn More: 20+ Onboarding Tasks That Help New Hires Feel Welcome [Free Onboarding Checklist]
HR Spotlight: Human Resources Professionals Know Whether a Job Is the Right Fit Within 33 Days
Human resources professionals are even more decisive than the average US employee. 79% of HR professionals know within the first month, compared to 65% of other workers. On average, HR professionals decide whether a job is the right fit within 33 days.
Additionally, HR professionals agree that first impressions are hard to change (70%) and have remained accurate (72%).
» Learn More: How Do US Workers Feel About Their Job Prospects? (2023 Data)
How Long Does Onboarding Take? New Hires Say Any Extreme Is Frustrating, But Not Enough Time Is Worse
New hires want their employers to get onboarding just right. Companies must strike a delicate balance between helping recent hires ease into their new role without letting onboarding drag on too long.
While 86% of employees prefer having some time to ramp up, more than one-third (36%) express frustration over long onboarding processes that can leave them feeling excluded or bored.

More than half of employees (56%) say they need just one or two days to ease into their new role. That's nearly double the 30% who prefer a slower, more gradual onboarding process before starting to perform their full responsibilities.
Younger generations are more likely to prefer diving into work on day one. 22% of Gen Zers are eager to get to work immediately, compared to lower rates for Millennials (15%), Gen Xers (13%), and Baby Boomers (12%).
"Often on-the-job onboarding and training happens naturally over time but can come up short without a structured plan," says Anita Grantham, BambooHR's Head of HR. "Corporate onboarding is also critical and is more than the required legalese. Even though they've signed an offer, you are still selling them on the company's mission and future."
Employees' Top Frustrations Include a Lack of Direction, Training, and Access to Tools
In 2023, new hires expect onboarding to include seamless access to technology—including their work computers, software, and shared passwords, among other essentials.
97% of employees say it's important for onboarding to include training on the tools and software the company uses—and 81% consider it "crucial" to onboarding.
Nearly all new hires also want onboarding to include an introduction to employee guidelines (97%) and the company's mission statement and values (96%).
Overall, new hires' biggest frustrations include:
No clear points of contact for questions (65%)
Not enough training on company products/services (62%)
Lack of access to essential tools (58%)
Technology issues (e.g., malfunctioning computers, lack of setup, etc.) (51%)
Not having a single person acting as an onboarding guide (50%)
No clear manager (44%)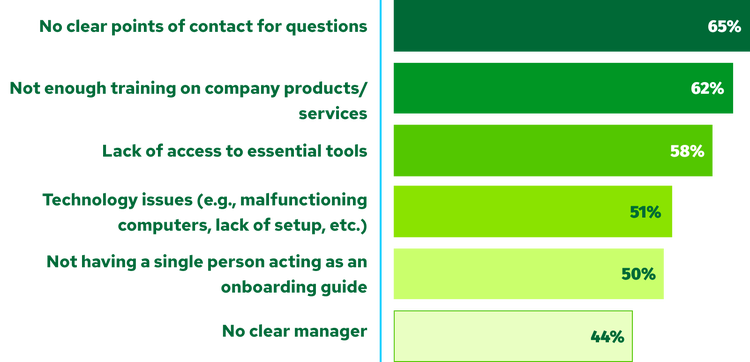 If your onboarding process is plagued by technology and communication mishaps, remote and hybrid workers may pay the biggest price.
According to Pew Research Center, remote and hybrid work are on the rise compared to pre-pandemic levels. 35% of workers whose jobs can be done remotely work exclusively from home—a 400% increase from before the 2020 lockdowns forced workers out of the office. An additional 41% of workers whose jobs can be done remotely have a hybrid schedule.
Advice for HR: Make sure your company's onboarding process helps new hires forge social connections, absorb institutional knowledge, and adopt any tools or technology that'll be critical for their success.
New Hires Value Workplace Friendships More Than Meeting the CEO
We found that new hires thrive when their onboarding blends authentic social connections and more structured programs.
An overwhelming majority of new hires value relationship building during their earliest days on the job:
93% of new hires want to shadow a colleague.
87% hope to make a friend at work.
86% appreciate support from an onboarding buddy.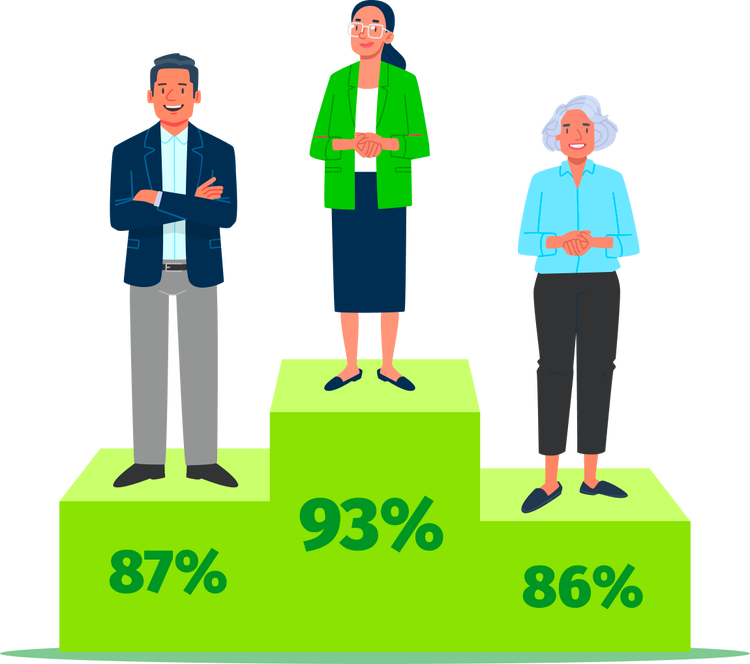 Overall, HR professionals and hiring managers should prioritize the new hire's daily collaborators. While 79% of new hires do say it's important to meet the CEO, fostering close connections with managers and co-workers can help resolve many of new hires' biggest frustrations—particularly by providing a clear point of contact for questions.
Fortunately, 80% of workers say their current employer has systems that help new employees find support. The most popular options include an onboarding buddy program (38%), coach/coachee system (38%), and Slack channels or online groups (26%).
However, 1 in 5 (20%) workers say their company doesn't do anything specific to help new employees make friends and find support—a missed opportunity that can lead to regrets, lost productivity, or dissatisfaction.
Advice for HR: It's important to make sure working relationships develop as naturally as possible. Two in five (43%) agree that structured attempts to force friendships fall flat.
About BambooHR
BambooHR® brings together everything from hire to retire, helping businesses create amazing workplaces. With our complete HR platform, you can easily hire and onboard top talent, manage time, payroll, and benefits, analyze employee data, and more. Our mission is to set you free to focus on what matters most: your people. To find out more, visit bamboohr.com or follow @bamboohr on social media.
Methodology
BambooHR conducted this research using an online survey prepared by Method Research and distributed by RepData among n=1,565 adults age 18+ in the United States who are full-time office/computer workers. Among the sample, n=500 respondents are in an HR functional management role. The sample was equally split between gender, with a spread of age groups and geographies represented, and readable race groups. Data was collected from April 5, 2023 to April 26, 2023.
Looking for More HR Insights? Keep Reading