What's the Best Onboarding Software? Learn How BambooHR Works, the Cost, and Who Should Use It

Setting your employees free to do great work starts with giving new hires an effective introduction. Onboarding software can make it easier to integrate new employees in your company culture and engage them in advancing your mission:
Your company values, policies, and processes
Each employee's role and their importance to the broader business
The colleagues and departments the new hire will collaborate with
Onboarding is a critical HR responsibility that sets the tone for the entire employee experience. When onboarding fails, the result is costly disengagement at best and even costlier turnover at worst. The Society for Human Resource Management (SHRM) estimates the cost of replacing an employee can be 90-200% of their salary!
In this article, we'll cover why onboarding software is important to new hires' success, the pitfalls and time-sucks of traditional onboarding processes, the benefits of having a streamlined onboarding process, and why BambooHR® Onboarding is the right choice for you.
What Is BambooHR Onboarding Software?
BambooHR captures all HR data for each new hire in a single secure database. Our software also helps standardize, streamline, and automate the onboarding process for new hires, providing a positive experience that can help businesses retain employees and simplify HR processes throughout the employee lifecycle.
BambooHR at a glance
Customer rating: 4.6 (2,400+ reviews)
Trusted by 30,000+ companies
Award winning service and support
Competitive monthly rate per employee
Integrated solutions Marketplace has 200+ active partners
Who Should Use BambooHR Onboarding Software?
BambooHR Onboarding is built for HR administrators and leaders, CEOs, business owners, and leaders who fulfill an HR role at smaller businesses. Onboarding in BambooHR is built to help these roles increase efficiency and improve onboarding success.
BambooHR Onboarding is a powerful option for any business. For example:
Smaller businesses that are starting to feel overwhelmed by manual onboarding processes
More established, growing businesses looking to become more agile and deliberate with their people strategies
It's also suitable for many different industries—our customers serve a wide variety of industries, including technology, finance, healthcare, construction, and more.
Download the Definitive Guide to Onboarding
Hiring a new employee is expensive and time consuming—and what happens during onboarding can make or break long-term retention. In this in-depth guide, you'll learn actionable tips for improving new hire paperwork, assigning onboarding tasks, facilitating personal connections, and more.
How Does BambooHR Onboarding Work?
BambooHR Onboarding is a set of tools available in the BambooHR Advantage plan, a complete platform for businesses that want to be more strategic with HR and intentional about creating better employee experiences.
For that to happen, your onboarding software needs to be easy and intuitive for everyone to use, and it needs to lighten your HR team's load, not add to it. The automated, integrated tools in BambooHR help free HR from manual tasks, so they can spend more time creating great experiences from the get-go and increase retention and engagement.
Here's is a closer look at BambooHR Onboarding and how it helps you save time at every step:
1. Create Onboarding Checklists
Onboarding checklists allow your HR team and hiring managers to create, assign, and track all onboarding activities for new hires and employees. BambooHR comes ready with a customizable template, complete with automated email notifications for each task, saving HR time and keeping everyone engaged in the onboarding process.
2. Send Welcome Emails
Welcome emails help your business announce and introduce new hires to the entire organization. These automatic emails standardize these introductions and give the rest of your business a chance to get to know the new hires.
3. Personalize New Hire Packet Templates
The New Hire Packet is an electronic preboarding packet you can send to your new hires. It includes details about their first day, digital forms, required reading, team introductions, and more. By digitizing this part of onboarding, new hires get the information they need for a successful first day before they even start.
All an admin has to do is click "Create New Hire Packet" and then choose a New Hire Packet from the pre-built templates.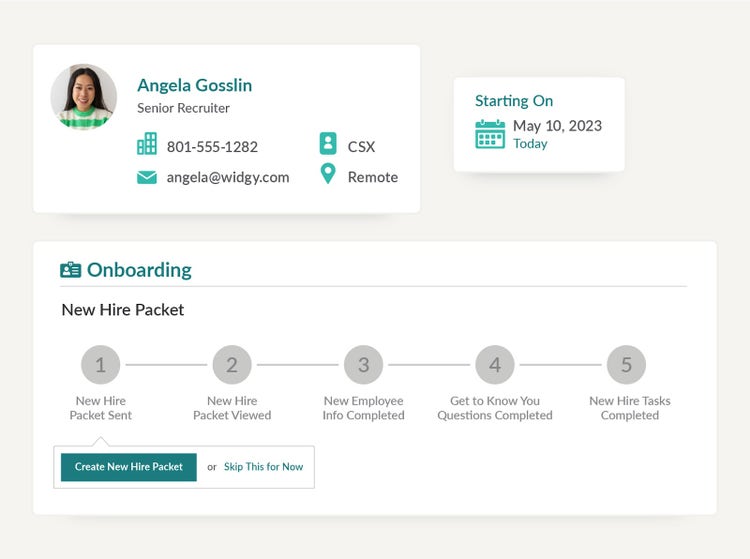 You can add in any additional information to the template and assign relevant tasks your new hire can get started on right away.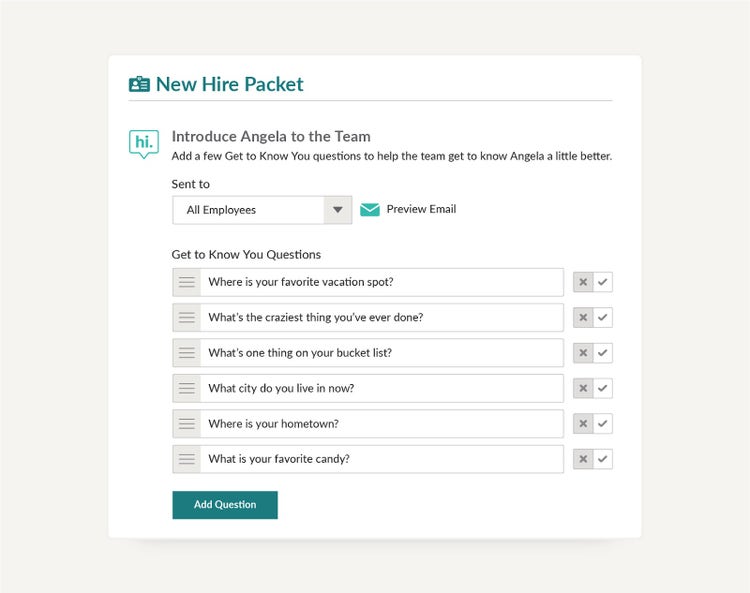 The last step for the New Hire Packet, Preview & Send, helps you make sure everything you need is ready to go before you ship the packet off to your new hire's email.
4. Automate Reminders for Onboarding Tasks
Once new hires join your company and have a BambooHR account of their own, they have access to a built-in notification center. This gives new hires a place to receive messages and updates about their continuing onboarding process. Task notifications alert new hires to newly assigned tasks, upcoming deadlines, and more.
After you send the New Hire Packet, you can view the new hire's progress on their onboarding tasks list—no more Post-it notes everywhere or having to set calendar reminders.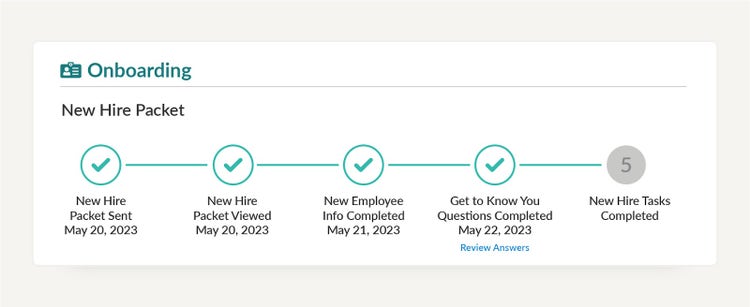 You can also easily assign tasks to others in your organization, so everything is ready for your new employee on day one. For example, you may assign "Set up workstation" to someone in your IT department. And as an added bonus, you can set automated notifications for each assigned task, meaning HR doesn't have to keep nudging people to get things done.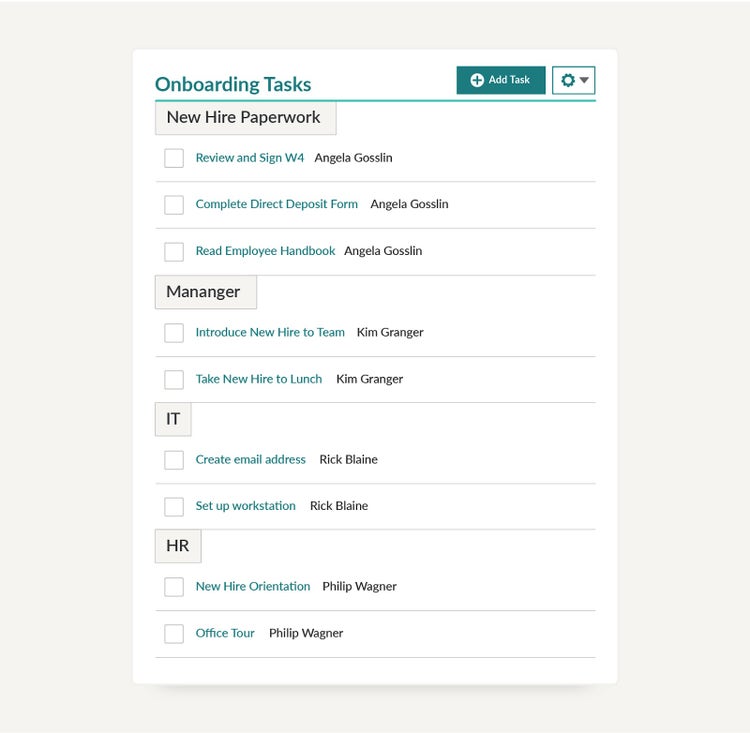 5. Monitor Employee Progress Through Onboarding and Offboarding
BambooHR Onboarding offers a fast and easy way to see which employees are in the process of onboarding or offboarding. Simply navigate to the Onboarding or Offboarding tab and get a clear view of each employee's progress.
Once the new hire receives their New Hire Packet, they get a quick view of important start dates, your office location, contact information, and more.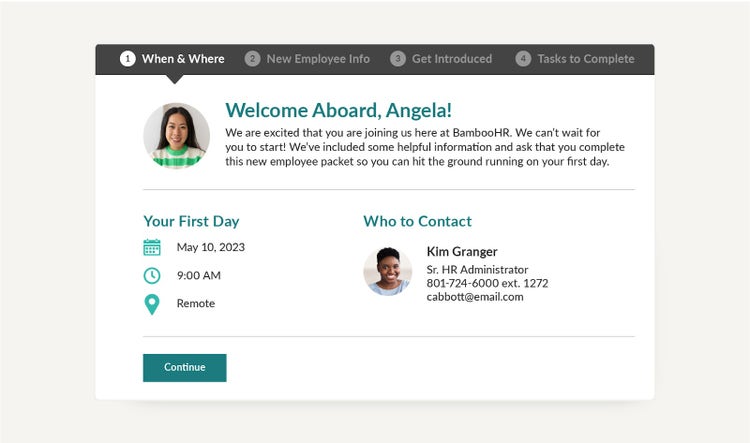 The new hire can also clearly see their onboarding tasks and start checking them off.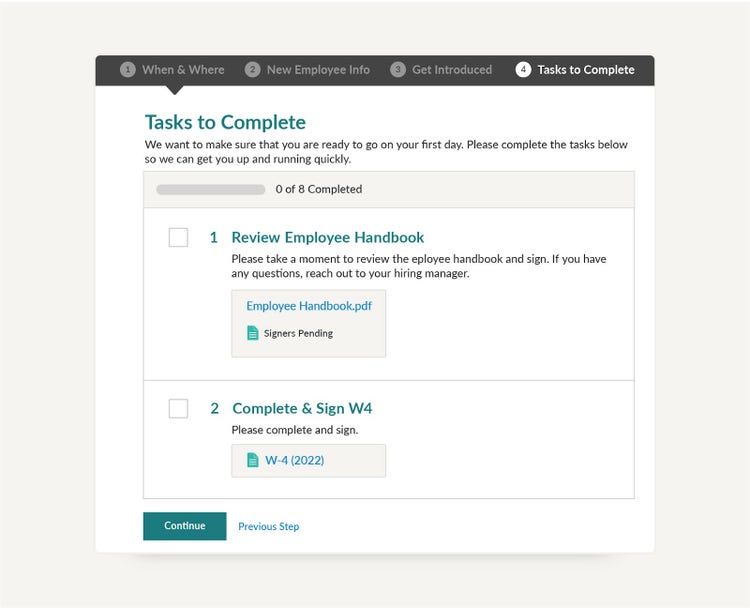 6. Gather Electronic Signatures
Electronic signatures allow your business to eliminate physical paperwork, wasted time collecting signatures in person, and the hassle of storing printed documents. This way, new hires can sign paperwork before they start, leaving their first day open for learning about your organization and getting acquainted with their new team.
New hires can electronically sign important documents and fill out required paperwork (e.g., W-4s) before their start date, so they don't spend their first day rushing through paperwork. Plus, your employees' sensitive information goes straight into the BambooHR database, staying confidential and secure at every stage.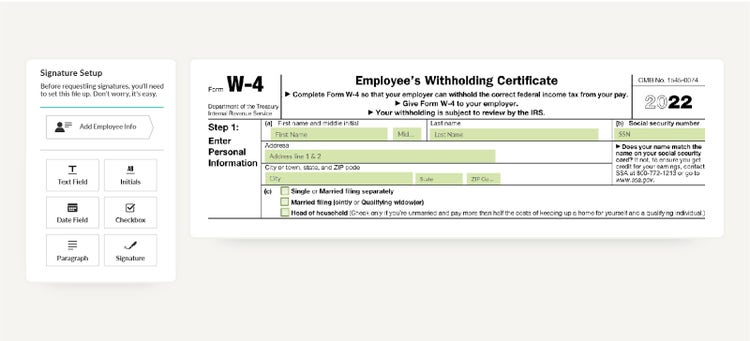 7. Track Training Activities
Onboarding tasks often extend beyond the first few months of an employee's time with your organization. With training tracking, your business can track employee training for everyone. This helps you maintain compliance and monitor employee development.
8. Manage Offboarding Tasks
Offboarding tasks allow your HR team and team managers to create, assign, and track offboarding activities to ensure compliance when an employee leaves.
Create better first days.
BambooHR helps you build an effective onboarding process with customizable onboarding checklists, welcome emails, and new hire packets—so every new hire feels welcome on day one.
The Pros and Cons of BambooHR Onboarding
BambooHR streamlines new hire onboarding and saves everyone time, so your focus can be on creating lasting connections with your new employees. But it's important to be clear about the pros and cons of the software so your business can make an informed choice as you select which onboarding software is best for you.
Keeps onboarding information organized and stored in one secure system
Not meant to replace your HR team or an HR onboarding employee
Automates many onboarding tasks eliminating the need for follow up
Won't replace the human experience that new hires will need as they onboard to a new business
Gets new hires started on their onboarding tasks before their first day, with opportunities for electronic signatures, digital uploading, and more
Doesn't digitize the entire onboarding experience—some tasks and activities will require in-person or online video meetings
Seamless experience and engaging activities that help new hires connect with their new manager and team members, in turn improving employee retention
Real Customers of BambooHR Onboarding
"I can delegate out and have multiple people have their hands on paperwork or onboarding and offboarding type steps. It allows me not to have to micromanage and not to have to be constantly following up... It takes it out of my hands and puts it into BambooHR's hands but then into my teams' hands."
—Missy Curran, Compliance Manager | Asphalt Engineering
"We were dedicating 60 hours a month to basic HR functions. Now, maybe 15 minutes a month. If there is a new employee, I don't even handle that anymore. The Onboarding protocol takes care of everything."
—Neil Sharma, General Manager and VP of Operations | Boston BioProducts
"The onboarding process is definitely my favorite because the paperwork we go through is...A LOT. It's all day where we're just going through papers, and papers, and papers. Now, we automatically set them up in BambooHR before they even hit the front door. So they are already ready. ... This onboarding is just the biggest thing of all time!"
—Renita Whitfield, Human Resources Manager | GMA Construction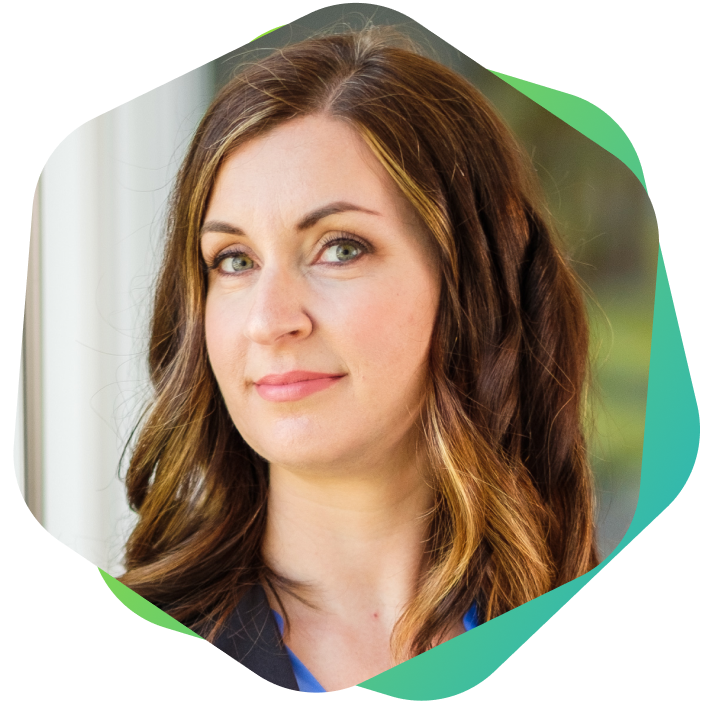 "A centralized system that can automate our onboarding and offboarding frees up a ton of time within my team that we can now use to really meet the important part of HR, which is working with our people, developing and growing them. And that allows me in my role to [focus on] strategy and the bigger picture."
Tracy McDonald | Director of Talent at Thinkific | BambooHR Customer
Compare BambooHR to Other Onboarding Software
FAQs About BambooHR
What is BambooHR?
BambooHR is the only HR SaaS platform designed for small- and medium-sized businesses. BambooHR makes it easy for growing companies to manage essential employee information in a personalized, cloud-based, and secure system. With solutions to help with onboarding, offboarding, employee records, hiring, compensation, and more, BambooHR is built to help make work easier for everyone.
Who does BambooHR help?
BambooHR is designed to help small and medium businesses. It's built to help HR employees and leaders, business owners, CEOs, and those filling the role of HR.
How much does BambooHR cost?
BambooHR offers two plans: Essentials and Advantage. The Essentials plan offers basic, powerful tools for companies that are just starting their HR journey. The Advantage plan offers the complete BambooHR platform, including Onboarding, Offboarding, E-signatures, Applicant Tracking, Employee Wellbeing, and more. Find out more about BambooHR packages here.
An Award-Winning, All in One HR Solution
BambooHR® provides a one-stop shop to manage data and benefits, hire talent, run payroll, and help employees thrive. Best of all, it's easy and intuitive for busy HR teams!