9 HR Best Practices You Need to Follow in 2023

In 2023, HR departments have shifted their focus from the future of work to the now of work. Many HR practices established during the COVID-19 pandemic (which forever changed our working lives) have accelerated, forcing companies to rethink HR best practices—and plan for a quickly changing future.
Companies that embrace HR best practices see better morale, improved productivity, and increased employee retention. According to an extensive study by Oxford University, happy employees are 13% more productive than unhappy employees. For employees in sales, boosting happiness can increase closed deals by 37%.
As a strategic leader at your organization, it's up to you to align HR goals with the overall business goals so everyone is on the same page.
BambooHR assists 30,000+ companies implement HR best practices at scale. Our award-winning, intuitive software makes it simple to modernize hiring, onboarding, compensation, and more——regardless of your organization's size, location, or industry. Take a video tour today!
HR Best Practices vs. HR Activities: What's the Difference?
Before diving in, it's important to clarify the distinction between HR practices and HR activities. Both are needed for an HR department to fully reach its potential and for an organization to optimize its human capital investment.
HR best practices involve the strategic operations of HR. They form the foundation and guidance for managing the company's employees and should coordinate with the executive business plan. Some examples of HR practices include:
Setting the mission and goals of the HR department
Planning, organizing, and managing the HR department
Measuring the effects of programs
In contrast, HR activities are the daily activities to implement the strategies determined by HR practices. They allow the mission and goals of the HR department to be carried out. HR activities may include:
Payroll
Surveys
Recruitment and selection
Training and development
Compensation and benefits
Employee and labor relations
Retention
Safety and health
Employee attendance and time off
Overtime
Essentially, HR practices look at what an organization wants to do and why; HR activities address how.
When HR practices and HR activities are aligned, HR departments can thrive, and your company benefits. Optimum human resources involve an understanding and integrated approach to HR practices and HR activities.
The 9 Most Important HR Best Practices
1. Invest in the Right Technology
Choosing HR technology for your business is like shopping for a new smartphone. You likely put some time and consideration into what you'll use the phone for, what features you want, and how much you'd like to spend on it. Essentially, you're going to make sure the phone you purchase aligns with your specific needs. The same principle applies to choosing HR technology. You'll want to ensure the technology you choose aligns with your specific HR and business needs.
For example, say you're looking to reduce employee onboarding time by 25% over the next year. You'd like to maximize your training time by creating a "one-stop-shop" for new employees, ensuring easy access to training, company resources, and more. You should then focus your search for HR technology on platforms with a seamless onboarding experience and a centralized document hub.
Once you've determined your primary requirements, you'll want to ensure the platform includes standard HR features, such as:
Payroll
Reporting and analytics
Employee records
Workflows and approvals
E-signatures
Applicant tracking system
On and offboarding
Time tracking
Employee satisfaction
Performance management
Finally, you'll want to ensure your HR technology not only helps your HR department but your employees as well. BambooHR provides everything HR personnel need to complete daily tasks and empowers employees to help themselves via the intuitive dashboard and easy access to helpful resources. BambooHR's unique focus on assisting HR teams and employees makes our suite of HR tools different (and more effective) than other platforms.
Free Resource: The HRIS Buyer's Guide
Choosing an HRIS is a big decision. To help, BambooHR created an in-depth guide that provides a comprehensive overview of all-in-one HRIS—plus tips on how to choose the right HRIS for your organization.
2. Streamline Recruitment and Hiring
Companies seeking to hire high-performers are turning to innovative processes to streamline hiring.
There are many ways to assess whether someone will be a good fit for the company, both as a high-performer and as a cultural fit. While not every innovative hiring process will be right for your team, you can learn from companies that have created HR best practices around hiring and provided data for the rest of us.
Here are a few examples of best practices to consider:
Panel-based interviews: Interviewing panels provide multiple perspectives on job candidates, enabling organizations to choose the best individual for the role. However, to avoid disappointment in group interview scenarios, panels should consider getting creative with the approach. Forbes explains how using interview scorecards not only keeps panelists aligned during the interview, but also captures candidate details, interviewer impressions, and a good platform for comparing candidates via a standard grading scale. Their study found that organizations who used the approach hired high-quality, sustainable employees.
Better advertising for job openings: Many organizations are doing a poor job of advertising their open positions and attracting quality candidates. If you want to attract top talent and find high-performers, you should not only list what skills you want the employee to have but also give the job searcher a reason to seek out your organization over your competition.
Internships: A more unconventional example of HR best practices is paying interns, especially if your company intends to hire the majority of those interns. While structuring your intern program, it's good to know that 68% of paid interns receive job offers from the company they interned for. If you intend to move an intern to a full-time position, invest in them early on.
Video interviewing: Video interviewing can be a great tool for saving time and allowing you to get a feel for the enthusiasm and passion an individual has for your organization before you bring them in for an interview. It can also help you weed out potential candidates who aren't serious about applying because video interviews represent a small investment on the candidate's part.
Choosing the right candidates: As an HR department, you want to hire the best people who will contribute to the value of your company, not detract from it. Hiring poor performers can negatively affect your company, whereas hiring top performers can boost productivity, no matter your industry or the job type you're looking to fill. One way to streamline the process and be selective is to utilize digital tracking. This allows you to keep track of recruitment metrics, such as which hiring sources send strong candidates your way and offer acceptance rates. Knowing which sources send you high-quality candidates can help you reduce ineffective referral sources. Additionally, knowing your acceptance rate can help you fix inefficiencies in your hiring process or inadequacies in your compensation offers. You can also use other tools like interviews, personality assessments, or reference checks to further streamline your process or make it more selective.
When posting the perfect job ad, include information about your organization—what technology you use, what kind of products you create, your mission and vision, and more. Including this contextual information can encourage more candidates who believe in your organization's mission to apply. The best candidates can always learn additional skills; you want employees who will be engaged from day one.
3. Offer Effective Onboarding, Training, and Development
You've taken the time to find employees to hire, but your responsibility to them is only just beginning.
It's an HR best practice to invest in training and development opportunities to improve your current workforce, focus on skill-specific training, and realize the value that young workers place on learning. As industries advance at an ever-increasing pace, you can support and encourage your employees to grow as well, keeping them more engaged in their work and your organization.
Invest in training and development: Some of the best practices for training employees involve bringing on interns to reduce training costs before hiring them full-time. Once you've found ideal employees, you'll need to keep them at the top of their field. And as technology continually improves, the importance of training employees cannot be overlooked. If you want your pros to stay pros, keep training them.
Focus on skill-specific training: You might have a great general training program, but if you focus on teaching skills that don't align with work requirements or company objectives, you are wasting time and money.
Younger employees value learning: HR best practices for training should also consider that many young employees want more opportunities for skill development than their predecessors. It's important to note that your employee turnover rate could increase greatly if you don't offer opportunities for growth and development. However, this is actually great news for employers because it means you have a workforce full of employees who are ready to increase their skills, advance in their careers, and train for new positions.
4. Handle Layoffs With Compassion
This is probably the toughest place to implement HR best practices because it will always be difficult for those involved―and it's becoming an increasingly more regular practice. According to Forbes, 136,000 employees were laid off during the first fiscal quarter of 2023. Roughly 50% of employers anticipate a reduced headcount in the next six months.
As organizations prepare for these situations, it's crucial to follow HR best practices. These include learning from employees terminating their employment and understanding which topics are sensitive for legal reasons. Issues that may warrant termination should always be addressed before they reach a boiling point. However, when it does come to terminating an employee, don't drag out the decision.
Maintain your resolve: Stand your ground even if the employee gets emotional or says they will do better. You should be confident enough in your decision not to waver in your resolve when terminating an employee.
Conduct an effective exit interview: One of the best practices for HR professionals when going through the termination process (whether voluntary or involuntary) for an employee is to conduct an effective exit interview. A good exit interview can emphasize things the organization does well and things they could improve upon. Exit interviews should be conducted face-to-face, if possible; otherwise, send a survey and try to follow up on the results in person. You don't want to make the exit interview feel stiff. Rather, you are trying to ask strategic exit interview questions that help the company retain people in the future.
As you implement these HR practices, you may discover that employees who leave soon after being hired did not have a good indication of what the job entailed when they were hired, and you might consider revamping your hiring process.
Always say goodbye on good terms.
Offboarding employees isn't easy, so BambooHR is here to support you every step of the way. What's more, our instant reports will help you spot trends in departures, so you can stop turnover before it starts.
5. Build an Inclusive Company Culture
A crucial HR practice is to maintain transparency and be open with employees regarding the successes and failures of the business. Organizations that foster an environment of open feedback and communication help employees feel trusted, respected, and valued.
To be a high-impact HR department, you should:
Maintain openness and transparency: When companies are honest and open with their employees, it promotes a culture of trust between both employer and employee.
As an HR department, you should avoid focusing on efficiency and cutting costs above all else, as this could actually be less effective in the long run. Instead, promote practices that create transparent environments and encourage information sharing.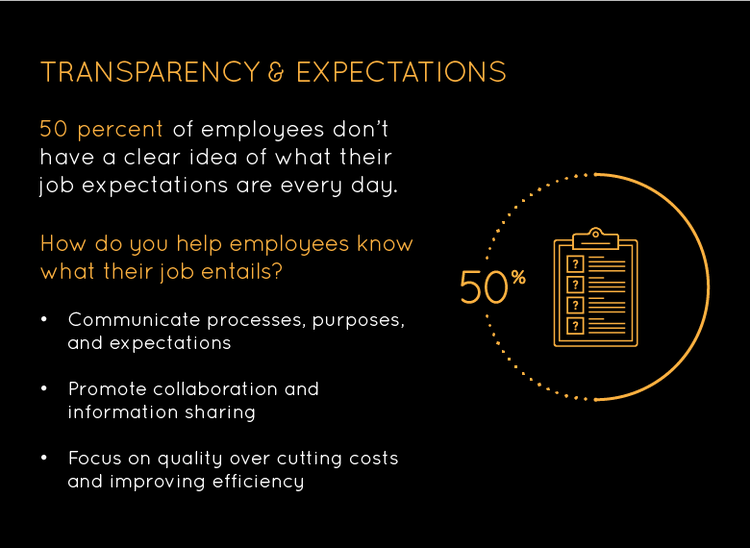 6. Offer Compelling Benefits
According to a BambooHR survey, 68% of job seekers want information about the specific benefits companies offer, yet 36% of organizations report they don't offer information about their benefit plan upfront. Being transparent about your benefit plan and how it accomplishes company goals helps retain great employees and attract high-quality talent.
Choose benefits that show you value employees: Learning from other human resource practices can give you great insight into where to focus the company budget when it comes to employee benefits. It also helps you understand which benefits may help retain the best employees. You can choose to provide medical and dental coverage, health and fitness centers, subsidized tuition, or additional benefits that show you value your employees.
Use benefits to solve workplace issues: Google is a great example of using benefits to solve workplace employment issues. Several years ago, the HR team noticed the number of women working for the company was gradually decreasing. With research, Google found the decrease was mostly younger women who left to have children. In an effort to retain employees and maintain their bottom line, Google implemented a five-month maternity leave policy with full pay and benefits. This benefit alone led to a 50% increase in their retention rate of women.
While Google's approach certainly isn't feasible for all companies, it is important to identify where you're losing money and why you might struggle with employee retention. If you want to hire and keep the best talent, you have to treat them like they're the best talent and show you value your employees.
7. Motivate Employees With the Right Incentives
According to Gallup, 18% of employees were actively disengaged at work during 2022. To combat disengagement rates, employers need to find more effective ways to motivate employees. That starts by offering more incentives. However, for incentives to be effective, you must first understand the type of incentives employees want. You'll then need to implement new practices properly, or you risk demotivating your employees instead of motivating them. Here are some HR best practices for providing effective employee incentives:
Know what motivates employees: In the past, monetary incentives were the go-to employee incentive. However, as times have changed, so have employee motivations. Some employees may be motivated by more learning and development opportunities, while others want more recognition. Ask employees to learn what motivates them and how they want to be recognized. Consider conducting a survey on how they'd like to be recognized or rewarded or including a few questions in their onboarding process on what motivates them to work harder. Understanding exactly what motivates your employees can result in a 79% increase in meeting your company goals.
Pay raises vs. bonuses: Another study by Google found that employees valued a base-pay raise over a single bonus because it has long-term effects. If your company is weighing the overall benefits of pay raises versus a handsome bonus, go with the pay raise.
Providing the right incentives shows employees that you care about them and the value they add to your company.
8. Offer Competitive Compensation
If you want great employees, you need to have great compensation plans. Above-average employees deserve above-average compensation, and you want to show your employees you value them and the work they do.
Some HR best practices for compensation include:
Vary compensation options: Upping your compensation offer doesn't always mean adding more numbers. You could offer other types of compensation, such as additional vacation days, company discounts, stock options, or profit-sharing.
Compensation transparency: A winning compensation strategy comes down to two elements: transparency and communication. A study found that 63% of employees avoid talking about pay with fellow colleagues. The reasons for avoiding the conversation varied with 38% stating discussing salary feels "taboo" and 37% wishing to avoid causing contention in the workplace. In short, following pay transparency practices attracts a larger, more compatible pool of applicants and boosts employee satisfaction.
Whatever your company's compensation strategy, it should be based on the productivity and contributions of the employees, and the managers in your organization should be prepared to communicate about it.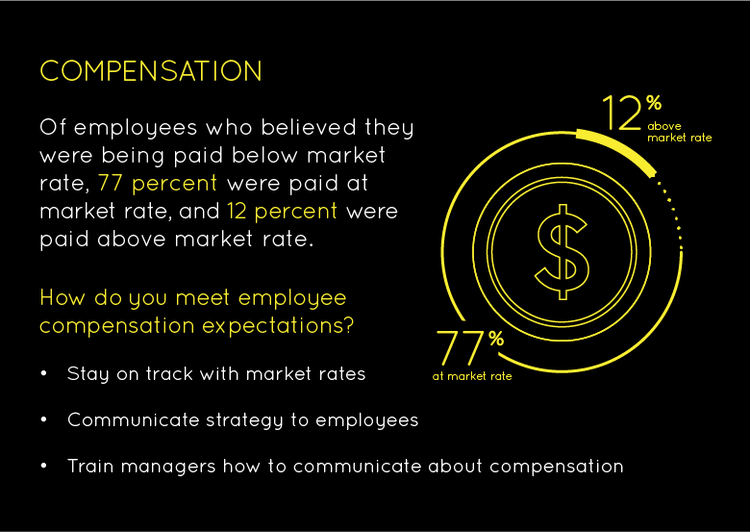 9. Resolve—and Avoid—HR Compliance Violations
The best way to handle compliance issues is to avoid having them in the first place. Here are some human resource practices to prevent compliance issues:
Utilize HR software: One great way to avoid compliance errors is to use HR software to simplify your HR compliance practices. This will help you find and correct errors quickly and avoid future compliance issues. For example, Bamboo HR practices both Defense in Depth and Zero Trust, ensuring all company and employee information is secure and compliant. Additional measures like annual third-party SOC I and II security audits and third-party penetration tests ensure your organization is up-to-date with data compliance laws.
Designate a point person for your HR team: One of the best ways to for HR teams to stay up-to-date with compliance is to designate a point person for your HR team who is responsible for keeping up with new regulations and changing labor laws. They also have the responsibility to convey this information to the HR department, ensuring everyone is on the same page regarding legal considerations.
Hiring, employee classification, and wage requirements all require constant attention to stay in compliance. Utilizing your point person and HR software can help you stay one step ahead of any upcoming changes to HR.
Next Steps: Choose a Partner that Empowers You to Meet Best Practices
The first step to implementing HR best practices is to use the right technological platform. As mentioned earlier, you want to ensure the platform aligns with your business needs and empowers employees to do their best. Avoid going with a platform that makes it difficult for employees to find what they need or doesn't align to your specific company goals. This could result in lower employee engagement, higher turnover, and decreased productivity.
Bamboo HR has helped 30,000+ companies not only follow best practices but empower employees to do their best work. Our comprehensive platform includes everything you need to streamline HR practices, boost employee engagement, reduce turnover, and provide a high-quality employee experience.
An Award-Winning, Complete HR Platform
In BambooHR, everything works together to help you manage data and benefits, hire talent, run payroll, and help employees thrive. Best of all, it's easy and intuitive for busy HR teams!