Pento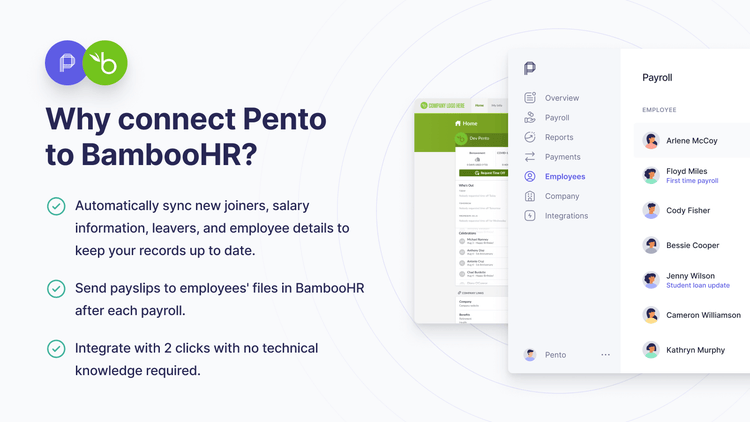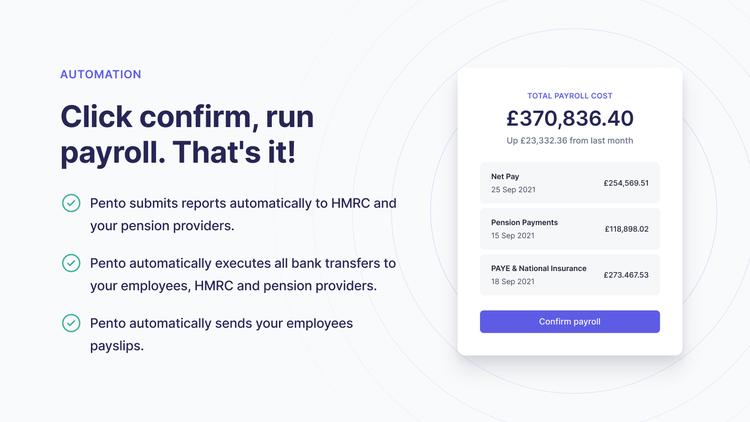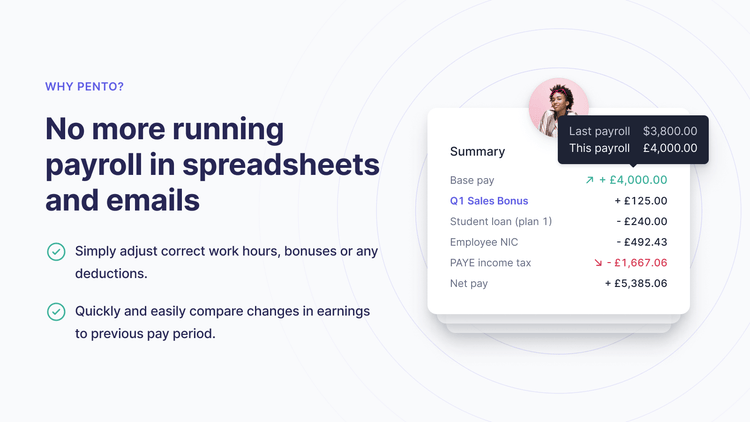 Discount Packaging
BambooHR customers mention this discount and get £1000 off your first year with Pento.
*Valid only for new customers in 2023.
Overview
Identity Directory:
Pento is Europe's first fully automated payroll. It's a cloud-based alternative to payroll outsourcing and old desktop products. Instead of spreadsheets, PDFs, and back and forth emails with your external payroll provider, Pento lets you run the whole payroll in one click. Pento automatically calculates taxes in real-time, makes all the bank payments, and reports to local tax authorities & pension providers. No file uploads or manual data entry. The integration between BambooHR and Pento will create a seamless and secure data flow from your HRIS to your payroll platform. Pento automates payroll for companies such as Starling Bank, Pleo, Cuvva, Beauty Pie, Beamery, Bloom & Wild, Perkbox, and many more!
Automatically sync new joiners
Adding a new employee to BambooHR will automatically update and sync to Pento. No more double entry is required!
Automatically update salary information
Pento will automatically be updated when a salary is updated in BambooHR. This will include effective dates as well as backdated pay.
Push payslips back into BambooHR
Once payroll has been completed, Pento will automatically push payslips into BambooHR based on user settings. There is no additional login for your employees to have to use and remember!
Automatically sync leavers and update holiday pay
When an employee is terminated in BambooHR an update will automatically push to Pento. Holiday pay will be reconciled and added to payroll based on user settings.
Integration
How It Works.
Once the integration between BambooHR and Pento is set up there will be an automatic sync for new joiners, leavers, salary information, and employee details to keep your records up to date for payroll. Pento will send payslips to BambooHR for each payroll. The integration takes seconds to set up with no technical knowledge required.
How To Install
You can easily connect to BambooHR within the Pento platform from the integrations tab located on the left-hand side of the app.
Steps To Install
To connect to BambooHR, you will need to follow the steps below:
Within the Pento platform – navigate to Integrations from the menu on the left-hand side of the screen
You will see an icon for Bamboo, click Integrate
Once you have selected Integrate, a pop-up will appear
Enter your BambooHR company domain, and select Integrate
A pop-up should appear directing you to BambooHR's login page
Once you have entered the correct login details, you will be fully connected.
What Data Syncs
BambooHR Field
Sync Direction
Pento Field
Field Logic or Notes
Is this turned on by default or is it configurable?
Employee #
Employee ID
To sync employee ID
Default and configurable
Work Email
Work Email
To sync email address
Default and configurable
Address Line 1
Address Line 1
To sync address
Default and configurable
Address Line 2
Address Line 2
To sync address
Default and configurable
City
City
To sync address
Default and configurable
Zipcode
Postal Code
To sync address
Default and configurable
Country
Country
To sync address
Default and configurable
Work Phone
Phone Number
To sync phone number
Default and configurable
Job Title
Job TItle
To sync job title
Default and configurable
Hire Date
Date Hired
To sync start date
Default and configurable
Birth Date
Date of Birth
To sync date of birth
Default and configurable
Custom
Sort Code
To sync bank details
Default and configurable
Custom
Account Number
To sync bank details
Default and configurable
Custom
NI Number
To sync national insurance number
Default and configurable
Custom
NI Category
To sync national insurance number
Default and configurable
Termination Date
Termination Date
To determine termination
Default and configurable
Home Email
P45 Email
For sending P45s
Default and configurable
Employment Status Tables
Salary/Effective Date
To determine termination and previous employment status
Default and configurable
Compensation Tables
Salary/Hourly or Annual
For wage syncing
Default and configurable
Documents
Payslips
Payslip is pushed to the Documents tab
Publisher
BambooHR
Updated: 01/26/2022
Phone Support:
Coming Soon
Email Support:
Support Hours:
9:00 to 17:00 GMT