Pento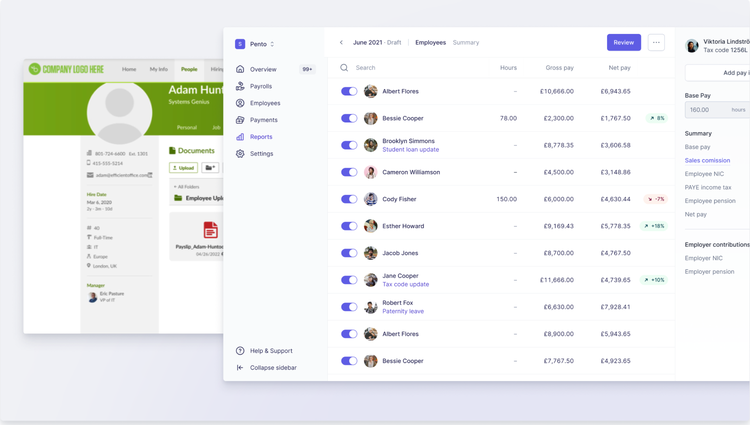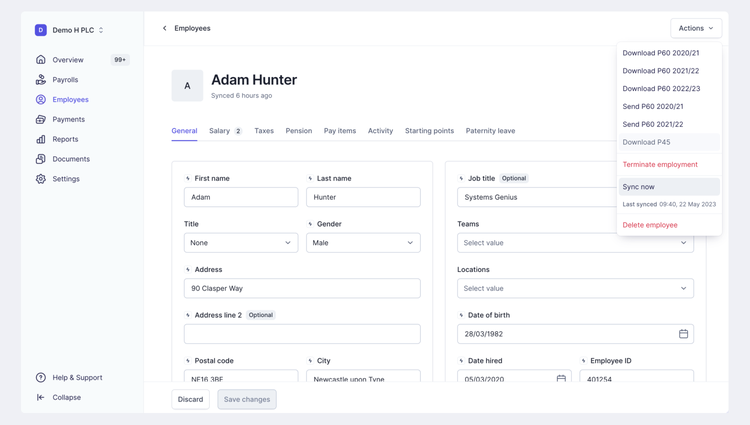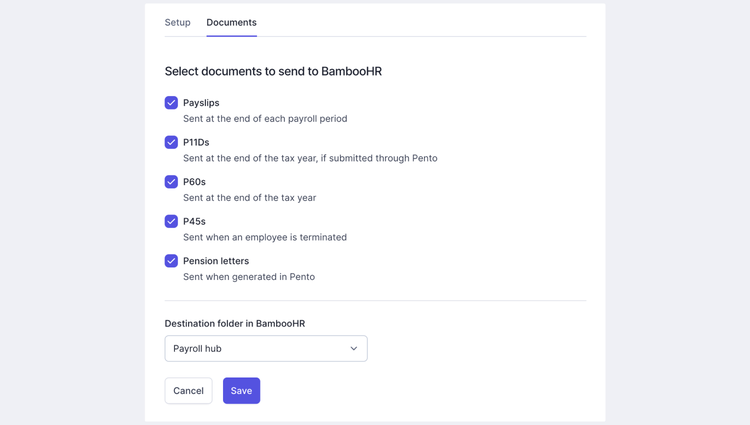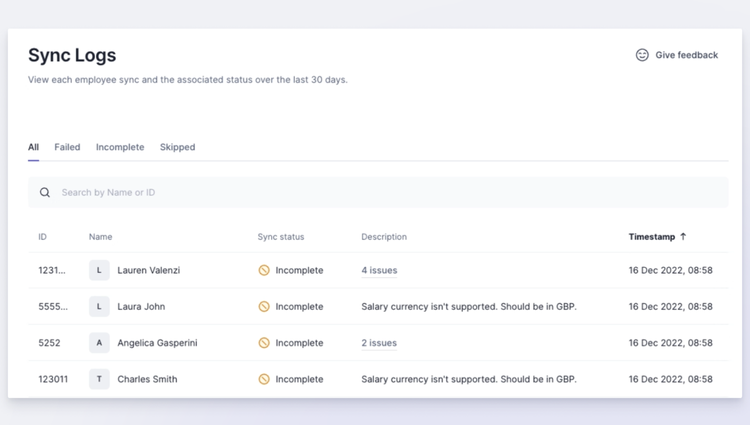 Discount Packaging
BambooHR customers mention this discount and get £1000 off your first year with Pento.
*Valid only for new customers in 2023.
Overview
Trusted by People and Finance teams across the UK, Pento is an automated payroll solution that comes with reliable, expert payroll support.
Reduce payroll admin, remove manual work, take control of your payroll, and make your entire payroll process more efficient.
Automate everything from salary and tax calculations to payments. No more double checks, no more manual calculations.
Edit your payroll until the night before payday. No cut-offs, no deadlines.
Why integrate BambooHR and Pento?
Maintain a single source of truth across your HR and payroll
Integrate BambooHR and Pento and forget about the double entries. Don't take our word for it! The People teams at Beamery, Booksy, Cuvva, Lendable, and many more love the seamless flow of employee and payroll data between BambooHR and Pento.
The best HR + payroll integration in the market
Easy to set up, real-time syncs, payslips pushed to BambooHR, detailed sync logs, BambooHR 5 deep data sync - there's no better integration in the market that connects your BambooHR data to payroll.
Integration
How it works.
Employee information sync
Personal information, bank details, and compensation data is shared with Pento. You can also exclude certain employees from syncing to Pento.
New starters sync
New joiners are automatically created in Pento after they are added to BambooHR. No more double inputs.
Automated salary calculations
Pro-rata auto-calculated based on joining date and payday. Pento will also adjust any of the NI and PAYE information based on any salary changes.
Make BambooHR the centralized payroll hub for your employees
Send payslips, P45s, P60s, P11Ds, and pension letters directly to BambooHR. Provide an employee payroll portal right within BambooHR, without any hassle for additional logins.
Sync Org structure from BambooHR
Maintain a single source of truth in your HRIS and make journal reporting seamless when you sync the organizational structure for each employee from BambooHR to Pento.
Sync holiday entitlement from BambooHR
Automate your entire leaver's experience by syncing entitled holidays from BambooHR. BambooHR will calculate the accrued holiday balance, including defining the rounding, and can include carryover days. Pento will then sync the holiday balance for terminating employees from your holiday policy in BambooHR.
Timely sync
Pento and BambooHR sync every hour to ensure consistent information across your HR and payroll systems. Outside of the hourly sync, you can also sync on-demand by refreshing certain employees.
Sync logs
Understand exactly how your integration works by getting a detailed log of data that are synced and/or not synced from BambooHR.
How it works.
You can easily connect to BambooHR within the Pento platform from the integrations tab located on the left-hand side of the app.
Steps To Install
To connect to BambooHR, you will need to follow the steps below:
Within the Pento platform – navigate to Integrations from the menu on the left-hand side of the screen
You will see an icon for Bamboo, click Integrate
Once you have selected Integrate, a pop-up will appear
Enter your BambooHR company domain, and select Integrate
A pop-up should appear directing you to BambooHR's login page
Once you have entered the correct login details, you will be fully connected.
What data syncs?
BambooHR Field
Sync Direction
Pento Field
Field Logic or Notes
Is this turned on by default or is it configurable?
Employee #
Employee ID
To sync employee ID
Default and configurable
Work Email
Work Email
To sync email address
Default and configurable
Address Line 1
Address Line 1
To sync address
Default and configurable
Address Line 2
Address Line 2
To sync address
Default and configurable
City
City
To sync address
Default and configurable
Zipcode
Postal Code
To sync address
Default and configurable
Country
Country
To sync address
Default and configurable
Work Phone
Phone Number
To sync phone number
Default and configurable
Job Title
Job TItle
To sync job title
Default and configurable
Hire Date
Date Hired
To sync start date
Default and configurable
Birth Date
Date of Birth
To sync date of birth
Default and configurable
Custom
Sort Code
To sync bank details
Default and configurable
Custom
Account Number
To sync bank details
Default and configurable
Custom
NI Number
To sync national insurance number
Default and configurable
Custom
NI Category
To sync national insurance number
Default and configurable
Termination Date
Termination Date
To determine termination
Default and configurable
Home Email
P45 Email
For sending P45s
Default and configurable
Employment Status Tables
Salary/Effective Date
To determine termination and previous employment status
Default and configurable
Compensation Tables
Salary/Hourly or Annual
For wage syncing
Default and configurable
Documents
Payslips
Payslips, P45s and other payroll documents are pushed to the Documents tab
Publisher
BambooHR
Updated: 01/26/2022
Phone Support:
Coming Soon
Email Support:
Support Hours:
9:00 to 17:00 GMT