Truework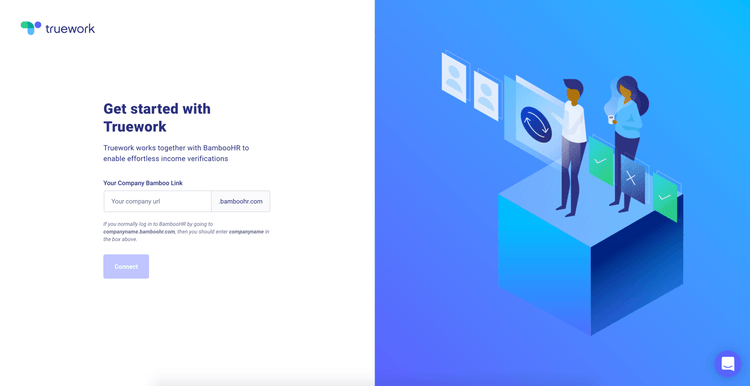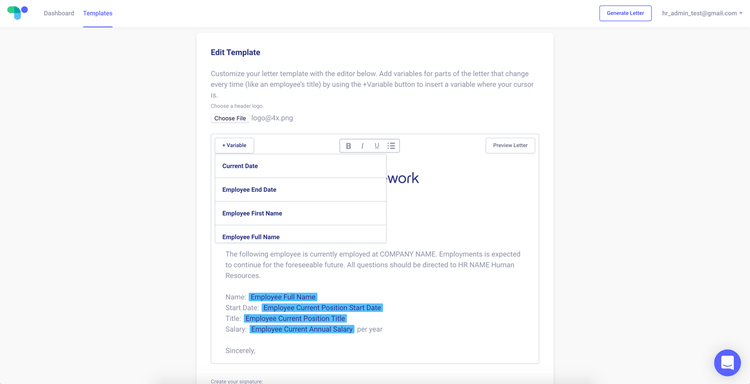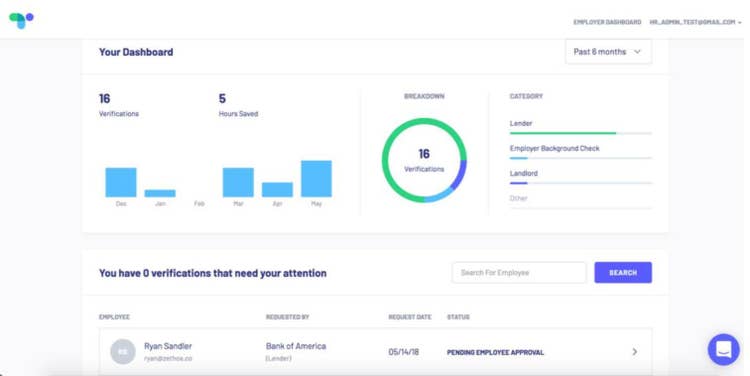 Overview
Truework is an HR & Payroll Platform that automatically responds to lenders, background screening companies, and others who need to verify employment or income (VOE & VOI). You can remove unnecessary paperwork, stay compliant, and provide an easy-to-use employee self-service portal to your workforce. Seamlessly configure all of your document templates ahead of time, and grant employees instant access from any device, anywhere in the world. Whether it's proof of employment for a landlord or an immigration letter for visa or overseas travel, you can create any template on the platform. Admins have access to an all-in-one dashboard that ensures compliance with the latest international, Federal, and State privacy laws.
Save You Time
Your employees can have access to any employment and income information they need. Your HR & Payroll team can add or edit any template in your document library, with access controls to make any template publicly available to all employees, on-demand.
Always Available
Ensure your employees have 24/7 access to their information, as needed. Whether it's a new house, apartment application, or any proof of employment documentation – ensure employees always have access to their verified information from anywhere, anytime.
Private & Secure
Anytime a third-party, like a bank or background check company requests access to an employee's sensitive information, the employee has a chance to review and consent before any information is released. This keeps the employee in full control of their private data and who they choose to share it with.
In-Depth Reporting
Beautiful & easy-to-use dashboards mean you always know how much time you're saving as a team, what your employees are finding most useful, and exactly who your workforce data is being shared with.
Integration
Truework syncs weekly with your BambooHR Data. Whenever a lender, background check company, or the like reaches out to you for an employment verification, simply send them to truework.com There, they will be able to access the information – only after the employee explicitly consents. If an employee needs to generate a customer template, simply make sure it is set up with our template editor and they can generate a letter anywhere, anytime, and receive it via their email or phone number synced from BambooHR.
BambooHR Field
Sync Direction
Truework Field
Address 1
Employee Address Line 1
Address 2
Employee Address Line 2
Best Email
Employee Email
Birthday
Employee Date of Birth
City
Employee Address City
Country
Employee Address Country
Date Of Birth
Employee Date of Birth
Employee Number
Employee Bamboo Number
First Name
Employee First Name
Full Name 1
Employee Full Name
Full Name 2
Employee Full Name
Full Name 3
Employee Full Name
Full Name 4
Employee Full Name
Full Name 5
Employee Full Name
Display Name
Employee Display Name
Hire Date
Employee Position Hire Date
Original Hired Date
Employee Original Hire Date
Home Email
Employee Contact Home Email
Home Phone
Employee Contact Home Phone
Job Title
Employee Job Title
Last Changed
(used for checking last changed information)
Last Name
Employee Last Name
Location
Employee Address
Marital Status
Employee Marital Status
Middle Name
Employee Middle Name
Mobile Phone
Employee Contact Mobile Phone
Pay Group
Employee Payment Group
Pay Rate
Employee Pay Rate
Pay Rate Effective Date
Employee Pay Rate
Pay Type
Employee Pay Type
Pay Per
Employee Pay Period
Paid per
Employee Pay Schedule
Pay Schedule
Employee Pay Schedule
Pay Frequency
Employee Pay Frequency
State
Employee Address State
State Code
Employee Address State
Termination Date
Employee Termination Date
Work Email
Employee Contact Work Email
Work Phone
Employee Contact Work Phone
Work Phone Plus Extension
Employee Contact Work Phone
Work Phone Extension
Employee Contact Work Phone
Zip code
Employee Address ZIp Code
Standard Hours Per Week
Employee Pay Number of Hours Worked per week
Bonus Date
Employee Pay Bonus Date
Bonus Amount
Employee Bonus Amount
Bonus Reason
Employee Pay Bonus Reason
Bonus Comment
Employee Pay Bonus Comment
Commission Amount
Employee Pay Commission Amount
Employment Status
Employee Status
Nickname
Employee Nickname
Pay Period
Employee Pay Period
Publisher
Truework
Updated: 11/01/2019
Phone Support:
833-878-3967
Email Support:
Support Hours:
6am-6pm PT