An HR Glossary for HR Terms
Glossary of Human Resources Management and Employee Benefit Terms

HR Software
What Is HR Software?
HR software is a digital solution for managing and optimizing the daily human resources tasks and overall HR goals of an organization. HR software makes it possible for HR staff and managers to better allocate their time and resources to more productive, profitable efforts.
HR software technology has come a long way since the first time computers were employed to manage human capital data in the 1970s. HR systems became more widely available to enterprise clients in the 1980s, and the arrival of web-based software in the 1990s made HR software even more common. Now, most new systems are cloud-based, subscription-based, easily integrated with other data management programs, and highly customizable to an individual organization's needs, goals, and budget. In short, there is now an HR software solution for every size and type of organization.
What Does HR Software Do?
HR software assists an organization's human resources department by automating manual tasks, keeping employee information organized, and creating data-driven reports. This is all done electronically, eliminating the need for paper documents. HR software can also serve employees and managers within an organization, assisting with tasks like time tracking, updating employee directories, and performance management.
Some of the functions HR software can perform include:
Securely storing and organizing employee data
Creating workflows and tracking approvals
Self-service time tracking
Tracking employee training for development and compliance
Gauging and reporting on employee satisfaction
Performance management and goal tracking
Benefits administration and management
Pre-boarding, onboarding, and offboarding automation
Third-party application integrations
Monitoring all data changes with an audit trail
Producing custom reports to provide strategic insight
And much more
All these actions are done with various HR software programs that can be purchased as a package or a la carte.
Take the next step
Explore our BambooHR packages and get a quote in no time flat.
What Are the Benefits of HR Software?
While there are many benefits of using HR software, one of the biggest is its ability to reduce the time spent on repetitive, low-impact administrative tasks, which allows HR professionals to focus on more productive responsibilities and longer-term strategic outcomes.
Beyond this, other major benefits include:
Reduced errors
Improved organization of documents and employee data
Streamlined processes
Continuous feedback
More accurate analytics
Improvements in succession planning
Keeping organizations compliant with federal regulations
A Guide to the Best HR Software
The best HR software depends on your company's unique needs and goals, as the software solutions for each may vary.
Types of HR Software
Some types of HR software that may help your organization reach its goals are those that manage applicant tracking and onboarding, performance, and employee engagement.
BambooHR: HR software with heart.
You might also like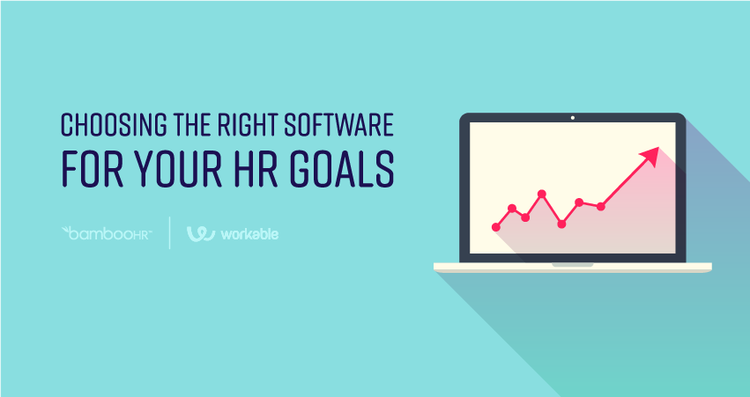 Join BambooHR and Workable as they explain how to choose the top HR software that will help you accomplish your goals, whether you're trying to streamline your hiring process or build your culture.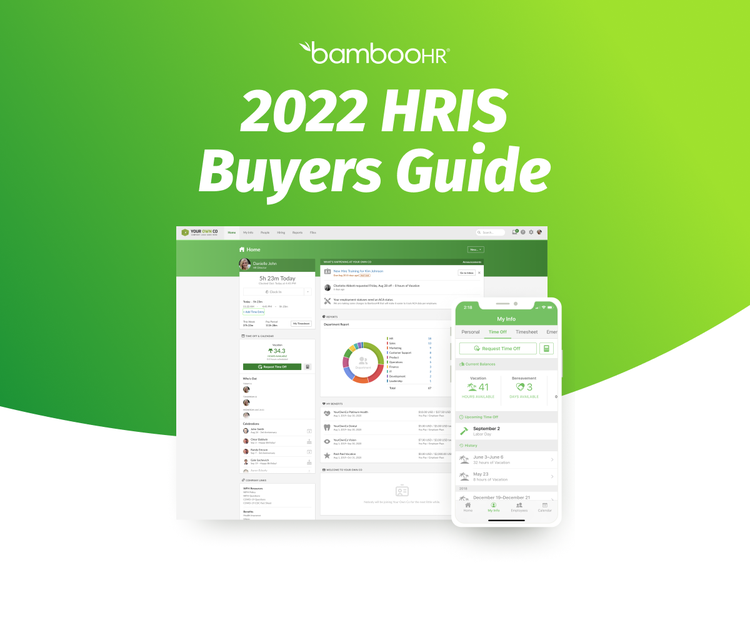 Looking to buy an all-in-one HRIS? This guide gives you a comprehensive overview for how to choose the right HR software for your organization.